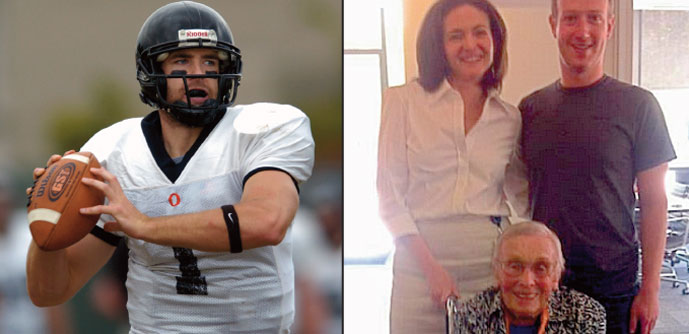 A retired jersey, Labs for the Liberal Arts, new professors, and Facebook friends
1
The number Andy Collins '07 wore for three seasons as a quarterback at Oxy, and the first player jersey retired by the College in a ceremony prior to the October 6 contest against Claremont-Mudd-Scripps. Wearing No. 2, junior QB Tommy Edwards rallied the Tigers to a 34-21 come-from-behind victory.
$750,000
Amount of a grant awarded by the Andrew W. Mellon Foundation to Oxy to reimagine components of the College's general education Core program as "Labs for the Liberal Arts" over the next three years. Labs to be offered to a self-selected group of freshmen in 2012-13 center on four "big questions": immigration, revolution, health, and community.
6
New professors joining the Oxy faculty this fall. Tenure-track additions include Sanjeev Khagram (the John Parke Young Chair in Global Political Economy) and assistant professors Hussein Banai (diplomacy and world affairs), James Edward Ford III (English and comparative literary studies), Cheryl Y.M. Okumura (biology), and Andrew Jalil (economics). In addition, Casey Nelson Blake has been named the Billington Professor of History, a one-year appointment made jointly with the Huntington Library.
4,293
Number of friends (at press time) that Florence Detlor '32 has on Facebook. At 101, Detlor was recognized as the social network's oldest user this summer, prompting a visit from founder Mark Zuckerberg to her Menlo Park home. She joined Facebook on Aug. 19, 2009. (Alas, she doesn't tweet—we checked.)