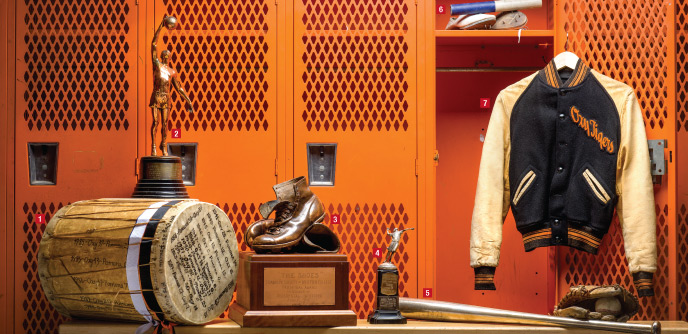 If these mementoes from the Roy Dennis Trophy Room could talk, they would share many stories of Oxy's rich sports heritage 
1. Dating back to 1941, the Oxy and Pomona football squads have taken to the field not only for bragging rights, but to play for the Drum—a victory symbol dreamed up by the schools' alumni associations. The tally to date: Tigers 47, Sagehens 23, and two ties.
2. Named for a 1931 Oxy graduate—a senior basketball captain and president of the Physical Education Club—the Larry Dimter Trophy was awarded annually to the outstanding men's basketball player for more than a decade. "His rare skill at sinking ­baskets from the difficult positions kept the fans on their feet throughout the games," the 1930 La Encina wrote of Dimter (whose name is misspelled on the trophy).
3. As legend has it, a handful of Oxy players stole Whittier star running back Myron Claxton's cleats on the Thursday before the 1939 clash between the Tigers and Poets. Claxton got his payback, though, leading Whittier to a 36-0 victory on game day and reclaiming his footwear. Seven years later, some Whittier students had Claxton's cleats bronzed, and the two schools have played for the Shoes ever since. The Tigers own a 35-33 edge over the Poets since 1946.
4. A gift from Doris Cook '32 created the Occidental Women's Inter Class Tennis Award, which recognized intramural play in the 1930s.
5. A bat inscribed to Coach Bill Anderson and signed by all his players commemorates the 1952 baseball team's undefeated SCIAC season. Leading the way was Bob Ashford '52, who set the team record for one-year batting average (.600) and won all nine of his league starts as a pitcher for the Tigers.
6. Coach Joe Pipal took an 11-man squad to the Drake Relays, a track-and-field event held in Des Moines, Iowa, on April 24-25, 1925.
7. Sammy Lee '43 gave his letter jacket to Oxy. On his last day as a senior, he gave a diving exhibition at Taylor Pool for a Chinese Christian Association convention group—and it was there that he met his wife of 62 years, Roz Wong.