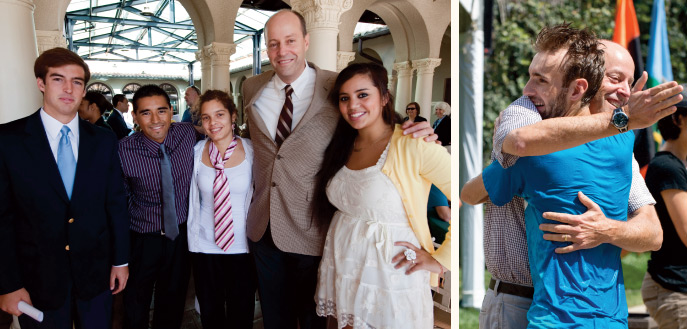 As the Board of Trustees extends Jonathan Veitch's contract through the end of the decade, the president hopes to build on the College's momentum
Returning to Oxy for Alumni Reunion Weekend in June, even members of the Class of 2009 couldn't help but notice the evolution of the campus over the last five years: the new Samuelson Alumni Center; the renovation and expansion of Swan Hall; the new Rose Hills Student Activities Center inside Johnson Student Center; and the dramatic transformation of the Johnson Hall interior into the McKinnon Center for Global Affairs—an impressive slate of accomplishments during a challenging time for Oxy.
"Working with all campus constituencies, [President Jonathan Veitch] and his administration have not only met those challenges, but with vision and drive have reestablished institutional momentum in a number of key areas," Board of Trustees chair Chris Calkins '67 wrote in a letter to the Oxy community announcing the board's unanimous vote to extend Veitch's contract through 2020. Reaction was swift and overwhelmingly positive.
"This is great news!" one alumnus wrote to Veitch after the board's August 21 email went out. "The prospect of your being at the helm for (at least) six more years heartens me greatly," said a faculty member. "I am so glad that you are going the distance with Occidental," wrote another alumnus. "You have led the College through some tough times, and I am confident that you will continue to provide Oxy with the leadership it needs to flourish," said a third.
For his own part, Veitch said he was "humbled" by the board's support and emphasized the collective nature of Oxy's achievements since he took office in July 2009. "We have accomplished a great deal, none of it possible without the people in this room," he said at a September 17 community meeting held in Choi Auditorium. "I can't thank everyone enough. You should be very proud, and I'm very grateful to you. "
When Veitch arrived in July 2009 as the College's fifth president in five years, fundraising was at the low end of a roller-coaster ride, battered by the recession that started in 2007. The key to success, he says, was Oxy's ability to reach a consensus on a new strategic plan that set clear goals and then "show that we could get stuff done."
A flurry of activity followed, culminating with the McKinnon Center, which Veitch sees as a model for Oxy's future—a compelling combination of the old and new that synthesizes innovative design with teaching and curriculum informed by the latest technology. The McKinnon Center also inspired a gift from Elizabeth and Bill Kahane '70 to endow the College's signature United Nations program. "No school has made a greater investment in global affairs over the past several years than Oxy," Veitch says. "Occidental now ranks with Carleton and Middlebury as one of the very best liberal arts colleges in the field."
Veitch wants to build on Oxy's momentum by turning the College's focus to urban issues. "We already have many pieces in place—our urban and environmental policy program is nationally known," he says. "The world's problems and opportunities are playing out right outside our doors here in Los Angeles. That gives us an advantage over other institutions."
A much-needed investment in the Career Development Center is also underway, with a significant expansion of internships and other programs and the renovation of CDC offices scheduled to begin next year. With the value of a college education increasingly being questioned, "Our best argument is the success of our graduates," Veitch says. "Students should have the opportunity to think earlier about what they want to do with their lives after graduation, in a more deliberate, thoughtful way."
Although the College has raised more than $90 million over the last five years, "Fundraising remains one of our biggest challenges," Veitch says. "We have a middle-class endowment with aspirations that far exceed our capacity. We are falling behind in that race." Among the top goals for the future are raising money for student scholarships and the funds needed to transform the library into a technologically sophisticated academic commons.
"We need to do a better job of increasing alumni giving," he adds. "Even modest gifts move the needle significantly and make it possible for us to offer programs and services that would not otherwise be available."
Sexual misconduct remains a major issue. "We have added a full-time Title IX coordinator, a full-time survivor advocate, a 24-hour hotline, entirely revamped our policies, and expanded our preventative education and advocacy programs," he notes. "These are all strong, concrete steps. But there is still much more work to be done to ensure the safety of all of our students."
When he was interviewing for the presidency, "I was struck by the love and dedication that Occidental inspired in people," Veitch says. "Now I am one of those people. And I am excited about what the future holds for the College we all love."