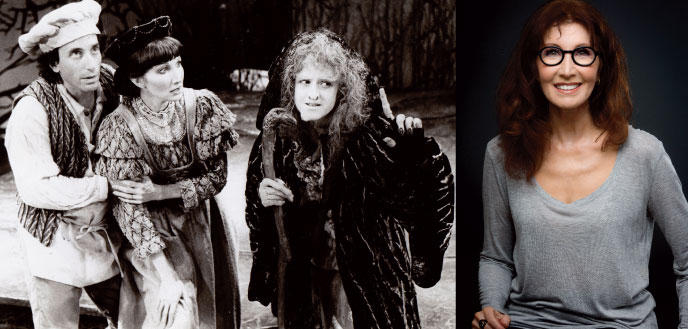 Joanna (Hall) Gleason '72 is Oxy's most-celebrated actress, disappearing into every role while wowing critics and audiences alike. This fall, as she ignites the screen in The Skeleton Twins, she takes stock of her career in a cabaret revue.
By Dick Anderson
When people meet Joanna (Hall) Gleason '72, the first image that comes to mind is often the Baker's Wife—her Tony-winning role in the 1987 musical Into the Woods. Others might remember her from Woody Allen's Hannah and Her Sisters (in which she played Tony Roberts' wife) or Crimes and Misdemeanors (in which she was married to Woody). There's also a contingent that recognizes her as Mark Wahlberg's foul-mouthed mother in Boogie Nights, or a judge on "The Good Wife," or as Rachel's chain-smoking boss from a 1999 episode of "Friends."
This fall, she added another memorable screen role to the list—the absentee mother of Kristin Wiig and Bill Hader in The Skeleton Twins. It's a small role in terms of screen time—a long, uncomfortable dinner-table scene—but New York Times critic Stephen Holden singled out Gleason's performance as "a grandiose New Age-spouting narcissist with impenetrable emotional armor," while Time's Richard Corliss cited her "airy overbearing."
"Joanna was one of a handful of Oxy actors who could immediately execute any suggestion I might offer her," says professor of theater emeritus Alan Freeman '66 M'67. "She is one of the most intelligent, natural talents I ever worked with in both comedy and drama as well as the musical stage."
"I've been a character actor right from the beginning," Gleason says from her home in Fairfield, Conn. "I'm lucky that I've gotten to do what I have. I teach, I write, I direct, I dance the tango, and I do this cabaret show"—a musical memoir that she first performed last fall in New York City. She credits much of her success to her Beverly Hills High School drama teacher, the late John Ingle '50 M'60, and her Oxy mentors, Freeman and the late Omar Paxson '48. "They're the triumvirate. the troika," she says. "They're the ones who believed in this daydreaming girl who felt always like an outsider, late to the party."
The daughter of game show host Monty Hall ("Let's Make a Deal"), Gleason wound up at Beverly Hills High after a series of moves as a child from Canada to New York City to Los Angeles. Although she enrolled at UCLA as a freshman, she auditioned for the Occidental Summer Drama Festival at Ingle's suggestion. "We did a Shaw play [Too True to Be Good] together, which was mind-blowing," Gleason says. "That summer I was also in West Side Story and a Gilbert & Sullivan. Occidental summer theater was just heaven."
Gleason transferred as a sophomore to Oxy, where she thrived as a speech and drama major. "I got great roles, and Alan's direction really taught me how to use what I know. He had a way of speaking to all of us."
After graduating from Oxy, she took a job working as a researcher for the game show "Split Second" for her father's production company. Thanks to a family friend, she scored an audition for a Long Beach Civic Light Opera production of Promises, Promises—her first professional stage role. On the strength of that performance, she got a casting call to New York for a new Broadway musical, I Love My Wife. "The only song I knew was from On a Clear Day You Can See Forever. I was standing on stage with just a ghost light for my audition. Then I went and had dinner with a friend, and they called and said that I got the job."
Gleason did 14 months in the show, for which costar Lenny Baker won a Tony for featured actor in a musical. She returned to Los Angeles and married life with her husband, acting coach Paul Gleason, and soon she landed her first series role, working with McLean Stevenson ("M*A*S*H") on NBC's "Hello Larry," which ran for two seasons.
Except for the occasional guest-star role, however, the work dried up for several years. "All there was to do was TV, because there was not a thriving theater community," says Gleason, who had a son, Aaron, in 1979. (Since 1994 she has been married to actor Chris Sarandon, whom she met doing Nick & Nora on Broadway in 1991.) 
In 1986, she scored a role in Hannah and Her Sisters, making her big-screen debut. Then, a day before her 36th birthday, Gleason got a call to audition for a new musical by Stephen Sondheim and James Lapine. It was about fairy tales, she was told, and she auditioned for the role the next day.
Six months later, on Dec. 4, 1986, Into the Woods premiered at the Old Globe Theatre in San Diego—and Gleason and company opened on Broadway the following Novem­ber. Did she know that she was working on a career role? "I did," she says, "And I'll tell you when it happened. I was standing behind the fake trees and watching the Princess singing 'Agony,' and I thought, 'I don't know if it'll get any better than this!'"
Despite the show's ensemble nature, Gleason found herself in the running for best actress in a musical for Into the Woods. "There was a lot of competition that year, and I didn't expect the nomination," she says. "The ramp-up to the Tonys is so surreal—too many cocktail parties and lunches. It becomes malaria, and it goes through the entire awards season." When they called Gleason's name at the Tonys, she says, "there's a video of me where my head snapped back. I really was surprised."
In the years to follow, Gleason shuttled back and forth between TV (including the sitcoms "Love & War" and "Bette"), stage (Nick & Nora, Dirty Rotten Scoundrels), and screen. When she read for Boogie Nights for director Paul Thomas Anderson, "There was something very precious and fantastic. Every word you hear my character say, every expletive, was on the page. It was so powerful to read. I'd never been asked to play a role like that and scrape a few layers of skin off of people. That was tremendous."
It can be a long wait between meaty roles, but in 2011 Gleason found such a part in Sons of the Prophet by Stephen Karam, a comedy-drama about a Lebanese-American family staged by the Roundabout Theatre Company. As Gloria, a disgraced publishing executive, "I had three of the most completely fulfilling scenes I've ever gotten to do," she says of Karam's play, a Pulitzer Prize finalist in 2012.
For now, Gleason stays very busy with her teaching, her acting (including a recurring part in a recent series for HBO Canada, "Sensitive Skin"), and the tango. She shows off some of her moves toward the end of her one-woman show, which returned for an encore engagement to New York's 54 Below supper club in October. Backed by an all-male classical quartet, Gleason interweaves songs from Into the Woods with some of her personal favorites. "It's the story of trying to find what my life is supposed to be and a childhood spent living in my head," she says. "It's autobiographical and it's funny and it's sweet." She hopes to bring the show to Los Angeles and Palm Springs in 2015.
At this stage in her life, she says, "If somebody offered me a musical, I think I would have my family do an intervention: Eight shows a week, three hours a day in the car commuting …" But it's not to say a return to the stage will never happen. "I would love for there to be another character, another  play where I can open the confessional booth."