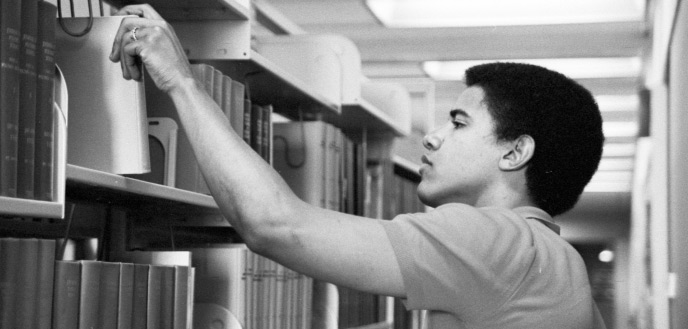 Occidental launches the Barack Obama Scholars Program to honor the president's legacy, empowering future generations of students dedicated to the public good 
"My years at Occidental College sparked my interest in social and political causes, and filled me with the idea that my voice could make a difference," said President Barack Obama '83. "And throughout my time in public service, I've tried to use my voice to bring people together, in common effort, around the idea that we could give every young person in America the chance that America gave me."
With the support of alumni and friends of the College who share President Obama's ideals, Occidental announced the creation of its Barack Obama Scholars Program on September 27 to empower exceptional students committed to the public good as it honors and perpetuates the principles Obama has advanced throughout his life.
In a statement issued with the announcement, Obama wrote: "I'm so humbled by the Barack Obama Scholars Program at Oxy, and proud of its mission to identify promising young people from all backgrounds—with an emphasis on first-generation students, our veterans, and community college transfers—not only to give them access to higher education, but to train the next generation of leaders and active citizens, and fill them with the conviction that they too can change the world."
Beginning in fall 2018, Occidental will endow two scholarships and thereafter ramp up to 20 scholarships for a select group of students, providing a singular liberal arts education designed to equip them to bring about meaningful change in the world. Prior to the public launch, Oxy raised $7 million in current and planned gifts from a wide range of supporters drawn from alumni and friends of the College, including Ann and Bruce Blume, Jane and Glenn Hickerson, Aileen and Leif Isaksen '62, and Janice Gonzales '63.
The program represents Occidental's investment in students who aspire to become change agents but lack the opportunity to fully realize their goals, and continues the legacy of leadership embodied by Oxy's most famous alumnus. Each Obama Scholar will be awarded a four-year scholarship, providing loan-free funding for the entire cost of an Occidental education, in addition to summer enrichment programs such as the Kahane United Nations Program and Campaign Semester. Scholars also will have access to mentoring by Occidental faculty and the program's advisory council, which includes prominent alumni, former administration officials, and some of President Obama's friends.
"So many of our challenges are immensely complicated and vexing, and it's crucial that we provide our students with the skills to be able to address them," said President Jonathan Veitch. "Whether they do that as a mayor of a city or as a state legislator or in Congress, in business, medicine, or journalism, whatever avenue they want to pursue—we want to make sure that they're equipped to be effective change agents."
For a long time, Occidental has been considering how best to honor the legacy of Obama, who has frequently cited the two years he spent at Oxy before transferring to Columbia University as transformative. Ultimately, College leaders felt the best tribute would be a comprehensive, merit-based program similar to the Morehead-Cain scholarship at the University of North Carolina at Chapel Hill. "We are delighted to have President Obama's support for a program that has such potential to have a far-reaching impact in the public sphere," Veitch said.
"There is no better inspiration in the world today than Barack Obama, and this program seeks to build upon his legacy that began at Occidental," said former Secretary of Homeland Security and Obama Scholars Advisory Council member Jeh Johnson (whose son, Jeh Jr., graduated from Oxy in May). "The Obama Scholars Program will unleash a continuous flow of change agents eager to engage in issues that strongly and positively affect the advancement of our modern society and unite our country." 
For more information on the Barack Obama Scholars Program at Occidental College, visit obamascholars.oxy.edu.
Tags