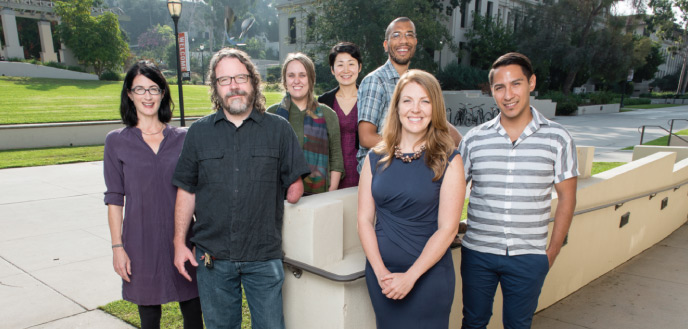 From the arts and sciences to computer science and religious studies, Occidental's latest tenure-track appointees run the academic gamut 
Seven new tenure-track scholars have joined the Occidental faculty this fall, including the first full professor hired for the new computer science department, a marine biologist who is studying the effects of climate change on coral reefs, a Tibetan Buddhism scholar, an expert on 19th-century Japanese art, and a specialist in ancient Roman texts.
Amy Holmes-Tagchungdarpa, associate professor of religious studies, comes to Oxy from Grinnell College, where she was an assistant professor of East Asian studies. Her work explores the construction of Buddhist community, networks of cultural production, and the dynamics of interpersonal relationships in the transnational border regions of Tibet, China, Sikkim, Bhutan, Northeast India, and Ladakh through the perspectives of religion, history, gender, literature, the comparative study of empire, material culture, and media. She received her B.A. from Victoria University of Wellington and her Ph.D. from Australian National University.
Kathryn Leonard, professor of computer science, was previously an associate professor of mathematics at CSU Channel Islands. She received her B.S. from the University of New Mexico and her Ph.D. from Brown University. Leonard's interests arise from the mathematics of computer vision, including shape and texture modeling, which draws on tools ranging from geometry to information theory. She will spearhead the new computer science department at Occidental.
Jacob L. Mackey, assistant professor of comparative studies in literature and culture, was most recently assistant professor of classics at Queens College in Flushing, N.Y. He specializes in ancient religions, the theories that have historically guided their study, and approaches to ancient religion and culture informed by cognitive science. Mackey is the author of a translation of Horace's poem "Intermissa Venus (Odes 4.1)" for the journal Arion and has edited three fragmentary papyri inscribed with the text of Plato's Laws in The Oxyrhynchus Papyri (forthcoming). He received his B.A. from the University of Texas at Austin, his M.S. from Christ Church, Oxford University, and his Ph.D. from Princeton.
Raul Navarro, assistant professor of chemistry, grew up in Los Angeles before heading east to pursue a bachelor's degree in chemistry from Yale. He obtained his Ph.D. in organic chemistry from Caltech and did his postdoc at Stanford, where he was a National Science Foundation Postdoctoral Fellow and served as a research mentor in the Chemistry, Engineering, and Mathematics for Human Health (ChEM-H) program. His research focus lies in understanding the mechanisms by which proteins are degraded. 
Ryan Preston-Roedder, associate professor of philosophy, comes to Oxy from the University of North Carolina at Chapel Hill, where he was an assistant professor of philosophy. He specializes in moral psychology, philosophy of religion and philosophy, and literature. He recently published a novel account of the moral virtue "faith in humanity" as belief in the basic decency of persons. He has a B.A. from Rice and a Ph.D. from NYU.
Amber Stubler, assistant professor of biology, previously was a postdoctoral research associate at Oxy. Her research interests include marine community ecology; sponge and coral reef ecology; seagrass ecology; climate change and ocean acidification; species interactions; and the effects of anthropogenic stressors on ecosystem function and processes. She studies how climate change and ocean acidification influence biogenic habitat engineers and subsequently habitat complexity, and how these changes cascade throughout the ecosystem. She received her B.S. and Ph.D. from Stony Brook University.
Yurika Wakamatsu, assistant professor of art and art history, comes to Oxy from Harvard, where she was a postdoctoral fellow at Harvard's Reischauer Institute of Japanese Studies. She received her Ph.D. from Harvard. Her work examines the intersections of art and gender in 19th- and early 20th-century Japan. She is currently revising her dissertation into a book manuscript and preparing for publication an essay on the feminization of art and changing conceptions of modern Japanese womanhood.