From career advice to volunteerism to conversation, Oxy takes a closer measure of alumni engagement
In New York City this past July, about 50 alumni, parents, and friends of Occidental got an insider's tour of Manhattan's Hudson Yards neighborhood, the largest private real estate development of its kind in the nation.
Six months earlier, an outing to the Whitney Museum of American Art for a guided tour of the acclaimed Andy Warhol retrospective From A to B and Back Again drew a similarly enthusiastic crowd.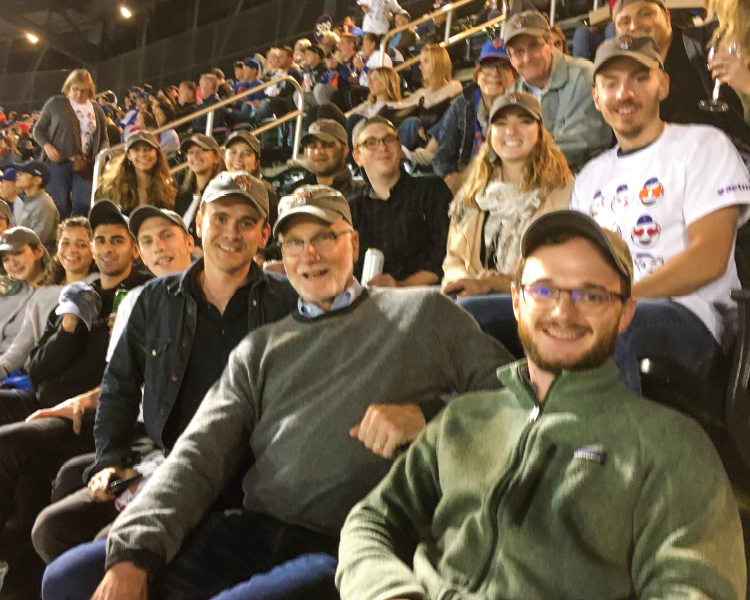 "My goal is to do things that appeal to different demographics, to create engagement among the almost 1,000 Oxy people in the New York area," explains New York City regional alumni chair Steve Case '80. "Through these outreach efforts, we continue to learn together, with a liberal arts passion."
As part of The Oxy Campaign For Good, Occidental is promoting increased community building—between Oxy and its alumni and parents, and between these groups themselves—as a measure of success, notes Charlie Cardillo, vice president of institutional advancement.
Maintaining a culture of philanthropy, he adds, means making anybody with an affinity for Oxy a steward to ensure its future success. The College more than ever is working to engage alumni and parent communities "in a comprehensive, connected way," he says.
"That is what ultimately supports the students and the faculty, whether through engagement of alumni and career conversations with students, or even participating in the classroom or supporting one another after graduation," Cardillo says. "Their presence at events and activities bolsters the experience for others who may be coming for the first time or in a long time, and so the participation of members of our community is invaluable."
For the first time, the College is weighing alumni involvement with a variety of non-­financial metrics, such as how many alumni respond to a survey or submit a class note to Occidental magazine. The campaign also is tracking volunteerism and the number of alumni professionals who want to serve as career advisers to younger classes.
Case, an economics major who is a partner with an investment consulting firm, says he is less a ringleader than "a prompter of other people to volunteer to lead events."
Parents of current Oxy students are also doing their part to foster ties to the College, even from far away. Erika and Bill Brewer of New York City, whose daughter Elizabeth '21 is a politics and English major, serve as co-chairs of Oxy's Parents Council, a group committed to taking a leadership role within the Occidental community.
Parents Council allows the Brewers "to become involved in an appropriate, supportive way while honoring Elizabeth's growing independence," says Erika, a former banker and now director of parent giving at Westminster School in Connecticut.
"One of the greatest rewards of working with Parents Council is our connection to other Oxy parents," adds Bill, a partner at an international law firm.
When the Brewers are unable to follow Elizabeth's swim meets in person, they live­stream competitions and follow the team on social media. "The swimming and diving parents are an exceptionally friendly group, with lots of photo sharing and snack coordination, which is fun for all of us," Erika says.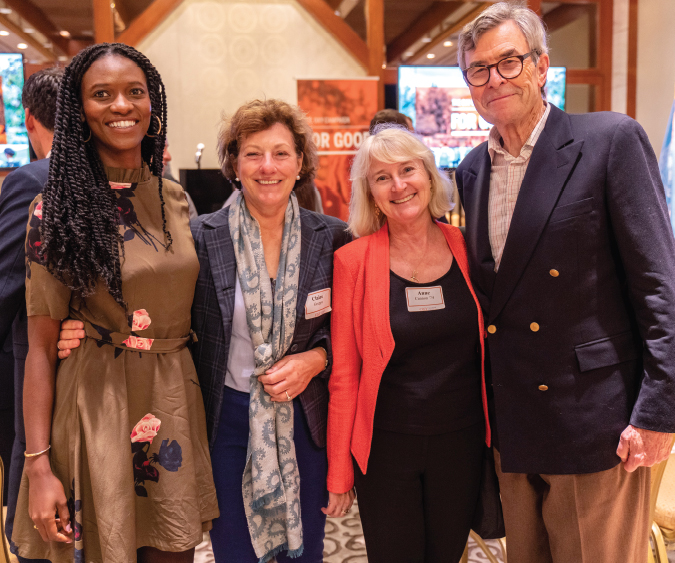 Yelka Kamara '12 is building community in other ways. For nearly four years, she has worked with some of the College's most dedicated and loyal volunteers on the Board of Governors, the 32-member body that oversees the work of the Alumni Association. Her motivation? "I love the College," she says.
"Oxy had a tremendous impact on my life, even helping me to discover my passion, which is fundraising," adds Kamara, assistant director of annual leadership giving programs at The New School in New York City.
Giving, however, isn't about expecting alumni to meet benchmarks, notes Kamara, who majored in diplomacy and world affairs. "What's important is that you give back in a way that's meaningful to you. The biggest thing is to try to get people to reevaluate their understanding of philanthropy."
In October, Kamara was among about 180 alumni, parents, and friends of Occidental on hand for an event at the United Nations that celebrated the Kahane U.N. Program and the regional launch of the campaign. The following week, approximately 70 Tigers gathered in Boston for Oxy's first alumni gathering in New England in at least six years. (Similar outreach events are on the docket for other regions in 2020.)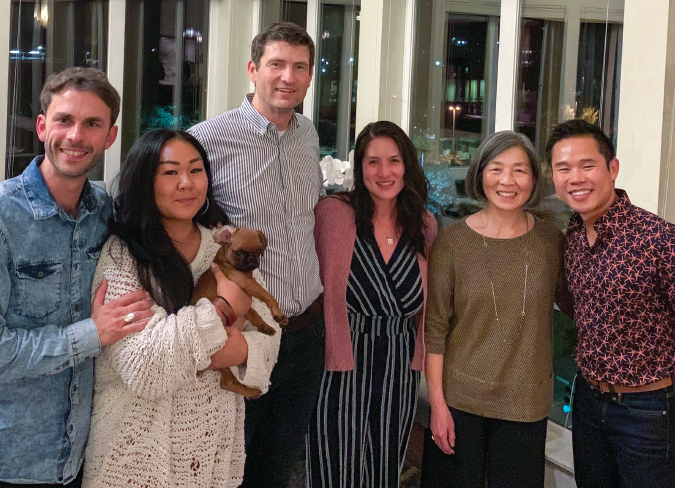 In the Pacific Northwest, Tuan Ngo '07 brings his Oxy passion to the dinner table, where he and his partner, Mac Powell, have invited alumni they previously didn't know to sup on fresh-caught king salmon, roasted broccolini with pine nuts and olive oil, and duck fat-roasted baby potatoes.
"I try to connect with people on an individual level," says Ngo, who specializes in international tax law as an associate with a global law firm in the Greater Seattle area. "We can share our Oxy experiences."
Ngo, who is president-elect of the Alumni Board of Governors, recalls the days when his parents first arrived in the country as immigrants from Vietnam. They didn't speak English and lacked the financial means to send their son to college.
Occidental saw his potential and granted Ngo, a DWA major, the access and opportunity he needed. He believes the College's commitment made the difference for his subsequent success: "Whenever I see a car that has an Oxy bumper sticker, or if I meet someone who went to Oxy, there's an instantaneous connection."
"Alumni are the representatives of the strength and value of the liberal arts experience," Cardillo says. "The strength of the community is what will ensure the future of Oxy—its adherence to a set of values and a mission that can enrich the lives of the students who come after them."