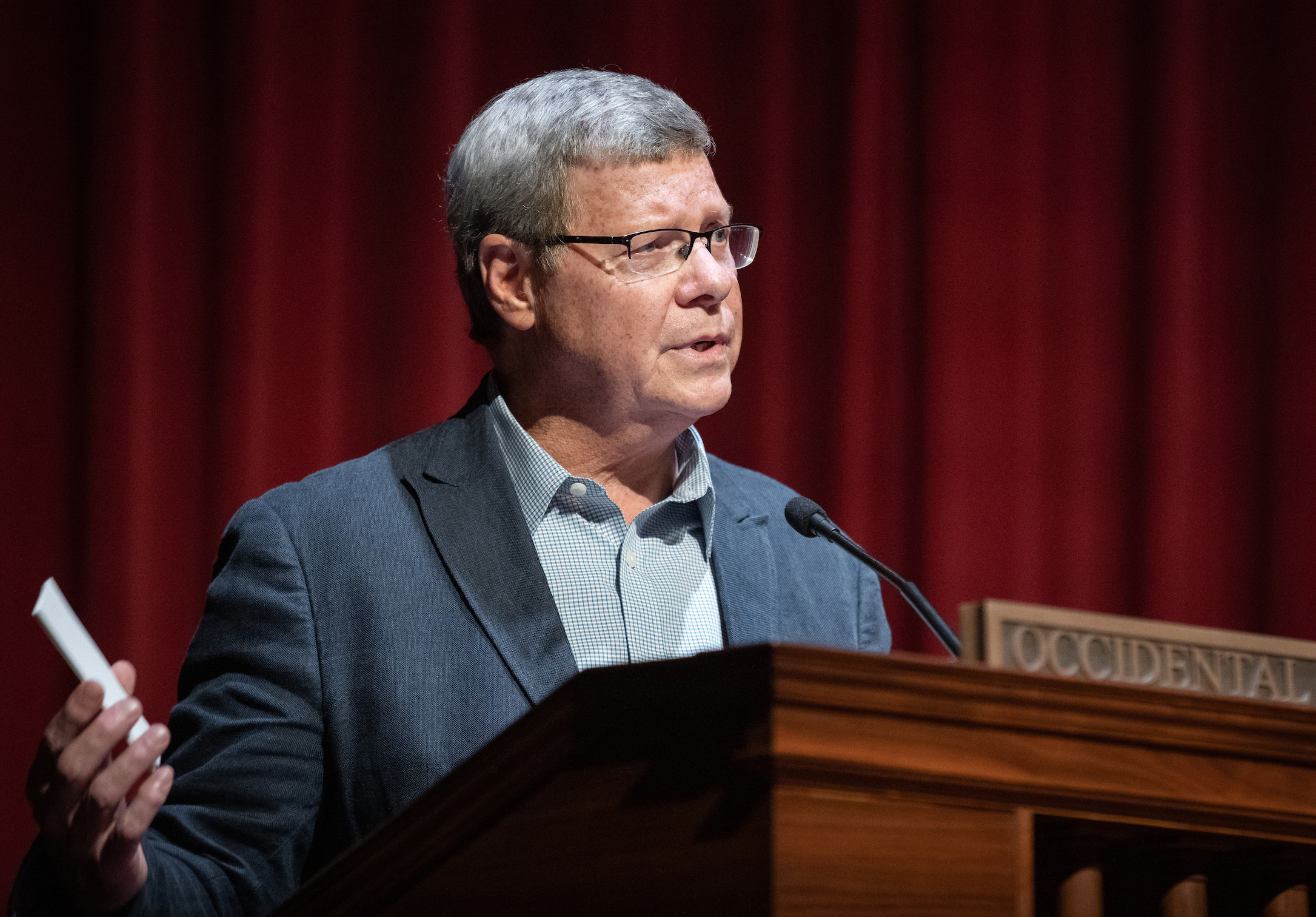 From visiting speakers to postdoctoral fellows, Oxy brings a range of voices to the campus conversation
Donald Trump is as much a symptom as the cause of the Republican Party's turning away from classic conservatism, political commentator Charlie Sykes, author of How the Right Lost Its Mind and founder and editor-at-large of The Bulwark, said in Thorne Hall October 6 as Occidental's 2021 Jack Kemp '57 Distinguished Lecturer.
Following the Cold War, the anti-communist cause that united all the disparate strands of the GOP disappeared "and all the divisions were exposed," Sykes told an in-person and online audience of several hundred. "There was a time many years ago when I would have described myself as a Kemp Republican, but I'm not sure there are many of us left."
Looking to the future, "normal political polarities may not apply," Sykes said. "Our best hope to is have a coalition of the decent." He urged his audience to remain engaged politically: "If you give up, they win."
Created in 2013, the Kemp Lecture Series seeks to engage Oxy students and faculty in dialogue on important issues of public policy such as the political economy, economic growth in the context of a market system, communitarian values, and bipartisan relations—topics near to Kemp's heart.
»  Occidental's ongoing effort to diversify its faculty has received a major boost from a five-year, $950,000 grant from the Andrew W. Mellon Foundation that will fund a total of nine one-year postdoctoral fellowships in the arts and humanities.
The three cohorts of three fellows will automatically transition to tenure-track faculty positions at the end of their postdoctoral year, making it possible for Occidental to identify and recruit promising scholars whose work focuses on issues of race and/or social justice and whose background, expertise, and experiences will contribute to diversifying Oxy's faculty. The first cohort will be hired for the 2022-23 academic year.
"This grant represents an important opportunity to advance the College's equity and justice agenda, and we are thrilled that the Mellon Foundation has chosen to support Occidental's faculty diversity goals and help us recruit the next generation of outstanding teachers and scholars," says Wendy Sternberg, vice president for academic affairs and dean of the college.
The Mellon grant will fund first year salaries for the new faculty who are hired initially into postdoctoral positions with a greatly reduced teaching load and access to student teaching assistants and extensive opportunities for mentoring in both teaching and research. The fellows will be hired in clusters of three, a practice that research has shown can increase satisfaction, a sense of belonging, and retention.
Continued diversification is one of the specific goals identified in the March 2021 Equity and Justice Agenda announced by President Harry J. Elam, Jr. Leila Neti, professor of English, will serve as the faculty program director and work closely with the fellows and the initiative steering committee to ensure the initiative's success.
» 
Pulitzer Prize-winning Los Angeles Times journalist Patt Morrison '74
,
right
, presented an illustrated look at the evolution of American newspapers along with some analysis of the changing nature of news and the persistent need for it. Titled "Paper, Scissors, Rock, Pixels," the talk is based on her 2018 book
Don't Stop the Presses! Truth, Justice, and the American Newspaper
and is part of the Greg Critser '80 Memorial Talking Books Series. Shown with Morrison is Olivia Duncan '23, a diplomacy and world affairs major from Woodstock, Conn., and student worker at the College Archives, who designed the exhibit on Morrison's time at Oxy under the supervision of Dale Stieber, director of the Oxy Library's Special Collections and College Archives.
»  Occidental once again ranks among the nation's top liberal arts colleges, according to the 2021-22 editions of major college guides.
Occidental ranks No. 42 in U.S. News & World Report's annual rankings, and appears on its "best value," "top performers on social mobility," and "best undergraduate teaching" lists. It receives four-star ratings for academics and quality of life from the Fiske Guide to Colleges, and ratings of 96 for financial aid and "best value college" from Princeton Review's The Best 387 Colleges. The Wall Street Journal/Times Higher Education rankings places Occidental No. 34 among U.S. liberal arts colleges; Forbes ranks Oxy at No. 32.
But there's more: Washington Monthly ranks Occidental at No. 41 among liberal arts colleges. Payscale's 2020-21 College Salary Report lists Oxy at No. 24 among liberal arts colleges with the highest-paid alumni with bachelor's degrees.