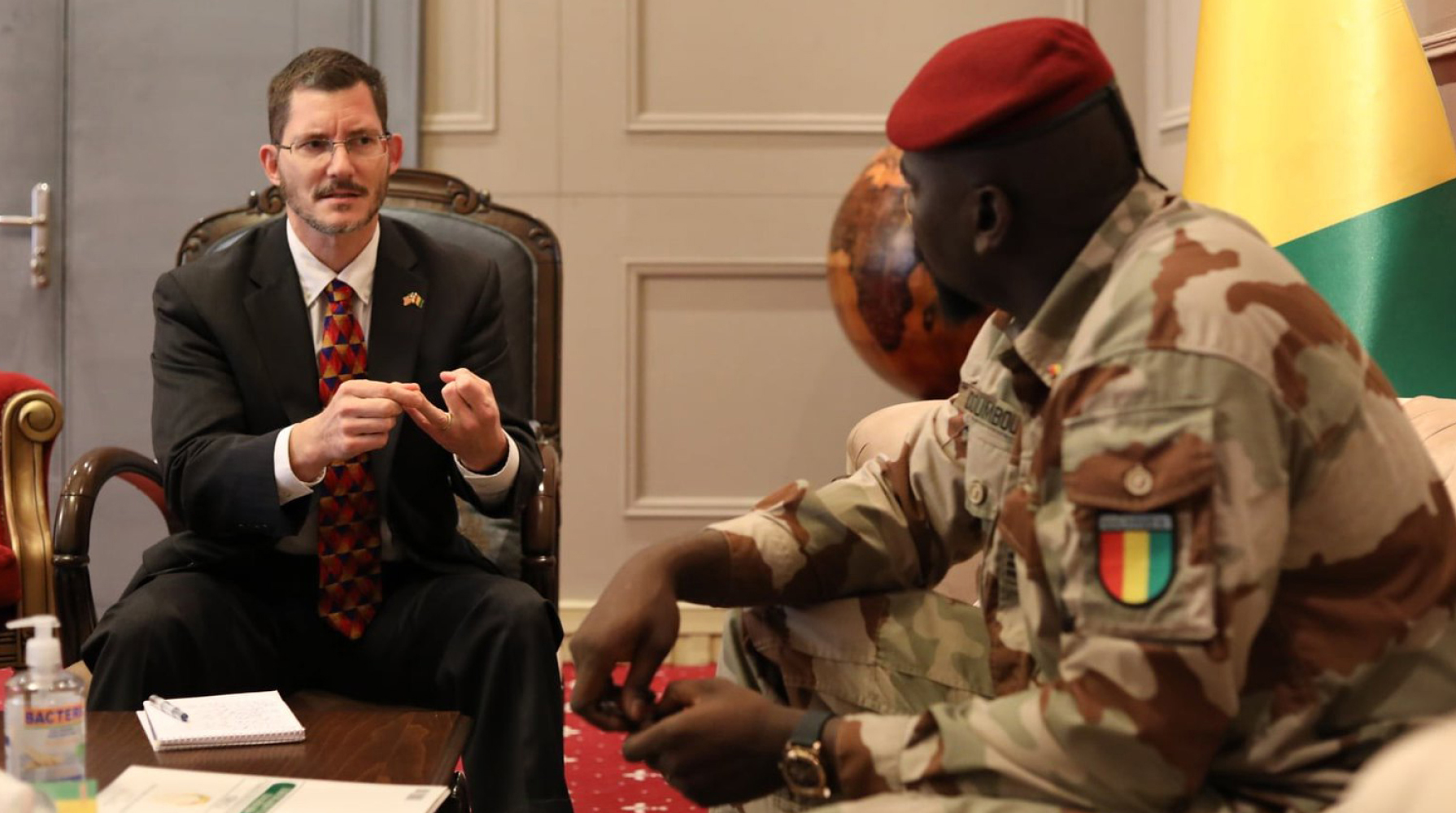 Michael Gonzales '96 embraces his new role as U.S. ambassador to Zambia with intelligence and integrity
The first time Michael Gonzales '96 set foot in Zambia, he was hitchhiking through the country en route to see ancient ruins in neighboring Zimbabwe. Gonzales traveled to Africa thanks to Oxy's Richter Grant program, doing independent research on education reform in Namibia. Twenty-seven years later, he was sworn in as U.S. ambassador to the Republic of Zambia on August 10, following a yearlong nomination and confirmation process.
"Many who enter the Foreign Service have the desire of one day becoming an ambassador," says Gonzales, who majored in diplomacy and world affairs with an emphasis in African studies. "I was certainly one of those—even before I showed up at Oxy."
Growing up in Monterey, Gonzales developed an interest in the global sphere early on, spending his junior year of high school living with a family in Madrid as an AFS exchange student. A first-generation college student, he participated in Oxy's Multicultural Summer Institute at the invitation of Arthur Saint-Aubin, professor of Spanish and French studies. "He guided me on how to make a strong argument, build out a thesis, and write really well," Gonzales recalls.
As a participant in the Kahane United Nations Program, he interned for the secretary of the U.N. Security Council and the Africa II Division of the Department of Political Affairs. "The opportunity to be in the U.N. Secretariat and see from the inside practitioners gave me a leg up from the get-go," says Gonzales, who served most recently in the Bureau of African Affairs, where his portfolio covered West Africa and the Sahel Region. Before that, he was the director for analysis of Africa in the State Department's Bureau of Intelligence and Research. A career member of the Senior Foreign Service with the rank of minister-counselor, he previously served as deputy chief of mission and chargé d'affaires at embassies in Nepal and Malawi.
In August 2021, Zambia opposition leader Hakainde Hichilema was elected president over incumbent Edgar Lungu with a solid majority after five failed runs. Hichilema is making all the right commitments in terms of democracy, accountability, and enabling environment for the private sector, Gonzales says. "These are issues I've spent my entire career focused on. It's been a wonderful year watching Zambia's renaissance, and now having the chance to go out there myself and lead the U.S. government's contribution to it is really fantastic."
Gonzales will relocate to the southern African country (population: 18.4 million) with his wife, Carol, a Foreign Service officer with the U.S. Agency for International Development (USAID), and their 12-year-old daughter, Hailey (older daughter Robin, 16, is attending high school stateside). There he will oversee the activities of the administrative and executive branches of the U.S. government in-country. That includes nearly half a billion dollars in development and humanitarian assistance that America provides to Zambia each year.
When asked what his guiding values are as a diplomat, Gonzales responds without hesitation: intelligence, integrity, and humility. "In order to promote and advance our nation's interests, one has to set aside egos and assumptions and be analytical, thoughtful, and intentional," he says. "The important thing is to take the smart risks and recognize when we make mistakes, and hold ourselves and others accountable so we can learn from them and move on. Diplomacy is not at all a science—it's very much an art."
Top photo: Gonzales was the first senior Western official to meet with Guinean Transition President Mamady Doumbouya in December 2021 after a military coup that toppled former President Alpha Condé. (Photos courtesy Michael Gonzales '96)