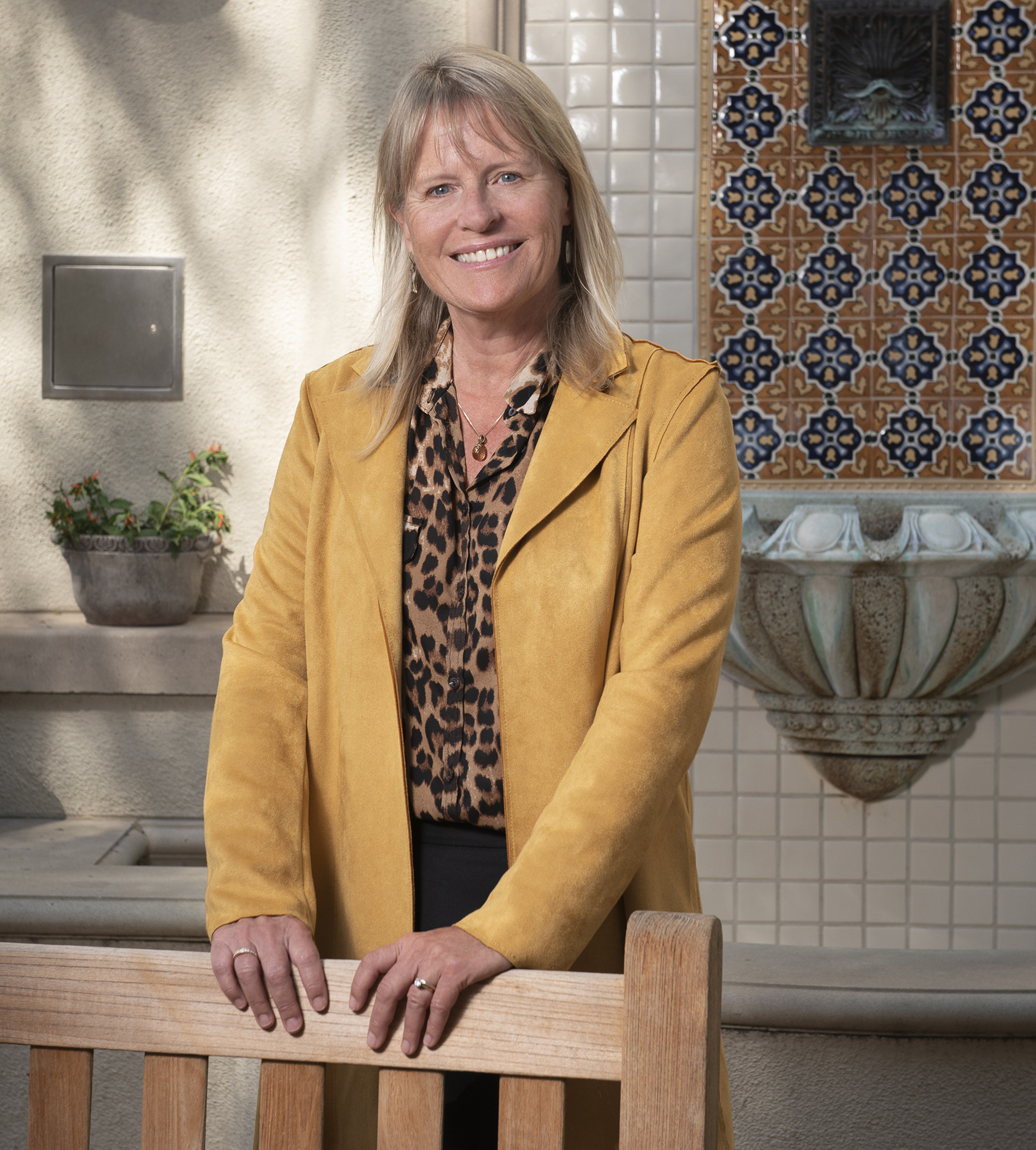 In her sixth year as an Oxy trustee, Lisa Hinchliffe Link P'18 steps up to become board chair—30 years after her father assumed the same role
Lisa H. Link P'18 has deep ties to Occidental: Her parents, Stephen Hinchliffe '55 and Ann (Hoffmann) Hinchliffe '57, met as students at Oxy. She also has two aunts, an uncle, a brother, and a niece who attended the College. And after the younger of her two sons, Ryan, enrolled at Oxy with the Class of 2018 (her firstborn, Andy, graduated from Claremont McKenna in 2014), Link took on a volunteer role on the Parents Council, which proved to be a stepping stone to trusteeship.
Reflecting her parents' long Occidental legacy, Link—a 1982 graduate of Wellesley College—grew up in the midst of their extensive circle of Oxy friends. So, when she joined the Occidental Board of Trustees in 2016, she needed no introduction to some of the board's senior members. "I already knew a number of trustees and trustees emeriti—people like John Power '58, Rary Simmons '53, and Ginny Cushman '55," says Link, a retired labor and employment attorney who now is the board's new chair.
Link—whose passion for education and expertise in public school financing led her to take a leadership role in the San Marino Unified School District Board of Education—succeeds Stephen Rountree '71, who completed a three-year term as chair June 30.
During her six years as a trustee, Link has repeatedly played a prominent role in navigating the future of Occidental. She was a member of the search committee that brought President Harry J. Elam, Jr. to campus in 2020, served as vice chair of the board's Executive Committee, and particularly enjoyed chairing the Student Life and Enrollment Management Committee, given her interest in the student experience and in promoting student success.
"I am excited to work closely with President Elam and my fellow trustees to support the mission and goals of the College," says Link, who lives in San Marino with her husband, Dave. "I will continue to work on those key initiatives my predecessors have worked on: increasing engagement, increasing the diversity of our board in all aspects, and increasing our understanding of the issues that our students, faculty, and staff face, so that the decisions we make as a board are the best decisions possible."
Link also intends to press ahead with The Oxy Campaign For Good, the College's comprehensive campaign that surpassed its initial $225 million goal with a full year remaining. "One thing we learned from the campaign is that there is substantial alumni and outside support for Occidental and its mission, and that we can achieve even more than we already have," she says. "The campaign is just the first step in terms of growing our engagement, our endowment, and support for our students and academic programs."
A Latin American studies major at Wellesley, Link completed a J.D. at the USC Gould School of Law in 1987. She practiced labor and employment law for two decades with the Los Angeles office of BakerHostetler. While with the firm, she also served for two years as an adjunct assistant professor, associate director of legal writing and advocacy, and moot court faculty adviser at Gould.
As a result of her representation of the Los Angeles Unified School District on a case involving public school financing, she was asked to co-author a white paper on that subject for San Marino Unified, where her two sons were enrolled. That led to her being asked to run for school board in 2011, where she served two consecutive terms and twice served as board president. She also served as president of the San Marino High School PTSA and the nonprofit Partnership for Awareness, as well as on the board of the San Marino Schools Foundation.
Being an Oxy parent while having gone to another small liberal arts college does give Link a different perspective from most of her predecessors as board chair, "and every now and then it's good to have that perspective," she says.
At the same time, Link is part of Occidental history: In her new role, she follows in the footsteps of her father, who chaired the board from 1992 to 1994 and was named chair emeritus in 2016. "Oxy has made such a positive difference in the lives of my family and friends," she says, "and I look forward to continuing their legacy of leadership and support of the College."