A documentary filmmaker, a Commencement speaker, a basketball standout, and a coach named "Heat"
Kwame Anthony Appiah, internationally known philosopher, cultural theorist, and author (Cosmopolitanism), will deliver the address at Oxy's 125th-anniversary Commencement ceremony on May 20. Joining Appiah in receiving honorary degrees will be Ruth Coleman '82, director of California State Parks since 1999; Steve Cooper '68, one of the country's leading corporate turnaround experts; Diane Evans '76, director of JPL's Earth Science and Tech­nology Directorate; and Patt Morrison '74, journalist, author, and radio-TV personality. 
Occidental's Urban & Environmental Policy Institute has received a $500,000 grant to improve healthy food access for Los Angeles' low-income preschoolers and their families. The five-year grant from First 5 LA, a child advocacy and grant-making agency, will fund an advocacy, educational and policy project that will ramp up the availability of locally grown, affordable fruits and vegetables.
Oxy's women's basketball squad won its fifth consecutive SCIAC championship and a school-record 13 league games en route to a 22-4 mark. Forward Makenzie Brandon '13, a kinesiology major from Seattle, averaged 18.1 points per game and was named SCIAC women's basketball player of the year.
Broderick Fox, associate professor of media arts and culture, premiered his feature-length documentary, The Skin I'm In, at Thorne Hall on February 22. Fox recounts his bodily history of addiction, pain, sex, and cultural stigmatization and his commitment to a more integrated approach to living through the ritual of tattooing. The film will be shown at the Park City Film Music Festival (May 25-June 3).
Meet Anahit Aladzhanyan '07
When Anahit Aladzhanyan '07 joined the Occidental men's basketball staff as an assistant coach last summer, she and the program became pioneers, challenging long-established preconceived notions that women can't coach men. "Heat," as she's referred to on campus, is one of just a handful of women coaching men's college sports and one of just three coaching men's NCAA Division III college basketball, according to a survey of NCAA Division III sports information directors.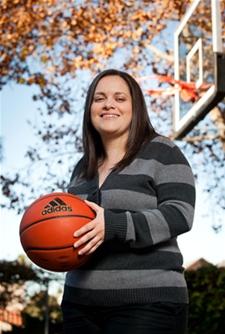 But while the voice on the other end of recruiting calls and at practices may have a higher pitch, Aladzhanyan shrugs off the novelty of coaching the opposite gender. "Basketball is basketball," she says. "It might be slightly more physical, slightly more aggressive, but in general it's the same stuff."
In any case, Heat's resume would stand out among any group of young assistant coaches. Aladzhanyan won four SCIAC titles as an assistant with the women's basketball team and works in the Oxy athletic department as business manager. So when men's head coach Brian Newhall '83 had a vacancy on his staff last summer, he jumped at the chance to bring on a coach he says is as good as any. "What I'm interested in is the quality of work," he says. "Her basketball knowledge, communication skills, and work ethic would match up well with any assistant coach in Division III."
Heat became the first person in her family to attend college, choosing Occidental over her dream school, UCLA, so she could continue to play basketball. After her freshman year, though, she was cut from the Tigers roster. Then Jaime Hoffman, now the College's athletics director, took over as head coach in 2005, and the door was open again for Heat. She flourished this time, becoming team captain as a senior and an extension of Hoffman on the floor. "Jaime let me put in things, from our press break to sets. She let me call the offense off of the bench," Aladzhanyan says. "She really helped me grow in a coaching capacity."
In 2010, Aladzhanyan completed her master's in psychology from Pepperdine University. Today she practices clinical psychology at a nearby agency when she's not on the floor for Oxy. So far, it's been an easy transition from the women's game to the men's for Heat and her players. "I totally respect that they are receptive and coachable," she says. "There really hasn't been a big difference—maybe just the dunking."
—MICHAEL WELLS