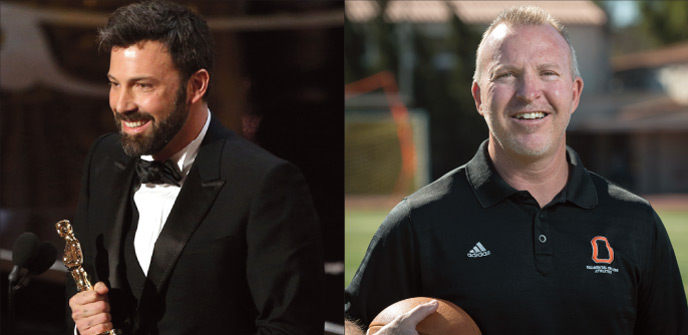 A high-water mark for swimmer Steven van Deventer '15, a new calling for Pulitzer Prize-winning journalist Steven Coll '80, a second Oscar for director Ben Affleck '95, and more
Occidental swimmer Steven van Deventer '15 of Naperville, Ill., set a new Oxy and SCIAC record in the 200-yard breaststroke at the NCAA Division III Men's Swimming and Diving Championship in Shenandoah, Texas, on March 23. Van Deventer posted the second-best time in Division III history (1 minute, 58.6 seconds), coming from behind to beat Steven Institute's Simas Jarasunas in the last length of the race. Van Deventer is the fifth Oxy swimmer to win a national championship in an individual swim. He also finished third in the 100 breast the day before, earning All-American honors.
Ben Affleck '95 added a second Oscar to his mantle when his third film as a director, Argo, took home Best Picture at the Academy Awards on February 24. After being snubbed by the directors branch of the Academy of Motion Picture Arts and Sciences, Affleck and Argo ran the board in the run-up to Hollywood's biggest night, picking up every honor under the sun. Just hours after the Oscars, he shaved off his "good luck" beard.
Steve Coll '80, two-time Pulitzer Prize winner and former managing editor of The Washington Post, has been named the new dean of Columbia University's Graduate School of Journalism. He succeeds Nicholas Lemann, the school's dean since 2003. A staff writer at The New Yorker and outgoing president of the New America Foundation, Coll—"one of the most experienced and respected journalists of his generation," in the words of Columbia President Lee Bollinger—was a National Book Critics Circle Award finalist in 2012 for his most recent book, Private Empire: ExxonMobil and American Power.
Doug Semones, a former assistant head coach at Yale, has been named Oxy's new head football coach, succeeding Bill Redell '64, who retired after the 2012 season. "It's a great opportunity and a great challenge to bring the Tigers back to the tradition of excellence that they have had for a long time," says the Mesa, Ariz., native. Semones earned a B.S. in physical education in 1983 from Cal Lutheran, where he played defensive back for the Kingsmen.