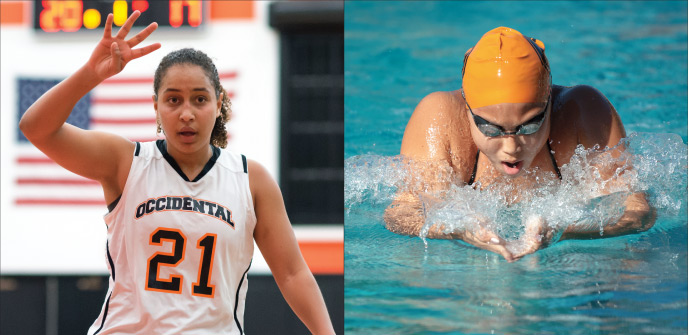 Singular Sensations
Makenzie Brandon '13 and Caroline Chang '14 soar on the court and in the water, respectively, to take top SCIAC honors 
By Michael Wells
Basketball player Makenzie Brandon '13 got a simple text message from her coach. Swimmer Caroline Chang '14 had to be pulled out of the shower by a teammate so she wouldn't miss the awards presentation.
But regardless of how they received the news, Brandon and Chang are at the top of the conference after taking home SCIAC Athlete of the Year honors in their respective sports in February.
Brandon, a kinesiology major from Seattle, dominated the court in winning her second consecutive conference honor, leading in points per game (23.2) while averaging the second-best rebound total (9.5). The 5'11" forward also set the SCIAC and Occidental all-time single-game scoring record with 54 points in the Tigers' 115-105 win at La Verne on January 24.
"It's an award that I've been working toward each season, but it's nice to come out as a senior and validate the work that I've put in for the last four years," says Brandon, who played on three SCIAC championship teams (alongside fellow seniors Marquisha Corley, Liz Little, Katelyn Rowe, and Stephanie Scamman) for Oxy, which went 16-10 this season under head coach Anahit Aladzhanyan '07.
Chang, a psychology major from Lisle, Ill., won the SCIAC championship in the 100- and 200-yard breaststroke events for the third year in a row and finished second in the 200-yard individual medley. Still, she expected 200-yard IM winner Michele Kee of Claremont-Mudd-Scripps to take top conference honors for a third straight year.
"It was one of those things where I felt like all of my hard work for more years than I can even count had finally paid off," says Chang, who made noise at the nationals last year when she became the first Oxy women's swimmer to earn All-American honors since 1987. "It's nice to be recognized for not only my hard work, but also for my teammates' and coaches'."
For the third year in a row, Chang represented the Tigers in the women's 200-yard breaststroke at the NCAA Division III Swimming and Diving Championship. "She continues to raise the bar for herself," second-year head swim coach Shea Manning says of Chang, who swam to a 10th-place finish with a time of 2:20.16—about 2.5 seconds slower than her SCIAC championship time.
While Brandon finishes her Oxy career as the Tigers' all-time-leading scorer with 1,592 points, she plans on playing pro basketball overseas before pursuing a career in public health. Chang, however, has one more year in a swimming program that's on the rise. Brandon's advice to Chang for a repeat season? Get back to the basics, and keep improving. "It's like coming back after a really good game," she says. "It's harder to do it the second time because you have to refocus on a lot of the little things that got you there in the first place."
Wherever she finds herself next year, Brandon will be rooting for Chang. "I think she'll do it again. From the little I know about swimming on the outside looking in, she's pretty impressive."