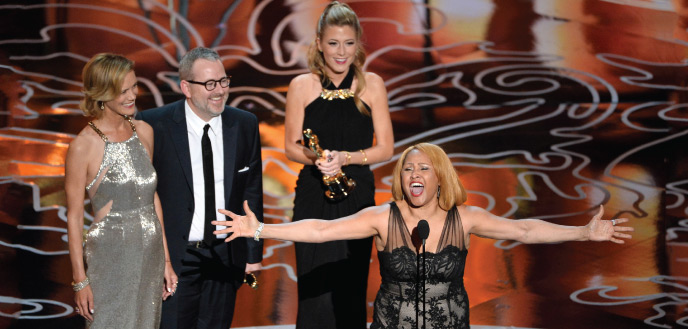 Working with a veteran music mogul, a journalist-turned-filmmaker, and some of the greatest unsung voices of the last half-century,
20 Feet From Stardom producer Caitrin Rogers '04 charts a path to an Academy Award
By Dick Anderson
Not every documentary begins with a stoned music industry legend attending a Leonard Cohen concert, but that's where former A&M Records president Gil Friesen was when inspiration hit. Over the course of a very long evening at L.A.'s Nokia Theatre in 2009, Friesen found himself mesmerized by the iconoclastic musican's backup singers. And the next day, as Caitrin Rogers '04 tells the story, "He tried to find a book or a movie to learn more about these people—who they are, what their lives are like—but he couldn't find anything. And so he then decided, 'OK, how about I make a movie?'"
Friesen—who would die of leukemia in December 2012, a month before his brainchild,
20 Feet From Stardom
, opened the 2013 Sundance Film Festival—"went on to later say it was the most expensive joint he ever smoked," says Rogers, who came on board as the film's producer early in the process alongside director Morgan Neville, who had a number of music documentaries under his belt.
"We met Gil, and he said, 'Here's the money, here's the title, here's the subject, make a movie,'" Rogers says. In the planning stages, she and Neville had their doubts if there was a film to be made from Friesen's logline of an idea. But after their first day of interviews in New York—a total of four singers that included Phil Spector discovery Darlene Love—"We were like, 'Oh my God, there's so much story here.'"
If you watched the Academy Awards on March 2, you may remember how this story ends. When 20 Feet From Stardom took the Oscar for Best Documentary Feature, Neville and Rogers were joined onstage by Friesen's widow, Janet, and Love herself—who belted out an a cappella verse of the gospel classic "His Eye Is on the Sparrow" to an audience of 40.3 million viewers in the United States.
Moments before, as Bradley Cooper presented the nominees, "Darlene and I were holding each others' hands so tightly I'm surprised that I didn't break her hand," says Rogers. "When he said our film, I looked over at Morgan, and his jaw just dropped."
It's pretty awesome to think that, a mere decade earlier, Rogers was a senior at Oxy, majoring in art history and the visual arts with an emphasis in film production. "I always liked documentary storytelling," says Rogers, who got an internship her junior year with a post-production house in Santa Monica, which led to a full-time job after graduation working on a number of documentary-format shows for MTV and VH1.
The facility would also rent out space to other editors, and that's how Rogers met filmmaker Paul Crowder, who had edited
Dogtown and Z-Boys
and
Riding Giants
("two films that I really loved when I was in school"). She worked as his assistant editor on a pair of feature documentaries—
Once in a Lifetime
, about the New York Cosmos soccer team, and
Amazing Journey: The Story of the Who
—which Crowder edited and directed.
Rogers moved to London for a while and was doing "on-the-ground, associate-producing kind of stuff" when she began a working relationship with Passion Pictures, one of the world's leading producers of independent ­feature documentaries. When she moved to New York, she started work on The Tillman Story for Passion and director Amir Bar-Lev. Rogers earned her first co-producer credit on the documentary, which was short-listed for the Oscars in 2011.
What does it take to make a good producer? "Talking about this is a new thing for me," Rogers says. "It's important to be organized and efficient and thick-skinned and assertive but also gracious. I deal a lot with the subjects and the crew, so it's finding a balance, keeping everybody happy while moving things forward."
While 20 Feet was in production, Rogers and Neville kept in almost daily contact with Friesen, who frequently drove between his Brent­wood and Santa Barbara homes. "That was his time to make his calls," Rogers says. During the latter stages of his illness, "He turned his hospital room into a little office. He pretty much saw the final cut that we went to Sundance with, and he was pleased."
The day after receiving a standing ovation at its premiere screening at Sundance, 20 Feet was sold to the Weinstein Company's Radius division. The film earned nearly $5 million at the U.S. box office, tops among all 2013 documentaries that didn't star One Direction or Justin Bieber (whose producers don't have an Oscar on their mantel now).
With her Academy Awards dress (an Alexander McQueen) in the closet, Rogers is reteaming with Neville on his next feature, about the members of the Silk Road Ensemble—a worldwide collective of musicians who have played with cellist Yo-Yo Ma since he formed the group in 2000. "Yo-Yo Ma will be the through-line, but we'll follow the stories of different Ensemble members to explore the communication of different cultures through music and the importance of tradition," she says. "Our first big shoot was in China, and now we are planning trips to Spain, Turkey, Jordan, and possibly India."
Rogers was back in New York days after the Oscars, getting coffee for the whole crew "because the production assistant was busy," she says. "I've been lucky to work with really talented ­people. My role is to support them so they can do what they do best and approach every challenge as if my career depended on it." Any backup singer would relate.