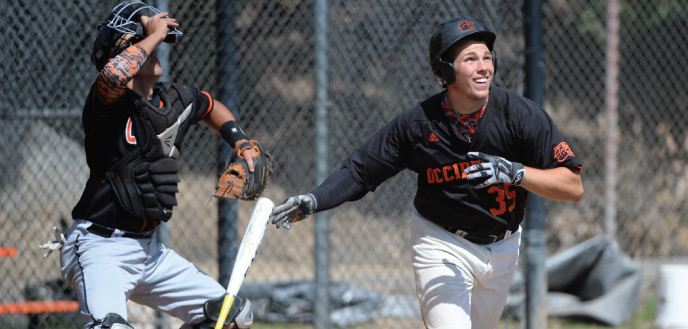 Behind the bat of Devon DeRaad '17 and the arm of Scott Ericksen '16, Coach Luke Wetmore's Tigers end a 34-year SCIAC title drought
By Dick Anderson
The video starts out like something out of "Carpool Karaoke," as five Oxy baseball players get into a car driven by Jamie Cooper '17. Trevor Lecka '16 is riding shotgun, while Charlie Caccamo '16, Devon DeRaad '17, and Jared Baur '19 pile into the back. It's 5:30 a.m., and they're on their way to the gym. "Every day is an opportunity to improve," one player says in voiceover. "I choose to get better." "We choose to get better," another player adds, and the chorus grows from there: "Success is earned, never owned." "Grind when it's uncomfortable." "One day at a time." "One rep at a time." All of it builds to the Tigers' team mantra: "As iron sharpens iron, so one man sharpens another."
Coming off a disappointing fifth-place conference finish last year (17-11 SCIAC, 22-17 overall), head coach Luke Wetmore borrowed a verse from the Book of Proverbs for inspiration "because I felt like we struggled with teammates being afraid to hold each other to a high standard in 2015," he says, "and I didn't want the same culture this season."
As it turned out, Oxy had the culture and the talent to deliver one of the greatest seasons in the program's storied history (which dates back to 1889, with intramural games for students both at Oxy and its affiliate prep school, Occidental Academy). Wetmore led the Tigers to a 32-10 record and their best finish since 1967, when Coach Grant Dunlap '46's squad upended expectations to go all the way to the Division III Elite 8 at 32-6.
You don't have to go back quite that far for the last time that Oxy clinched a conference title in baseball—that was May 4, 1982—but even then, SCIAC's 2016 Coach of the Year was a full year away from being born. "I wasn't even conceived yet," Wetmore says with a laugh.
Prior to the start of the season, Wetmore made two key adjustments in his lineup, moving senior reliever Scott Ericksen into the starting rotation permanently and making DeRaad the Tigers' designated hitter. Both moves paid off handsomely, with Ericksen, a chemistry major from Lafayette, going 6-0 in conference play (10-2 overall) and copping SCIAC Pitcher of the Year honors.
As for DeRaad—well, he just exploded. The Scottsdale, Ariz., environmental science major led the SCIAC in RBIs (55), slugging percentage (.882), and on-base percentage (.562), and his conference-best 16 home runs (resetting his Oxy single-season record of 13) was second among all Division III players nationally. DeRaad was named to the American Baseball Coaches Association's 15-position First Team, capping a post­season of honors that includes SCIAC Player of the Year, First Team All-West Region by D3baseball.com and the ABCA, and Second Team College Sports Information Directors of America Academic All-American with a 3.4 GPA.
"We've been working hard since September in the weight room, since January on the field. All these guys deserve it," DeRaad said after Oxy clinched a share of the SCIAC championship with an 11-1 win over Caltech at Anderson Field on May 1. (DeRaad hit three homers that day.) "It's the coolest thing I've done as a college athlete."
"I do think we surprised everybody but ourselves," Wetmore says. "When we got into camp, I started to see inklings of it, with the upperclassmen starting to step into leadership roles." At their first team meeting in January, he says, "we started to talk about winning a conference championship."
That chemistry Wetmore was seeing in practice took some time to gel on the diamond. In their SCIAC season opener against Chapman, the Tigers dropped the first two contests by a combined 14 runs, including a 12-1 drubbing in Game 2. In Game 3, however, a seven-run outburst in the fourth inning put Oxy ahead on the way to a 14-4 rout of the Panthers. That set off a 13-game winning streak that vaulted the Tigers to the top of the conference heap and into the ABCA and D3Baseball rankings (peaking at No. 7 and No. 12, respectively).
When their winning streak was snapped March 25 in an 11-1 rout at Redlands, the Tigers rebounded the next day to take two from the Bulldogs. Oxy later won two out of three against defending champs Cal Lutheran, serving notice that Wetmore's players were true contenders.
Having "demystified" the allure of winning the regular season conference title, he says, next is securing a bid to the NCAA Division III Regionals, which the Tigers could have clinched by winning the postseason tournament over Cal Lu. "I think there's a lot of motivation left," Wetmore says of his 19 returning players.
Joining the Tigers next year is a talent-rich pool heavier on arms than position players but potentially even stronger than their predecessors. Oxy's recent success has "already done tremendous things" for Wetmore's recruiting efforts: "As good as our first-years were this season, I believe next year's class is even better."