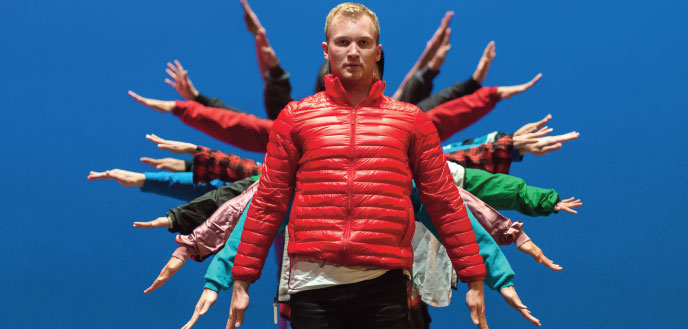 For two days each March, Dance Production lords over Thorne Hall as the biggest student show on campus. But it takes many hands to pull it off
What has 266 participants, 17 dances, and all but five majors represented this year (the outliers being American studies, Chinese, Latino/a and Latin American studies, philosophy, and religious studies)?
OK, that question was a gimme. An Oxy staple since 1948, Dance Production is "truly one of the most inclusive spaces on campus," says co-president Hilary Fitzsimmons, a psychology major from New Canaan, Conn. "There's so much spirit, talent, and hard work showcased every year."
"Prior to coming to Oxy I'd only had experience with three musicals in high school," says Deon Summerville '16, an economics major from St. Louis. When it came time to pick a college, he recalls, Dance Pro tipped the scales toward Oxy because his tour guide on his campus visit was the club's president that year: "His spiel about Dance Pro really piqued my interest."
After two years as co-president, three years as a choreographer, and four years as a dancer, "I'm so appreciative of my experience with Dance Pro," he adds. "Not only did it push me to become a better dancer, but also a better choreographer and leader."
Fitzsimmons had danced for about 10 years before enrolling at Oxy, "mainly part of dance companies focused in modern and jazz," she says. "It is incredible to watch the dancers grow under the leadership of their choreographer and peer.  Dance Production definitely was the highlight of my Oxy experience." Summerville concurs: "Without a doubt," he says.
Pavel Gladkevich '16, a biochemistry major from Albany, leads "Part of the Crew," choreographed by Gladkevich and Scott Lew '16, a physics major from Chino. Their piece incorporates elements of breaking, house, tutting, and krump. It focuses on the unity of the dancers as well as each dancer bringing his or her own flavor.
"Mauna A Wākea," a hula kahiko piece choreographed by Kelly Lehua Fitzgerald '18, honors the families affected by the planned construction of the Thirty Meter Telescope on top of Mauna Kea in Hawai'i. While it calls on people to rise and firmly stand for what they believe in, it also asks people to remember love. It reminds people that despite their differing opinions, they are still ohana (family) until the end of time.