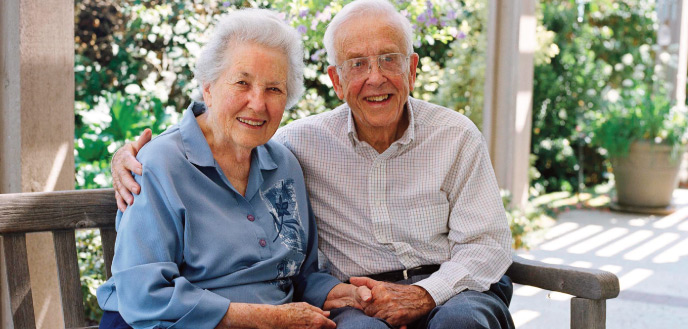 Addie McMenamin '40: Alumni's First Lady
In the unwritten dictionary of Occidental College, next to the entry for Oxy Statistic would be a picture of 1940 graduates Addie (Grant) McMenamin and John McMenamin. The couple met as students from Santa Barbara and Hollywood high schools, respectively, on June 29, 1935, a weeklong campus gathering sponsored by the Board of Christian Education of the Presbyterian Church. "John was elected assistant songleader by his fellow delegates," Addie recalled in 2006, "and he never in his life had led a song." Sitting up on the stage of Alumni Chapel (now Choi Auditorium), Addie taught him the basic time signatures—2/4, 3/4, 4/4—and so began their acquaintance that would lead to a first date as first-years—an Orr Hall dance in fall 1936—and then nothing until their senior year. Following an Occidental Players production in April 26, 1940, the couple hung out together. That night, John recalled in 2006, "Addie's laughter and her sparkling eyes were just overwhelming." His discipline may have been biology, but he knew chemistry when he felt it.
John and Addie McMenamin were married in 1942—a nearly 72-year union that ended only with John's passing in February 2014. In between, they gave much of their lives to Oxy—John, over a 36-year tenure as professor of biology, and Addie, with nearly 20 years of service to the Alumni ­Office. Addie died April 8, 2017, at her home in Oceanside.
In addition to her work in the alumni office, Addie was fondly referred to as "the first lady of biology," in the words of professor emeritus Pat Wells and his wife, Pearl. "We fondly remember the warm welcome that John and Addie gave us when we joined the Occidental faculty in 1957, and that they were a driving force in the modernization of Oxy biology from a four-person, 19th-century relic to the world-class department of today."
A native of Santa Barbara, Addie earned a degree in English at Oxy, graduating as a member of Phi Beta Kappa and Mortar Board. She worked in a variety of positions, including elementary school teacher and secretary to the director of University Extension at UCLA, before she came to work at Oxy. Prior to her retirement in 1978,  she took on every task imaginable, from running the Alumni Fund to helping computerize alumni records. At various times Addie also served on the Alumni Board of Governors, as president of Alpha Sorority Alumnae, and as a counselor to Phi Beta Kappa of Southern California.
After John retired in 1982, the McMenamins retired to Longbranch, Wash., moving to Oceanside in 2001 to be nearer to sons David '69 and Stuart '71. In recognizing John and Addie with the Alumni Seal Award in 1991—the first couple to be so honored—Addie was singled out for leaving her own imprint on Oxy. "How she managed children, a gang of [John's] college students, and still participated in alumni activities is anyone's guess," the citation noted. "But then Addie has always had a way of making everything look easy." In recognition of their unblemished record of support for Occidental dating to 1940, the College created the McMenamin Society in 2007 to recognize donors with five or more years of continuous support.
In addition to her sons, Addie is survived by two grandchildren and four great-grandchildren. The family has asked that any memorial gifts be designated for the McMenamin Scholarship at Occidental.