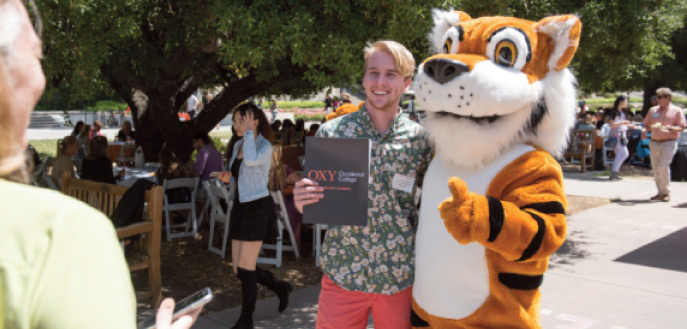 Two high-profile college surveys suggest that the Oxy experience is both enriching and rewarding
When it comes to the quality of education and the economic mobility it delivers to its students, Occidental is one of the country's top liberal arts colleges. And new rankings from The Wall Street Journal and The New York Times reinforce those measures.
In the inaugural Wall Street Journal/Times Higher Education college rankings, Oxy emerged as No. 27 among liberal arts colleges. Unlike many other college rankings, the WSJ/THE list focuses not on test scores and acceptance rates but such factors as resources devoted to academic programs, effective student engagement, graduation rates, and alumni salaries. "We focus on what students get out of a school, not how hard it is to get in," the Journal explained.
In a separate ranking of income mobility among college graduates, the Times ranked Occidental No. 7 among elite public and private schools—a measure of both access and outcomes that suggests that low-income Oxy students made significant progress up the economic ladder after graduating.
Occidental's 19 percent mobility index ranking was the highest of any liberal arts college in the Times' elite school category.
College rankings traditionally have emphasized inputs such as test scores and how many applicants are denied admission rather than students' actual undergraduate and postgraduate experience, notes Vince Cuseo, Occidental's vice president of enrollment.
"It's refreshing to see the emergence of rankings that attempt to measure outputs—students' level of engagement and what they are able to accomplish with their degrees after they graduate," Cuseo says. "We believe that is more helpful to prospective students and parents and more reflective of our mission and what Oxy students and alumni actually experience."
The Journal ratings of 500 four-year colleges are based on federal educational statistics, THE's student surveys, and other sources. The Times' mobility rankings were based on data drawn from 30 million redacted tax returns that covered college students born between 1980 and 1991 analyzed by Stanford economist Raj Chetty and his colleagues. To identify which colleges are the best "engines of upward mobility," they ranked schools on their ability to move large numbers of students from the poorest 20 percent of the income distribution to the top 20 percent.
Seventy percent of Oxy students receive some form of financial aid. One in five students are Pell Grant recipients, one of the highest percentages among top-ranked liberal arts colleges. Some 15 percent of the Class of 2020 is the first in their families to attend college.
The new rankings come during an uptick in interest in Occidental. The College has received a record 6,760 applications this year for admission to the Class of 2021—a 5.6 percent increase over the previous year.