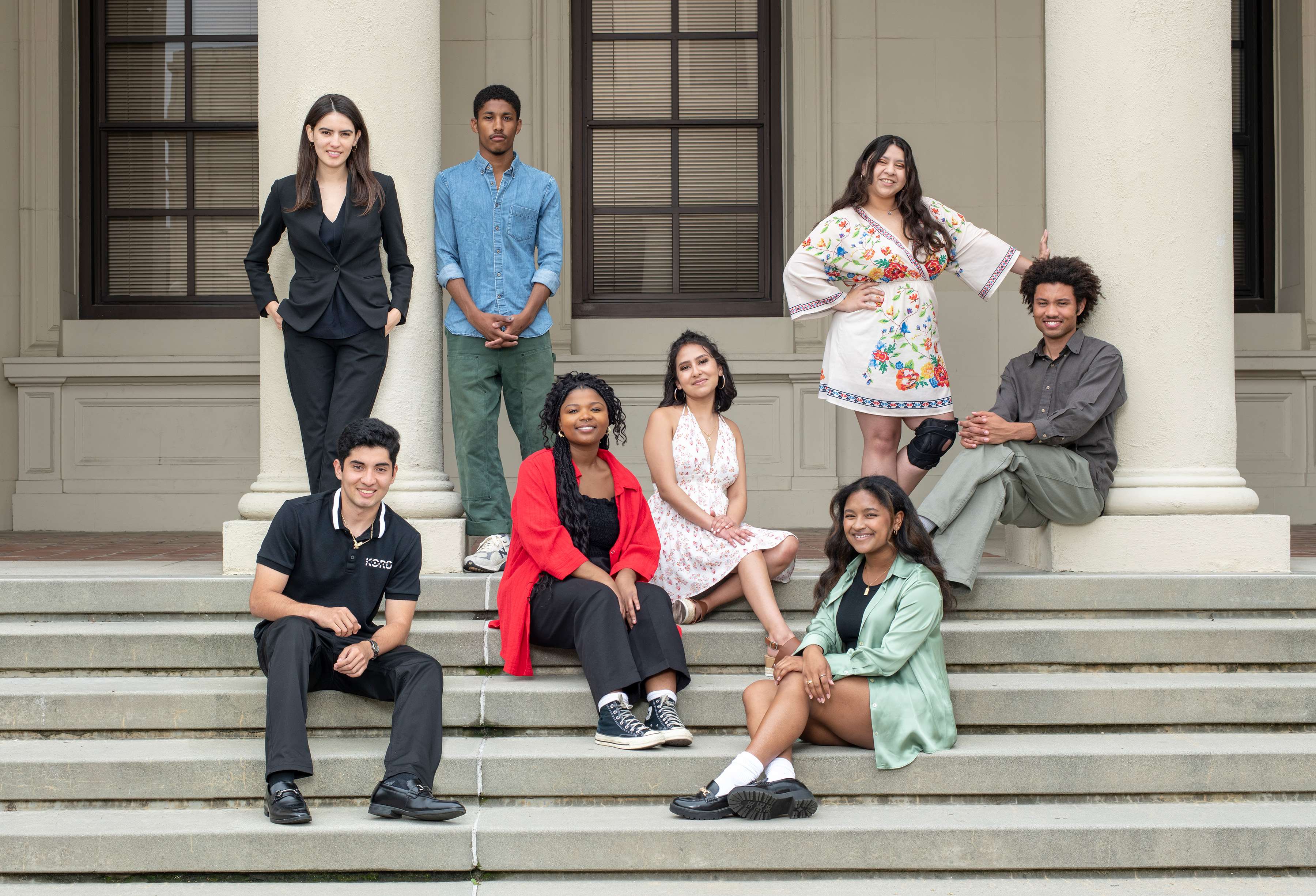 Meet the eight sophomores and juniors selected for Occidental's premier leadership training program
Eight Occidental sophomores and juniors, including four first-generation college students, have been selected as Occidental's 2023-24 cohort of Barack Obama Scholars. The prestigious leadership training program seeks to empower exceptional students committed to the public good.
Obama Scholars, who can pursue any field of study at the College, are selected on the basis of a strong record of academic achievement and a demonstrated commitment to the public good, with an emphasis on first-generation students, veterans, and community college transfers. The 2023-24 cohort represents a wide range of majors, from history and geology to diplomacy and world affairs and psychology.
The 2023-24 Barack Obama Scholars are: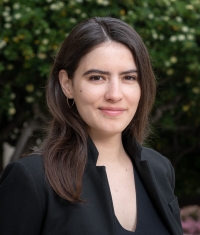 Melany Bennett '24, a diplomacy and world affairs major from Los Angeles. A non-traditional transfer student, Bennett transferred to Occidental from Los Angeles City College as the recipient of the Jack Kent Cooke Undergraduate Transfer Scholarship in 2022. Raised in Tampico, Mexico, she founded the nonprofit Tampico Project to help create pathways for students in her hometown to access educational opportunities and cultural enrichment programs in the liberal arts. At Occidental, she serves as the student representative of the Board of Trustees' Institutional Advancement and Communications Committee and has joined the Young Initiative on the Global Political Economy team. After graduation, she plans to get a master's degree and pursue a career in the U.S. State Department in public diplomacy, specializing in Latin America.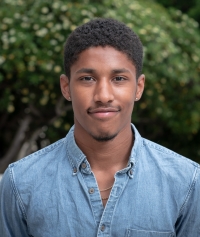 Raul Cruz Robinson '25, a psychology and Spanish double major from Brooklyn. Cruz Robinson is committed to empowering younger generations to fight gentrification in metropolitan cities and improve the quality of life in underserved communities. Through his work with New York City FC, a professional soccer team, Cruz Robinson contributed to several community initiatives, including writing monthly newsletters to spread awareness about political issues and serving as a soccer coach who combined the sport with education about the importance of voting. Cruz Robinson hopes to be a mentor and role model for those who aspire to create meaningful social change. After graduation, he plans to continue assisting and advocating for underserved communities in Los Angeles as well as in Brooklyn.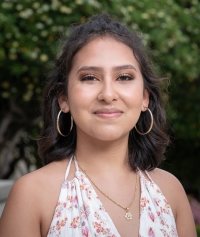 Yenni Guadalupe Gonzalez Salinas '25, a first-generation college student from Nashville, majoring in history with a minor in Latino/a and Latin American studies. As a daughter of immigrants, Salinas is committed to dismantling the systems that perpetuate worker exploitation. As an intern in the Nashville District Attorney's Office, she empowered Spanish-speaking victims and witnesses through the criminal court system and connected them to victim compensation and mental health resources. On campus, Salinas is a Comparte coordinator who assists Occidental's cleaning staff with improving their English speaking and writing skills through weekly classes and serves as an equity ambassador at the Intercultural Community Center. After graduation, she plans to attend law school.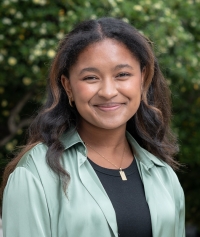 Raja Bella Hicks '25, a diplomacy and world affairs major from Salt Lake City. Coming from a multicultural background, she is deeply interested in creating more equitable communities—specifically for immigrants and refugees. In her hometown, Hicks served as the diversity, equity, and inclusion intern at Zions Bancorp and as her high school's Rotary International Service director. On campus, she teaches community dance classes at OxyArts and is an Upward Bound mentor. Off campus, she has volunteered on Los Angeles Mayor Karen Bass' campaign to elect the city's first female mayor. Hicks transferred to Oxy last fall from Pepperdine. This summer, she is interning in the policy, press, and public affairs department of the British Consulate-General in Los Angeles. After Oxy, she plans to attend law school or earn a master's in international affairs.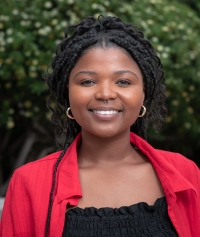 Joy Mopeli '25, a diplomacy and world affairs major with a double minor in urban and environmental policy and public health from Lesotho. Mopeli is committed to advancing anti-poverty efforts in Africa and the African diaspora by working in international development and promoting intercultural knowledge exchanges. She has researched indigenous African agricultural practices, campaigned for climate protection policy, tutored at the Baylor Clinic in Eswatini, and interned for Sentebale, which provides medical and social welfare support for vulnerable children and youths in southern Africa. At Oxy, Mopeli holds a leadership position in the Black Students Alliance and serves as a resident adviser, an Intercultural Community Center equity ambassador, and a program assistant with the Young Initiative. She hopes to pursue a career in global health.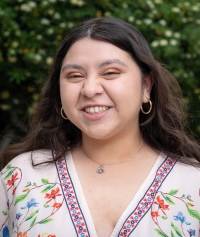 Francesca Romero '25, a first-generation diplomacy and world affairs major with minors in politics and Latino/a and Latin American studies from Walnut Creek. She is committed to making the legal system more equitable for under-represented and low-income communities. Romero is an LEDA Career Fellow, a Jose F. Silva '84 Memorial Scholarship recipient, and a mentor in Oxy's Upward Bound program. She has served as a housing intern for the Legal Aid Foundation of Los Angeles, is currently secretary of the College's National Society of Leadership and Success, and is a member of the Latinx Student Union and Oxy Law Society. Romero is currently a summer public policy fellow with the Coalition for Humane Immigrant Rights in Los Angeles. After graduation, she plans to attend law school and work with community-based organizations.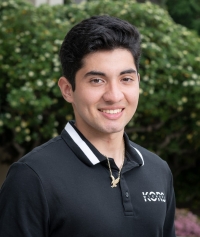 Jessie Salinas '25, a first-generation geology major from Phoenix. Salinas is passionate about improving the representation of the Hispanic community in policy decisions as well as conserving the natural environment for future generations. As a sophomore, he was chosen as a COSMOS (Creating Opportunities in Science and Mathematics for Occidental Students) Scholar, and has said he feels "connected to nature" whether he's studying fossils in a lab or mapping the topography of a forest. Salinas has held leadership positions in various student organizations on campus, including YorkConnection, Oxy Club Soccer, and Oxy Fishing Club, and plans on interning for the College's Urban and Environmental Policy program this summer. He hopes to pursue a master's in geology after graduation and aspires to be an archeologist and activist.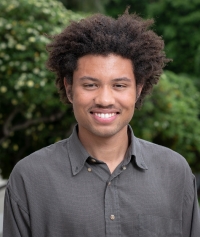 Matthew Vickers '25, a diplomacy and world affairs major and English minor from Kōloa, Hawai'i. As a student researcher, Vickers studied the works of Trinidadian thinker C.L.R. James (1901-1989) and his influence on 20th-century Marxist movements, the historiography of the Haitian Revolution, and Caribbean politics. He is chair of Oxy's Young Democratic Socialists of America, writes for The Occidental newspaper, and is a member of Oxy's cross country and track and field teams. Vickers is committed to improving housing access and equity and plans to pursue a Ph.D. in political science.
During the academic year, participants are enrolled in the Obama Scholars Seminar in addition to their regular class schedule. All are mentored by faculty advisers and members of the Advisory Council, and participate in networking and leadership development opportunities with partner organizations.
All Scholars will participate in a fully funded 10-week summer program of experiential learning and leadership training. Scholars who enter as sophomores also will receive a second summer of funding for an independent internship, research project, or community service opportunity. Each Obama Scholar will receive up to $10,000 in postgraduate funding to launch their career in support of the public good. 
Top photo: Standing, l-r: Melany Bennett, Raul Cruz Robinson, Francesca Romero, and Matthew Vickers. Seated: Jessie Salinas, Joy Mopeli, Yenni Gonzalez Salinas, and Raja Bella Hicks.