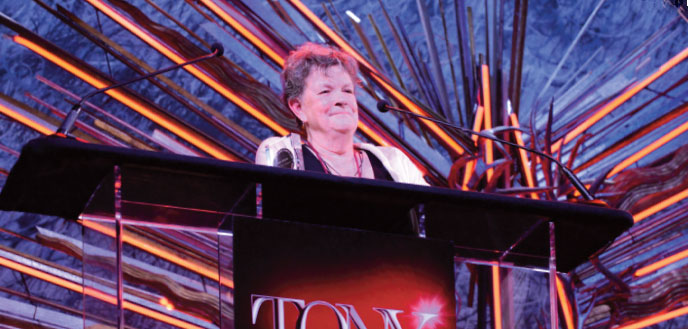 Over the last four decades, Sally Ann Parsons '62 has stitched together costumes for more than 100 Broadway shows and touring companies, as well as ballets, Bette, Barnum & Bailey … and Hamilton! Now she has a Tony for her dresser
By Lori L. Ferguson ! Photo by Jenny Anderson/Getty Images
Costume-making is about fabrication, of course, but translating a designer's sketch into something wearable is but one aspect of the task. For veteran costumer Sally Ann Parsons '62, the real joy comes in solving the unique problems that each job brings to bear. Take, for example, her answer to the challenges of a modest budget while working as a student on a 1960 Oxy theater production of Macbeth: She created costumes out of old drapes from Thorne Hall.
On a somewhat grander scale, Parsons flexed her creative muscles to create a Monkey King "with an Asian twist" for a recent Shanghai production of The Lion King, filling the actor's headdress with long, stiff pheasant feathers, a sign of nobility in China. "This was fun, but presented a bit of an issue because the actor had to be able to do somersaults, which meant that these stiff feathers needed to bend out of the way," she explains.
"You've got to remember the performer's needs, whether personally or in character," adds Parsons, who has costumed more than 100 Broadway shows—including many of the biggest hits of the last four decades, from Cats and The Phantom of the Opera to Wicked and Hamilton—since she and her late husband, James Meares, co-founded Parsons-Meares Ltd. in 1980. "I watch for clues: What does the actor see in the mirror? Is my costume helping her feel more confident or inhibiting her?" Despite the demands of being owner, Parsons continues to make costumes herself. "I really shouldn't be doing that, as it makes double the work for me," she says with a laugh,  "but I love it."
That love is reciprocated by her peers. In 2009, Parsons received the Theatre Development Fund Irene Sharaff ­Artisan Award for outstanding supportive contribution to the field of costume technology. And this spring, the American Theatre Wing and the Broadway League recognized her body of work with a Tony Honor for Excellence in the Theater.
"It's special. It's a big deal," Parsons said in accepting her Tony at a ceremony held at New York City's Paramount Hotel on June 6. "To my knowledge, this is the first time that anyone who makes costumes for the theater has been honored in this way. … So I think this honors all of us who make costumes for all of these wonderful Broadway productions."
The daughter of actors Collette and Milton Parsons, Sally Ann always planned to follow in their footsteps, making her Broadway debut at age 9 alongside her father in Now I Lay Me Down to Sleep. (The comedy, starring Fredric March and his wife, Florence Eldridge, ran for 44 performances in 1950.) She majored in English literature at Oxy, but continued her immersion in theater, working with the indomitable Omar Paxson '48. "Omar had an infectious love of theater, and subsequently became good friends with my father," she recalls.
In Occidental Players productions including Harvey, The School for Scandal, and The Merchant of Venice, Parsons worked behind the scenes alongside fellow Canoga Park High School grad Celinda (Shepard) Jungheim '61 and Celinda's future sister-in-law, Linda (Cox) Shepard '60, both of whom were interested in costuming. "Of the three of us, Sally Ann was the only one who actually went on to be a costumer and be so successful at it," Jungheim says.
"The two of us spent summers during college working as technicians for the little summer theater that Sally Ann's parents put on in the family's backyard," adds Bill Rothwell '62. "We had a lot of fun."
After graduating, Parsons headed to the San Francisco Actor's Workshop—a cutting-edge regional theater founded by San Francisco State University professors Jules Irving and Herbert Blau—and then back to Los Angeles, where she worked in television as an actor technician. Along the way, she realized that she frequently found herself working on costumes. "People remarked that I really had a gift," Parsons recalls, "so in 1966, I headed to New York City."
Once there, Parsons freelanced for a short time, but soon made her way to the legendary costuming shop of Ray Diffen Stage Clothes. There she continued to hone her craft, even running Diffen's business for a time until she and husband James (whom she married on Dec. 24, 1979, at her parents' home in Chatsworth) launched their eponymous shop as squatters in the cavernous rooms of Haaren High School, an abandoned school building on 10th Avenue at 59th Street in New York City.
The couple subsequently grew the business into one of the premier costume shops in New York City, working with many of the biggest designers in stage, film, dance, and opera—a list that includes Eiko Ishioka, Jane Greenwood, William Ivey Long, Willa Kim, Frank Krenz, Carrie Robbins, and Patricia Zipprodt. The costume worn by Michael Jackson for the Disney theme parks film Captain EO? Parsons and Meares flew to California themselves to take the initial measurements and fittings. And for more than 25 years, the company has worked on costumes for Ringling Bros. and Barnum & Bailey's circus shows.
But it was the success of Cats that changed their fortunes "now and forever," so to speak. "They were always respected and started their own costume business with long impressive resumes to their credit," David Shaffer, longtime director of theatrical sales and fittings for Capezio, wrote in his 2009 memoir Footprints on Broadway: My Journey to the Feet of the Stars. "But Cats would give them stability. They were always, following this assignment, major contenders in the Broadway arena."
"Sally Ann and her workshop transform two-dimensional sketches into glorious reality … they've conjured a phantom, a restless mermaid, two young ladies of Oz, and a king of the Pridelands, all with painstaking attention to detail and a passion for the designer's vision," says Thomas Schumacher, president and producer of Disney Theatrical Productions. "Their work is a gift to the designers who first dream them, the actors who wear them, and the audiences who are dazzled by them."
Since Meares' death in 2008, Parsons has carried on their legacy at their Long Island City shop, working alongside more than 60 shoppers, drapers, dressmakers, and artists. "Dance is kind of my favorite—it's where I started—and I still love the Broadway musicals," she says. "I spend a lot of time with my team, and going into a project, I usually have an idea about how a costume should be made."
But Parsons concedes that oftentimes what comes back from the drapers is something more or completely different than what she had envisioned. And that's perfectly all right with her. "Theater is a very collaborative art, which is what makes it so fascinating. It's fun to watch an idea transformed into something real." 
Ferguson wrote "Taking Up Presidency" (Fall 2015).
Additional photos by Joan Marcus (The Lion King), Denise Truscello (Bette Midler), and Deen Van Meer (Aladdin), courtesy Parsons-Meares Ltd.