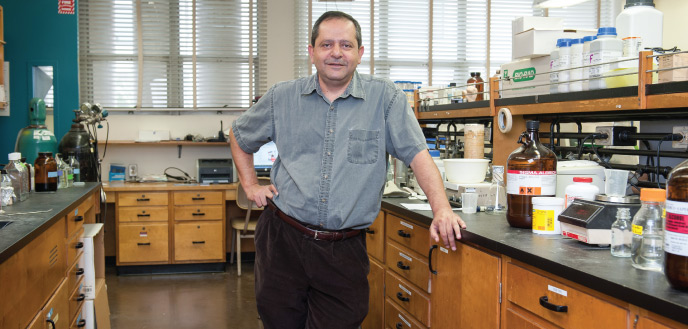 Remembering associate professor of chemistry Aram Nersissian and former track and field head coach Jim Bush
Aram Nersissian, associate professor of chemistry, died May 26 of pancreatic cancer. He was 58. Nersissian was a graduate of Lomonsov Moscow State University, one of Russia's most prestigious universities, and received his Ph.D. in biochemistry from the Institute of Biochemistry of the Armenian Academy of Sciences. He was awarded a Humboldt Postgraduate Fellowship at Munich University, where he was one of the original contributors to the NIH gene bank. After joining the Occidental faculty in 2004, Nersissian continued his research as a regular participant in the Undergraduate Research program. One of his students, William Reeves '16, was honored last year by the American Society of Hematology for a novel anticoagulant Reeves and his student colleagues discovered under ­Nersissian's guidance. Nersissian served as chair of the chemistry department and was working on student ­recommendations up to a week before his death. In his own work, he developed a new method to manufacture a human blood coagulant by substituting a small segment of the human gene with the analogous segment from the Japanese puffer fish. His new gene produced a protein that exhibited dramatically enhanced clotting activity ­relative to commercially availably drugs, a protein that has drawn significant interest from pharmaceutical companies for its potential to create a new clinical therapy for hemophilia. Nersissian is survived by his wife, Aroussiak, sons Miran and Tigran, daughter-in-law Stephanie Tardif '10, and granddaughter Julia.
Jim Bush, whose three-year tenure as track and field head coach (1962-64) produced five national champions, one Olympian, and school records at every event from the 100 to the mile, died July 10 in Culver City. He was 90. After taking the Fullerton College track program from worst to first in its conference, Bush was hired at Oxy in 1962 to succeed Chuck Coker. After Oxy beat UCLA all three years under Bush, legendary Bruins coach Ducky Drake retired, and Bush was recruited as his replacement. Bush guided UCLA to five NCAA track and field championships during his 20-year tenure, and was the head U.S. track coach at the 1979 Pan-American Games. He picked up a Super Bowl ring as a conditioning coach with the Oakland Raiders in 1984, and a World Series ring with the Los Angeles Dodgers in 1988. Bush returned to the college ranks as an assistant track coach at USC in 1989, retiring in 1994. He was inducted into the Oxy Track & Field Hall of Fame in 2001 and also is a member of the National Track & Field, U.S. Track & Field and Cross Country Coaches Association, and UCLA halls of fame. "Jim's affection for Occidental and the track program was exceedingly strong," says track standout and former athletic director Dixon Farmer '63. "His influence on the sport and the student-athletes he coached was immense." Survivors include his wife of 36 years, Francoise.