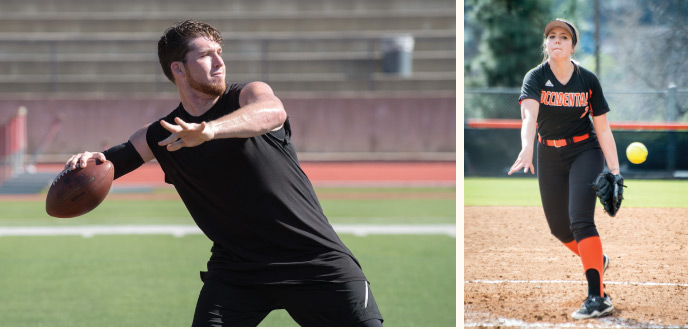 From nine All-Americans and two SCIAC players of the year to a no-hitter in baseball and a tryout with the Rams, spring was a highlight reel for Oxy sports
All-SCIAC sprinter Hugh Pegan '18 of Ukiah picked up three of Tiger track's nine All-American awards at the 2017 NCAA Division III Outdoor Track and Field Championships in Geneva, Ohio, in May. The mathematics major's performance helped Oxy score in the 200 meters, the 4x100 meter relay, and the 4x400 meter relay and finish 20th overall—the best finish in the country for any SCIAC men's team.
The championships marked the end of a successful season for the Oxy men who continued to close ground with Claremont-Mudd-Scripps, losing to the Stags at the SCIAC Championship meet by a mere 1.5 points. Led by javelin thrower Sabrina Degnan '19 of Atascadero, who set a new Oxy record of 147 feet to win the SCIAC championship, the Oxy women placed third in conference.
For the second year in a row, head track coach Rob Bartlett was named SCIAC Men's Coach of the Year. Assistant coach and sprints specialist Tyler Yamaguchi was named U.S. Track & Field and Cross Country Coaches Association West Region Assistant Coach of the Year for the third consecutive year.
After leading Oxy to its best conference season in program history, softball coach Ali Haehnel and assistant coaches Raven Freret and Tod Shimamoto were named the SCIAC Coaching Staff of the Year. The Tigers finished 11-17 in conference play, nearly doubling their previous best win total of six.
Although Oxy baseball came down from last year's heights, Luke Wetmore's squad notched its third consecutive winning campaign (22-17 overall, 13-11 conference). Second Team All-SCIAC pitcher Nolan Watson '17 threw the 15th varsity no-hitter in school history in a seven-inning, mercy-rule 16-0 win over CMS at Anderson Field on March 24. As the game progressed, "I tried not to let it creep in and distract me," Watson said afterward. "The feeling was indescribable, a relief and a weight off my shoulders.  It's just an honor to be a part of Occidental history."
Lacrosse players Alessandra Pelliccia '20 of McLean, Va., Sierra Slack '18 of Vorhees, N.J., and Emma Barrow '20 of Simi Valley were named IWLCA First Team All-West. All three were named First Team All-SCIAC, and Pelliccia was named SCIAC Offensive Player of the Year—a first for a first-year in conference history. The attacker led SCIAC in goals, points, ground balls, and draw controls. The Tigers finished the season 11-6 overall and 5-5 in SCIAC play, advancing to the conference tourney as the No. 3 seed.
Dylan Jirsa '18 of Estes Park, Colo., was named SCIAC Men's Golfer of the Year after finishing with the lowest total score after seven rounds of conference golf.
Swimmer Austin Lashley '18, an All-SCIAC performer in the 100 and 200 fly, was named a CSCAA Scholar All-America Team Honorable Mention. Lashley also set school records in the 200 fly and 50 free, and swam a leg of Oxy's school record-setting 400 free relay. Not to be outdone, both the men's and women's swimming and diving teams earned Team Scholar All-America honors for posting above a 3.0 GPA in the spring semester.
Quarterback Bryan Scott '17 of Rolling Hills, who last fall became SCIAC's all-time leader in passing yards, completions, and total offense, ended the year with an invitation to try out at the Los Angeles Rams rookie camp in May.
While accepting the Roy Dennis Scholar-Athlete Award at the annual athletics awards banquet, the sociology major talked about how he was embarrassed to tell people back in high school that he was coming to Oxy because he'd not received offers from Division I schools. But when he introduced himself to the general manager, coaches, and other Rams players at camp he proudly said, "I'm an Occidental Tiger and I'm damn proud to be one," earning roars from the crowd.