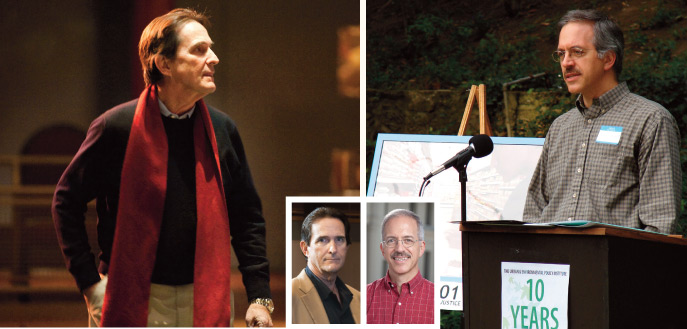 From Shakespeare to statistics to literature to dance, John Bouchard and Alan Knoerr shared their passions with the Oxy community 
"The undergraduate years are full of challenges and choices of both an academic and non-academic nature," Alan Knoerr wrote prior to joining the Oxy faculty in 1991 (when he was a visiting assistant professor of applied mathematics at Brown University). "Getting to know students well by working closely with them and helping guide their development is one of the most satisfying aspects of academic life."
It was not uncommon to find Knoerr helping out his students long after office hours. One student said "they routinely worked together until 3 in the morning." 
Knoerr, who retired this spring as associate professor of mathematics and cognitive science emeritus, was known for generously mentoring faculty across multiple departments and programs such as the Multicultural Summer Institute, the Center for Community Based Learning, and the Core Studies Program. "He has modeled for all of us the importance of recognizing good work wherever you find it," said Carmel Levitan, associate professor of cognitive science. 
Outside of the classroom, Knoerr shared professor of archeology and linguistics emeritus Betchen Barber's enthusiasm for the Occidental Folk and Historical Dance Troupe, which has performed a wide repertoire of American and European folk and historical dances since the 1970s. At his retirement reception, Barber called Knoerr "one of the Renaissance men, deep into art, music, history, linguistics, mathematics, and on and on ... and he has a real flair for choreography."
"My best work has been collaborative," said Knoerr, who encouraged his faculty peers to "get out of your offices. Invite a colleague to lunch. Go to the dance studio. Get to know your colleagues—your students, too. We have a lot to offer them."
In his 32 years at Oxy, including a long run as artistic director of the Occidental Theater Festival, professor of theater John Bouchard directed 42 productions, including six original plays, four musicals, and 13 works of Shakespeare. He was notorious for being "as fanatical about music and sound" as he was about acting, remarked professor of theater Susan Gratch, while emeritus professor Alan Freeman '66 M'67 called him "thoughtful, generous, and kind."
Bouchard employed classical psychological theory to his advanced acting class for both film and theater, while his yearlong Shakespeare sequence combined a semester of analysis from various perspectives with a semester of technical and psychological performance training with the same material. Many Oxy graduates he has mentored have gone on to work as directors and actors in Shakespeare theaters around the country.
Bouchard's arrival at the College coincided with the construction of Keck Theater, which has housed the theater department since its completion in 1989. But more than the venue was undergoing change. Encouraged to re­imagine Oxy's theater curriculum by then-department chair Freeman, "I got to write a lot of it to reflect what I would have liked if I were a student," Bouchard recalled at his retirement reception. He loved literature, so "it became a part of what we do."