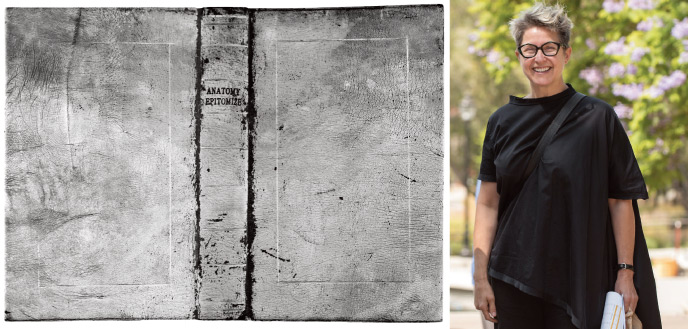 A new major and minor in Black studies, a new photograph for the Huntington Library, and a top honor for teacher Jennifer Tróchez MacLean '91
A new major and minor in Black studies—a transnational and interdisciplinary study of the history, scholarship, arts, and culture of people of the African diaspora—will be offered at Occidental beginning this fall. "I am teaching Introduction to Black Studies right now, and one of the things that we keep coming back to is that this is a field about survival, justice, and joy," says Courtney Baker, associate professor of American studies and chair of the new program, which she co-crafted with American studies professor Erica Ball. While initially cross­disciplinary, the program eventually hopes to develop into its own department.
The Huntington Library acquired professor of art and art history Mary Beth Heffernan's 2017 photograph Bound Volume, above, for its permanent collection. The hand-coated platinum-palladium photograph is a contact print of the Huntington's volume of Anatomy, Epitomized and Illustrated(1737). As the inaugural recipient of the Photographic Arts Council Los Angeles' Contemporary Artist Grant, Heffernan spent several months engaging with the Huntington's collections and producing new work inspired by the objects she encountered.
Jennifer Tróchez MacLean '91, a fifth-grade teacher at Gates Street Elementary School in Lincoln Heights, has been named one of Los Angeles Unified School District's 2017-18 Teachers of the Year, recognized for her strong commitment to her students, school, and community. MacLean is now one of five LAUSD teachers who are qualified for the Los Angeles County Teachers of the Year competition, which is part of the California and National Teachers of the Year programs. MacLean was a double major in biology and psychology at Occidental and earned a master's in science education at USC.