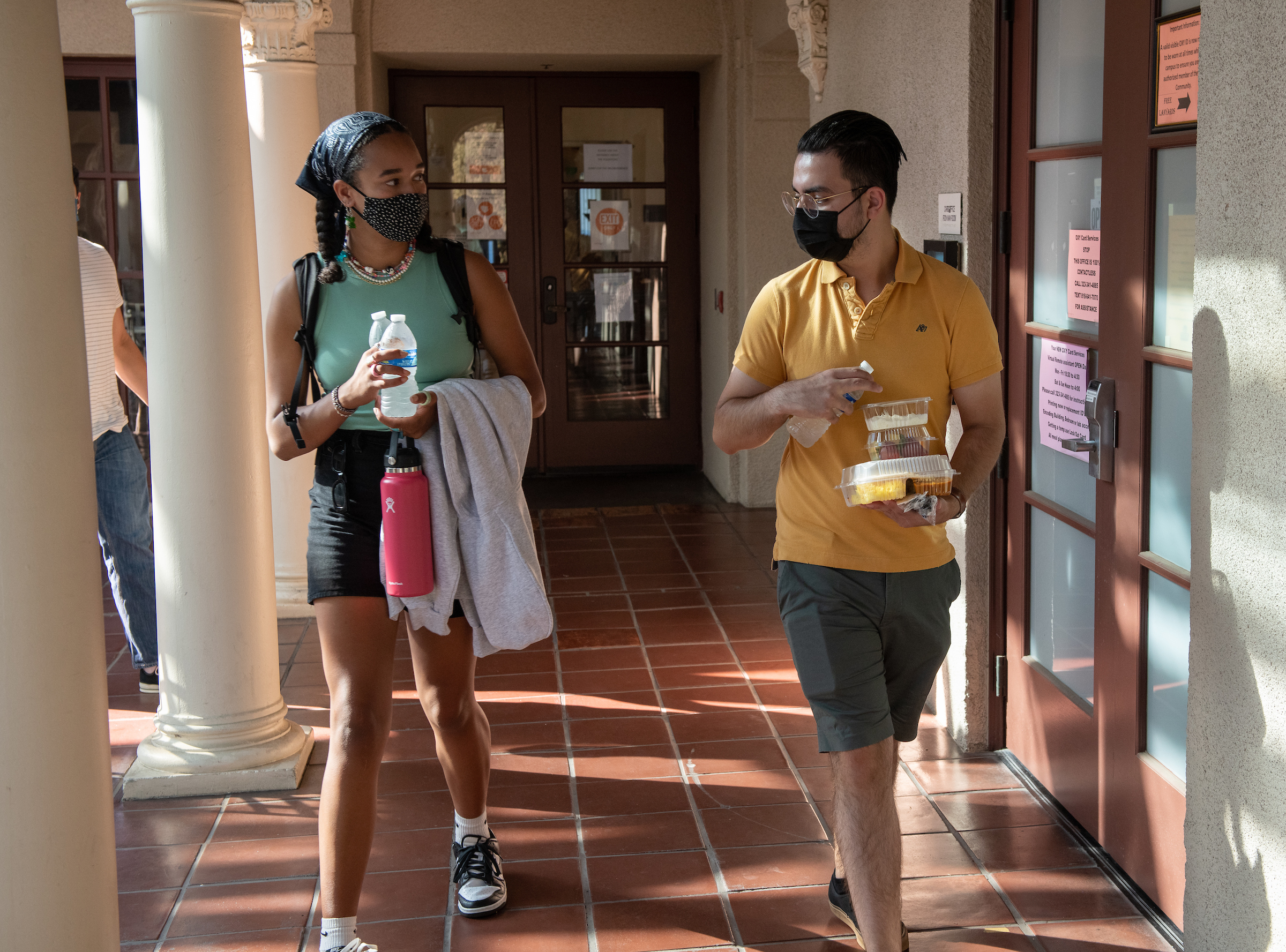 A variety of summer programs restore the in-person element to the Oxy experience—and students are happy to be back on campus
On May 28, Oxy started back down the path toward life as we once knew it. More than 100 students re-entered the campus residence halls for 10 weeks as part of the Undergraduate Research Center's Summer Research Program. While last summer's program took place almost exclusively in the virtual space, students like Amanda Iglesias '24 have had the opportunity this year to immerse themselves in work at Oxy's labs, local nonprofits, and the library's stacks—a welcome transition back to college life. 
"I still felt like a high school student this past year, still surrounded by my high school friends," says the rising sophomore from Massachusetts. Growing up just outside of Boston, Iglesias has been in the same student community since kindergarten, and her dream of living in California had to be put on hold while Oxy embarked on remote learning last year. 
With plans to major in biology and an interest in public health and neuroscience, Iglesias was excited to take part in the Research Early Access Program (REAP), a new program specifically designed for BIPOC and first-generation STEM students that placed participants in research groups across campus. "I was very excited to be on campus and have gotten to meet a lot of other rising sophomores who are here doing research," she says. 
Along with lab work four days a week, the REAP students have had the chance to explore Los Angelesand of course find favorite campus spots, like Fiji Hill and the Quad. For Iglesias, this early entry to campus life has provided an easier transition into a new routine of juggling classes and social life. "I'm glad I'm here now making some friends before I get the shock of academic class work on top of all that."
Making new friends is an endeavor for returning students, as well. "I go to campus now and I don't know anyone, which is interesting since I'm entering my senior year," explains Katrina Weti '22.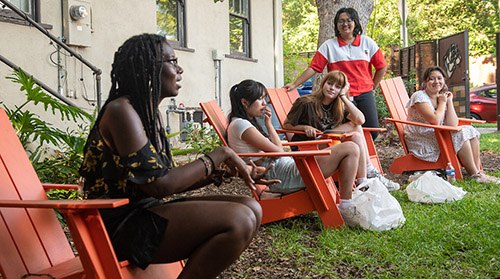 This summer, the diplomacy and world affairs major has worked as one of three resident advisers for the Multicultural Summer Institute (MSI), Oxy's four-week program designed to introduce incoming students to their new academic setting. Led by the Intercultural Community Center, the program has supported a group of 19 first-years by helping them navigate group dynamics, accompanying them on field trips around L.A. and exploring self-care activities. 
Weti is excited to finish out her time at Oxy surrounded by a community of students, staff and faculty, though she's keeping her expectations realistic. "Transitioning from Zoom classes to in-person is going to be a lot," she says. "It will take me some time that first month to remember what it's like to sit in a classroom and not constantly be looking at a screen, checking my email or being able to see the time." 
Enrolled students aren't the only ones ready for a return to campus. These days, you can see large groups of prospective students and their families on campus tours led by student tour guides. "A lot of people come expecting to do a self-guided tour only to realize they've signed up for the guided tour, and they're over the moon about that," explains James Young '22, a Senior Fellow and tour guide with the Office of Admission. 
The diplomacy and world affairs/Spanish double major grew up near Chicago and spent much of the past academic year living in Germany and managing a nine-hour time difference that set his remote class schedule between 11 p.m. and 2 a.m. "That was my window for going to school. But professors were all super accommodating, and class discussions didn't miss that much of a beat, especially in spring when everyone had grown accustomed to remote learning." 
Now living in an off-campus house that's an eight-minute walk from the Admission Office, Young is seeing Oxy in a new light. "I've never been here in the summer before," he says. "The new buildings—like the Anderson Center for Environmental Sciences and the new pool—are nice, and the jacaranda trees are blooming. Just seeing familiar faces, and people I recognize from Zoom classes, makes for cool interactions. It's those chance encounters I've missed a lot."