As the academic year begins, the Occidental Alumni Board of Governors is gearing up for a busy fall season.
I invite you to join us for Homecoming and Family Weekend (October 20-22), when we will gather for Oxy traditions like the Student Spirit Parade, the annual Glee Club Concert, and a full day of athletic competition, as well as a community celebration of The Oxy Campaign For Good. Registration opens in mid-September. Click here for more information.
Welcome to our new BOG members: An organization nearly as old as the College itself, the Alumni Board of Governors (BOG) was founded in 1894 and oversees the work of the Alumni Association to serve Occidental graduates. Meeting three times a year, our members are among Occidental's most dedicated volunteers—gauging the pulse of their peers and providing strategic direction and feedback on the College's engagement and outreach efforts.
The BOG recently selected 10 new members to serve four-year terms:
Melvin Cañas '95 majored in sociology at Oxy and works for the City of Los Angeles as program manager for the Neighborhood Council Funding Program. He and his wife, Eva Rivera '94, live in Pasadena with their two teenagers and three dogs.
Regina Clemente '03 majored in urban and environmental policy at Oxy and lives in Boise, Idaho. She is currently director of philanthropic acceleration at DEPLOY/US, which works on accelerating bipartisan climate leadership. A lifelong political and community organizer, Regina enjoys being out in nature as much as possible.
Clarissa Martínez De Castro '89 majored in diplomacy and world affairs at Oxy and lives in Washington, D.C. Clarissa leads the Latino Vote Initiative at UnidosUS, the nation's largest national Hispanic civil rights and advocacy organization. She is passionate about strengthening civil society and sees food as a great bridge-builder.
Anne de Ridder '98 majored in chemistry at Oxy and has a master's in human-centered design from the University of Washington. She is currently managing editor at CMD Agency, a marketing firm in Portland Ore. Personally and professionally, she focuses on enabling opportunities for others through various mediums, service, and mentorship.
Lucia Gonzalez '95 majored in psychology at Oxy and lives in San Gabriel. She is an attorney with the Office of County Counsel for L.A. County and also enjoys singing in a local salsa band.  She enjoys spending time with her three sons, and her eldest, Samuel Peck, will be starting at Oxy this fall. 
Isaac Glanzrock '17 majored in geology at Oxy and lives in San Diego. Isaac is active in Oxy ViSTA (Volunteers in Service of Tiger Admission), passionate about sustainability, and enjoys photography and travel.
Alex Graves '09 majored in politics at Oxy and lives in Sacramento. He is currently vice president for government relations at the Association of Independent California Colleges and Universities. Alex is a proud Oxy VISTA volunteer, and enjoys basketball, golf, and reading in his free time.
Ryan Henderson '18 majored in diplomacy and world affairs at Oxy and lives in Fremont. He is a policy analyst at the U.S. Department of Energy's National Nuclear Security Administration. Ryan is a ViSTA volunteer and member of Oxy's Bay Area Alumni Committee. He's an avid basketball player, fitness enthusiast, and enjoys graphic design and photography.
Angela Patriarca '03 majored in Spanish cultural and literary studies at Oxy and lives in Oakland. She spearheads people operations at Infinitus Systems, a San Francisco-based health tech startup. She enjoys travel, listening to podcasts, and culinary exploration.
Jacob Valk '13 majored in cellular and molecular biology at Oxy and lives in New York City. Jacob is a board-certified surgical pathologist and current genitourinary pathology fellow at Memorial Sloan Kettering Cancer Center. Jacob is an Oxy ViSTA volunteer, Tri-State Regional Engagement Committee member, and houseplant enthusiast.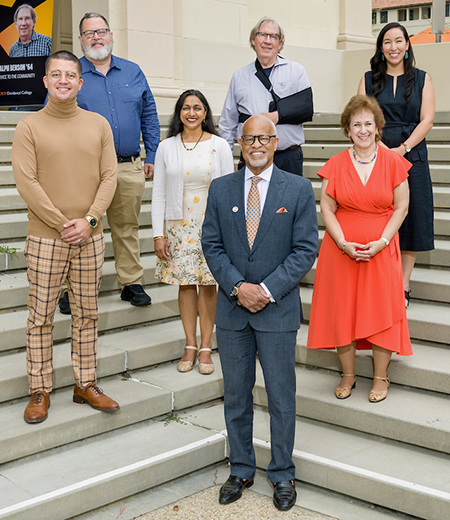 Congratulations to our Alumni Seal Award winners: The 2023 recipients of the Alumni Seal Award were honored during Reunion Weekend in June. Created in 1965 and chosen each year by the BOG, Alumni Seal Awards are given in six categories.
Presented by President Elam, center, this year's awardees (l-r) are:
Richard Reyes '12 (Erica J. Murray '01 young alumnus of the year), founder and executive director of the PLUS ME Project.
Ralph Benson '64 (service to the community), lifelong activist; former general counsel, executive vice president, and chief operating officer of the Trust for Public Land; and retired executive director of Sonoma Land Trust.
Darshana Patel '96 (alumna of the year), trustee and president of the Poway Unified School District Board of Education.
Dan Karasic '82 (professional achievement), professor emeritus of psychiatry at UC San Francisco's Weill Institute for Neurosciences.
Gail (Schulman) Ginell '79 (service to the College), CPA and longtime class notes editor for Occidental magazine.
Margeau Valteau '13 (service to the community), intergovernmental and tribal affairs specialist at U.S. Department of Energy, National Nuclear Security Administration.
Not pictured is Linda Besemer (faculty emerit), who recently retired as the James Irvine Distinguished Professor of Art and Art History.
We welcome your nominations for the 2024 Alumni Seal Awards. Please submit any nominations to alumni@oxy.edu by September 30.
On behalf of the BOG, we look forward to engaging with you in more activities in the coming months. Io Triumphe!
Brenda Barham Hill '71 P'03
Chair, Alumni Association Board of Governors
Top photo: Members of the Fifty Year Club voted unanimously to welcome the Class of 1973 into their ranks during Reunion Weekend in June.