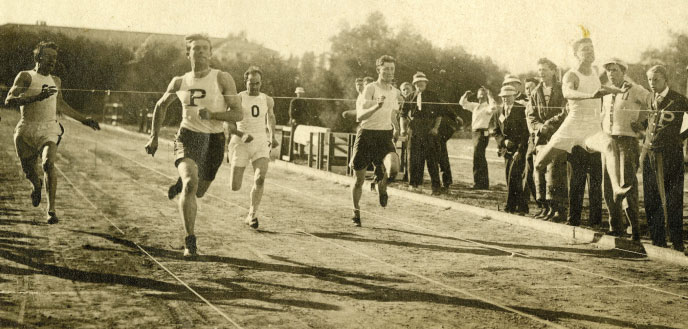 For 100 years, the Southern California Intercollegiate Athletic Conference has fostered the intellectual development of student-athletes. And from the Shoes to the Olympics, Tigers have created many magical moments
Is there too much emphasis on college athletics—to the detriment of academics and the physical well-being of the student-athlete?
This was the question facing administrators more than a century ago as Southern California's new colleges and universities wrestled with  the desire to compete. "As soon as enough men could be gotten together to form a team, they would participate in athletic events, determined to win over all opponents," Roy Dennis '33 wrote in a history of the Southern California Intercollegiate Athletic Conference—the amalgamation of schools that Oxy has belonged to since its founding in 1915.
In the 1890s, Dennis wrote, "There were not many rules governing the conduct of these early teams. Eligibility rules were practically nil. Freshmen were allowed to participate on varsity teams. Tramp athletes could change from one institution to another without penalty of any kind. Sometimes colleges would be represented by men whose matriculation into the school was of a doubtful nature. These conditions were tolerated but not sanctioned by the more conservative schools of Southern California."
Following a meeting of representatives of Occidental, Pomona, USC, and Chaffey College on Jan. 28, 1894, plans were made for the first Southern Californian intercollegiate field day, with proposed events including the run-hop-step-jump, baseball throw, mile safety race, and mile walk. According to professor, historian, and 1907 alumnus Robert G. Cleland, there was one eligibility provision—that "each student must be a bona fide student of the college which he represents."
Over the next decade or so, however, philosophical differences hardened between the factions. On Oct. 10, 1907, delegates from Occidental, Pomona, Whittier, and St. Vincent's College (a Jesuit school and predecessor to Loyola Marymount University) met in Highland Park under the auspices of the Southern California Intercollegiate Conference. Oxy and Pomona—the more conservative of the schools—quickly signed an athletic agreement, which Whittier and (begrudgingly) USC consented to subsequently.
The pact held until 1911, when Oxy's sixth president, John Willis Baer, introduced a resolution limiting "both intellectual and athletic contests with USC" to undergraduates only (USC had launched a graduate program the previous year). That proved to be the breaking point for the Trojans, who withdrew from the conference and spurned an offer to return three years later prior to joining the newly formed Pacific Coast Conference in 1915.
Which brings us to June 21, 1915, when Occidental, Pomona, and Whittier were joined by the University of Redlands and Throop College of Technology (rechristened Caltech in 1920) in forming the initial membership of SCIAC. That lineup has been fluid over the years, swelling briefly to eight members in 1926 (including UCLA, San Diego State, and UC Santa Barbara) and surviving the temporary departures of Caltech and Pomona in the mid-'30s.
As the Claremont Colleges grew in numbers, their alliances shifted with the times. Pomona-Claremont gave way to Pomona-Pitzer and Claremont-Mudd (and, with the inclusion of women's sports in 1976, Claremont-Mudd-Scripps). With the addition of Cal Lutheran in 1991 and the return of onetime associate Chapman in 2011, SCIAC's current membership stands at nine squads representing 12 schools, competing in a total of 21 sports.
To celebrate the centennial of SCIAC, we have assembled a highlight reel of the last 100 years of Oxy sports—a milestone for every year. Given the sheer talent on display at various junctures—nearly 250 conference championships, approximately 400 collective members of the baseball, basketball, football, and track and field halls of fame (as well as the 23 current members of the 3-year-old Athletics Hall of Fame)—we are bound to have omitted or overlooked many great performances. But as a primer for a century of great moments for the orange and black, we think it's a pretty good start.
1915 In its opening season of Southern California Conference play, Oxy's football team shuts out all of its conference opponents with the exception of Whittier (which came up on the short end of a 13-6 defeat). In a post-season contest with Syracuse, however, the Tigers are blanked by the visitors, 35-0, as team captain Sam McClung is taken off the field with a broken leg.
1916 Buoyed by 14 straight victories—a streak broken by a single loss to conference champion Pomona—Occidental's baseball team goes 17-4 overall, and 7-1 in SCIAC play. (After 1921, Sagehen squads won no more SCIAC baseball titles for the remainder of the century.)
1917 Oxy's baseball team plays its first-ever game at Patterson Field—a venue built for football—on May 12. That first game was also filmed by Mary Pickford's Fox Film Co., for which 1910 graduate Fred Thomson—Pickford's favorite cowboy film star and one of Oxy's all-time greatest athletes—both worked and acted.
1918 Football team captain Bruce Kirkpatrick '20 is named Southern California athlete of the year. (In later years, Kirkpatrick worked many games at Oxy and elsewhere as a linesman referee.)
1919 A year after the baseball season was cancelled for the only time in history (because of World War I), the SCIAC rules that freshmen are eligible for varsity play for one year only. After a slow start, the Tigers win 10 straight games behind the dominating pitching of Ross Alcock '21.
1920 On April 20, Oxy holds its first women's field day at Patterson Field. As Edith Kinnamon '21 wrote in The Occidental: "Most of the girls had not trained for the meet. … if there was any practicing done for the jumps, relay, dashes, and shot put, such practicing was done in the back yard after dark on moonless nights." In addition to the track events, Dorothy Gilliam '23 won the tennis tournament, while basketball and baseball teams captained by Doris Becker '22 and Edith Higgins '20, respectively, won their events.
1921 On New Year's Day, Occidental's cross country team wins the Express Post Marathon on the strength of a first-place finish by Hal Sloan '23.
1922 In a nail-biter at Patterson Field, Johnny Powers '26 sprints past a Redlands opponent in the final lap of a mile relay to send Oxy past the Bulldogs and four other teams for its first conference crown.
1923 In their first year of intercollegiate play, Oxy's seven-member women's basketball team takes bragging rights with a 3-1 record vs. Southern Branch and Pomona. 
1924 On April 5, Oxy runs away with the conference track meet, breaking several records in the process. Six days later at the Kansas Relays, Oxy athletes win five races, breaking four records.
1925 Trailing 3-0 with five minutes of play remaining, Solly Mishkin '27 scores the go-ahead touchdown to send Oxy to a 6-3 road win and a conference championship over Pomona on November 21.
1926 Joe Pipal's track squad takes top honors at the conference meet at the Coliseum on April 3, outscoring its nearest rival, Caltech, by a 68.75-to-39 margin. Pipal's mile-relay team went on to triumph at the Penn State Carnival later that month.
1927 Wilkie Clark's baseball squad wins its third consecutive SCIAC championship. From 1925 to 1927, Bud Teachout '27 goes 23-0 in conference play as the Oxy baseball team's pitching ace. The future major-leaguer finished with an overall record of 30-6, including a 3-1 win over USC and a no-hitter. 
1928 Five varsity squads win their league championships in what may well be Oxy's greatest SCIAC season (in chronological order: football, basketball, track, tennis, and baseball).
1929 Oxy football plays the first night game under the lights in the Rose Bowl (one of three contests that season). Some 20,000 spectators turned out for the nonconference contest against the University of Arizona Wildcats, who provided most of the fireworks in a 16-7 win.
1930 Oxy's greatest all-around student-athlete since Cliff Argue '24, Wendell Smith '30 breaks College records in the high hurdles and discus.
1931 Surprising just about everyone—and despite only two first downs from scrimmage—Coach Eddie Kienholz's football team holds UCLA to a scoreless tie in the Rose Bowl on October 2.
1932 With a balanced squad led by Jimmy Meeks '33 in the hurdles and Joe Forbes '34 and Dick Finley '33 in the weights, Coach Joe Pipal's track team wins its fifth consecutive SCIAC championship. 
1933 Oxy edges out San Diego for the conference swimming championship. Norman Kettering '35 sets records in the 220- and 100-yard freestyle and the 150-yard backstroke.
1934 Shortstop/pitcher Bob Ackland '34 bats a conference-best .500 as the baseball team goes 11-0 (and 12-0 overall) in a Great Depression-shortened SCIAC schedule.
1935 Tennis sensation Pat (Henry) Yeomans '38 wins the U.S. National Lawn ­Tennis Association Girls 18 singles championship in Philadelphia. 
1936 A decade-long flirtation with ice hockey comes to an end as Oxy's eight varsity-letter winners hang up their jerseys.
1937 Oxy wins the title of finest small college track and field team in the United States. On February 20, Oxy's 400-relay team (Stan Langsdorf '37, Dick Johnson '37, Walt Middleton '38, and Claude Kilday '38) beats a USC team that includes Trojan sophomore Payton Jordan.
1938 Walt Middleton '38 sets an Oxy record in the long jump with a nationally ranked effort of 24'1½" that endures for 16 years.
1939 Representing the L.A. Athletic Club, Eleanor (Chamberlain) Drake '42 swims the third leg of the 400-meter freestyle relay on July 28, setting a new national record at the women's senior National AAU swimming championships in Des Moines. Her teammates; twins Virginia and Marian Hopkins and future Hollywood star Esther Williams.
1940 Pitcher Oscar Riedel '40 closes out his college career with a one-hit, 3-0 win over Caltech.
1941 Upping the ante of Southern California's oldest rivalry, the alumni associations from Occidental and Pomona introduce "The Drum," which is awarded to the winner of the annual Tigers-Sagehens game. Oxy beats Pomona 26-14 in the initial outing, and held on to the trophy for an 11th consecutive year in November 2014 in a 41-17 rout. 
1942 Diving sensation Sammy Lee '43 wins his first ­national championship, with victories in both the 3-meter springboard and 10-meter platform events. In his post-Oxy career, Lee wins Olympic gold off the 10-meter platform in 1948 and 1952. 
1943 Following baseball coach Bill Anderson's recovery from an auto accident, the Tigers repeat as league champions with an 11-1 record (16-8 overall).
1944 Shortstop Grant Dunlap '46 is named All-Conference second-baseman by the SCIBA coaches (making way for UCLA's Bob Brown at shortstop).
1945 Water polo is elevated to major sport status, and Oxy finishes second to USC in the four-team Southern California Water Polo League. 
1946 Oxy's track team sends coach Joe "Timberwolf" Pipal out as a winner after 30 years on the sidelines with a dominant performance in the conference finals, sweeping the top three places in the 100, 220, and hurdles.
1947 Fifty-seven Oxy track candidates answer Payton Jordan's "first call to the ­cinderpath," as The Occidental put it—and a legendary decade begins.
1948 Roy Dennis' football squad goes ­8-0 overall, 4-0 SCIAC for the Tigers' first conference championship since 1929, and first undefeated campaign since 1916. The season culminates on New Year's Day 1949 with a 21-20 come-from-behind victory over Colorado A&M in the Raisin Bowl.
1949 Taking eight first-place honors and breaking five conference records, Oxy swimming outperforms Caltech, Pomona, and Redlands combined for the conference crown.
1950 Player-coach Gene "Mike" Smith '51 cards a one-shot victory in the SCIAC golf championship at Hacienda Golf Club. The Tigers finish third in the conference.
1951 John Barnes '52 wins the 880 at the NCAA nationals in Seattle, leading an Oxy squad that finishes fourth behind USC, Cornell, and Morgan State.
1952 With a burst of speed in the last lap that almost catches front-runner Joseph Barthel at the tape, Bob McMillen '53 comes within one-tenth of a second of Olympic gold in the 1,500-meter run at the 1952 Olympics, settling for silver. McMillen wins an NCAA championship at Oxy in the 1,500, and is on a distance medley relay team that set a new world record.
1953 More than 100 prospects turn out for a spot on Coach Payton Jordan's track team—roughly one-seventh of Oxy's male student population. ("Speedy" Sherman Miller, who entered with the Class of '57, is not among them, however, after failing to meet academic requirements.)
1954 In a fitting send-off for retiring baseball coach Bill Anderson, Dick Sovde '56 no-hits the Whittier Poets in the final game to seal the Tigers' fourth consecutive title, finishing 8-0 in conference play and 18-3 overall. A record 10 players are selected All-SCIAC, including second baseman Gil McFadden '54, who led the league with a .434 batting average.
1955 Five football players—First Team picks Don Lyon '56 and Jim Mora '57, and second-team picks Manuel Murrietta '56, Ron Botchan '57, and Jack Kemp '57—are selected to the All-SCIAC squads.
1956 An unbroken string of con­ference championships and three Olympic athletes under Payton Jordan culminates in the national small college championship in track and field.
1957 A silver medalist at the 1956 Olympics and two-time NCAA champion in pole vault (1956, 1957), Bob Gutowski '58 is named North American Athlete of the Year. During his time at Oxy, Gutowski also places in nationals in the long jump and triple jump, and wins three NAIA championships in pole vault and triple jump. His all-time best, 15'9 3/4", remains the world record on a steel pole.
1958 A year after Chuck Coker's 1957 Oxy team wins the NAIA National Championship with a record total of 148½ points, setting two world records, two American records, and four collegiate records, Oxy ­repeats as NAIA champions in track.
1959 Halfback Pete Tunney '60, a 9.7 sprinter, rushes for more than 2,000 yards total offense as a Tiger.
1960 Gary Miller '60 is nationally ranked as an 880 runner on Oxy's powerhouse track squads. He sets the world masters record in the decathlon with a score of 5,893 points in 1983.
1961 Dixon Farmer '63 wins the NCAA championship in the 440 hurdles.
1962 Don Hagen '64 throws two no-hitters in the same week, including the only perfect game in Oxy history (against Redlands). The 1963 team repeated as champion, with Hagen leading the way by beating both USC and UCLA. He finished his career at 23-1, with an ERA of 1.05 and the best strikeouts-to-walks ratio in school history at 13:2.
1963 Dave Moon '63, a member of the NCAA freshman record-setting two-mile relay, wins the conference title in the 880 with a SCIAC-best 1:50.1. 
1964 Jim Bush wraps up a three-year tenure as Oxy's track and field coach. Bush-coached teams included five national champions and an Olympian, while setting school records in all events from the 100 to the mile.
1965 Coach Jim Mora '57's Tigers beat Whittier at Patterson Field and go on to win the SCIAC championship (Oxy's first since 1951). "Of the years I coached here and played here, that was probably the highlight," says Mora, who joined the gridiron staff at Stanford the following year.
1966 All-American football player Joel Sheldon '66 is named to the All-NAIA team as a first-team offensive guard, while Richard Verry '67 is named honorable mention defensive guard.
1967 With All-Americans Chip Garcia '68 and Chris Synodis '69 leading the way, Grant Dunlap's baseball team goes to the national semi-finals. The Tigers win 18 consecutive games, a school record, and notch an all-time best 32 wins.
1968 Building on the skills she developed  in a fencing class at Oxy, Maxine (McMasters) Mitchell '45 competes in her third Olympics for the United States in Mexico City, following trips to Melbourne (1956) and Rome (1960).
1969 Men's soccer completes its most successful season to date (7-1-2 SCIAC). Jean-Pierre Zuendoki '70 leads all Oxy scorers with 11 goals and six assists.
1970 Oxy wins its 25th consecutive SCIAC men's track and field championship in Whittier's Richard M. Nixon Memorial Stadium.
1971 Scott Larson '71 leads the SCIAC in ERA, strikeouts, and innings pitched (a school-record 119) as Oxy baseball goes .666 en route to the NAIA district playoffs.
1972 Representing Team USA in the Munich Olympics, "Cinderella Athlete" Chuck Smith '70 places fifth in the 200-meter dash with a time of 20.55.
1973 After winning Oxy's 22nd SCIAC championship and third consecutive NAIA district championship, men's cross country loses its shot at competing in the nationals because of a team member's bout with mononucleosis.
1974 A 25-game winning streak spanning 2½ years of league play continues as Buff Greider '77 and Brent Howard '75 power Oxy to the SCIAC championship in men's water polo.
1975 Coach Bill Westphal's men's hoops team goes 19-8 overall and 10-2 in conference play to snag its first SCIAC title since 1966.
1976 Women's volleyball wins the first of six consecutive championships, a run that culminates in 1981 with a third-place finish at the Division III nationals.
1977 Led by All-American Mark Worthen '77, national champion in the 50 free, the Oxy men's swimming team places second to Johns Hopkins in the NCAA Division III ­national championships.
1978 Anchored by team captain Margaret Carriero '80, women's basketball wins the first of three straight SCIAC titles, by downing Pomona in a special one-game playoff.
1979 Oxy's first national class women's track athlete, distance runner Pam Morris '79, participates in the Olympic Trials.
1980 Laurel Seiter '81 goes 3-for-3 in the 100-, 200-, and 400-meter dashes as Bill Harvey's Tigers win the second of 12 consecutive women's track and field titles.
1981 Men's water polo captures its ninth SCIAC title in 10 years (including first-place ties in '72, '75, and '78)—a crown that has eluded the Tigers ever since.
1982 Oxy's women's tennis team wins the team competition at the NCAA Division III nationals, capping a banner year for women's sports that included conference championships in cross country, tennis, track, and volleyball, and second-place finishes in two other sports.
1983 Three-time All-American Jean Marie Sanders '84 wins her second consecutive ­national singles title in women's tennis. League MVP Brian Newhall '83, with 107 ­assists and 380 points on the season, drives Coach Mike Zinn's Tigers to the SCIAC championship in men's basketball.
1984 With running back and future NFL pro Vance Mueller '86 as conference co-MVP, Coach Dale Widolff's Tigers go an unprecedented 10-0 in the regular season for the second of three straight conference crowns. (A fourth-round draft pick in 1986, Mueller also was NCAA Division III champion in long jump and a member of the NCAA champion 400-meter relay team in 1985.)
1985 Capping a banner 1984-85 season—conference titles in football, men's cross country, and men's and women's track and field, as well as second-place finishes in women's swimming, cross country, tennis, and volleyball—the Tigers win the SCIAC All-Sports Championship.
1986 Shawn Lawson-Cummings '86 wins her second heptathlon title in three years at the NCAA Division III track and field finals. A nine-time All-American in her four years at Oxy, she set school records in six events.
1987 Two-sport All-American Cresey Stewart '87 sets a national record in the 1,500-meter run at the Division III track and field championships with a time of 4:27.11. Close behind is Michele Trimble '89, with a third-place time of 4:32.10.
1988 Emmet Hogan '91 sets a new course record and wins by more than 30 seconds in the final meet of the season as Oxy goes undefeated in SCIAC competition in men's and women's cross country.
1989 First-team All-SCIAC selection Gary Little '93 leads all rushers with 893 yards and eight touchdowns as the Tigers win a third consecutive SCIAC title in football—Widolff's sixth in eight years.
1990 Four-year All-SCIAC honoree Louise Coulter '90, the College's record-holder in the shot (44'1½") and discus (145'6"), repeats as conference champion in both events as a senior.
1991 Oxy's cross country squads outrun the competition, with the men going 7-0 in conference meets and the women running up a 6-0-1 mark.
1992 Jacqui Dent '92 M'95 steals the show at the 1992 NCAA Division III Outdoor National Championships, winning national championships in the 400 and 800-meter events and a third as the anchor of Oxy's first-place 1,600-meter relay team. She still holds Oxy records in the 400, 400 relay, 1,600 relay, and the 800.
1993 Conference MVP Rebecca Kopchik '94 takes home 1,500- and 3,000-meter gold at the SCIAC championships. As a sophomore, Kopchik ran a personal-best time on 17:33 in the 5,000-meter to place second at the NCAA Division III nationals. 
1994 Men's soccer goes 7-8-2 for the year, notching more wins than in the previous four seasons combined. Leading the way is second-team All-SCIAC pick Trevor Moawad '95 M'96, who will earn All-American and first-team All-SCIAC honors as a senior. 
1995 Natalie Austin '97 wins the SCIAC cross country championship in the 5K with a time of 19:03 at Prado Park in Chino. 
1996 A four-year All-SCIAC fixture and two-time SCIAC Runner of the Year, Will Allan '96 wraps his Oxy career with All-American honors in both cross country and track and field.
1997 Men's and women's cross country finish second to Claremont-Mudd-Scripps.
1998 Led by performances from Tyson Murphy '00, Matt Tompkins '98, Jason Det­wiler '99, and Martin DeMartinis '98, Oxy wins a share of the men's track and field championship with Claremont-Mudd-Scripps—its first (and still only) title since 1990.
1999 SCIAC Athlete of the Year Christina Soria '99 wins the 200- and 400-meter dash and anchors the conference-champion 4 x 400-meter relay team to lead Oxy to a second-place conference finish in Bill Harvey '67's final year as track and field coach.
2000 Ending an 18-year drought of national titles for Oxy, the women's water polo team wins the Collegiate III championship in double overtime over Claremont-Mudd-Scripps. Head coach Dennis Fosdick is named to USA Water Polo's Hall of Fame in 2002.
2001 Five Oxy swimmers break 11 College records at the SCIAC swimming and diving championships in February. 
2002 Freshman track phenom Kristen Stuart '05 wins SCIAC championships in the 200 and 400 meters. Over the course of her career, she sets school records in the 100-meter and 200-meter, wins four straight SCIAC titles in the 400-meter, and is named a two-time All-American.
2003 The Tigers win the SCIAC men's basketball title for the first time since 1983 and post a perfect 14-0 conference record, becoming the first team to win 14 league games in SCIAC history.
2004 In football, Oxy captures its eighth conference title under head coach Dale Widolff and finishes 10-2, becoming the first SCIAC team to win two games in the postseason and Oxy's first to reach the Division III Elite Eight.
2005 Led by two-time SCIAC Offensive Player of the Year Andy Collins '07 and a score of seniors, the Tigers charge to a second straight conference title in football and a 9-0 regular season.
2006 At the Division III championships in Minneapolis, swimmer Dickson Fai '08 becomes Oxy's first back-to-back All-American since Ed Bedford '92, while diver Robert Dohring '08's winning performance allows the Tigers to claim two All-Americans in the same season for the first time since 1989.
2007 In a breakthrough season for Oxy women's ­soccer, the Tigers advance to the postseason tournament, and Jesi Sasaki '11 becomes the first freshman from any school to be named conference player of the year.
2008 Quarterback Justin Goltz '09—SCIAC Offensive Player of the Year—leads the Tigers to their fourth conference title in five years and eighth undefeated regular ­season in Oxy history.
2009 Two-time SCIAC Runner of the Year Eric Kleinsasser '11 grabs the last All-American slot at the NCAA Division III Cross Country National Championships on November 21. He goes on to become the only man in SCIAC history to win four consecutive conference individual championships.
2010 With SCIAC Player of the Year Stephanie Babij averaging 15.4 points and 7.7 rebounds per game, Oxy's women's basketball team wins the third of four consecutive SCIAC championships.
2011 Kelly Young '11 finishes her collegiate career with Oxy records in all four throwing events, as SCIAC champion in the hammer throw, and as a two-time All-American in the hammer throw and shot put.
2012 Luke Wetmore guides the Tigers to back-to-back winning seasons for the first time since 1989-90. The Tigers tied for third in the conference both years, and won 26 games in 2013 (second only to the 1967 Tigers' 32 wins). 
2013 The Occidental College Rugby Football Club bulldozes its way through matches with seven top competitors to win the National Small College Rugby Organizations' National 7's Championship.
2014 Under head coach Rod Lafaurie, men's soccer goes 13-6-1 overall and 10-5-1 in conference play, making the SCIAC postseason tournament for the first time ever.