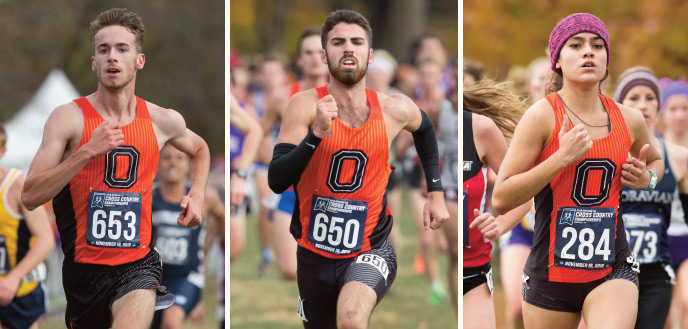 Led by cognitive science major Keenan Leary '17, men's cross country surges past its SCIAC rivals for a second-place showing and an NCAA berth
All season long, Oxy cross country coach Rob Bartlett had the sense that his runners hadn't been performing to their full potential, a feeling underlined by the men's fourth-place finish in conference. Going into the West Region championships in Salem, Ore., his goal for his sixth-ranked team was modest: a top-four finish.
Bartlett and the entire team surprised themselves and everyone else by vaulting over Whittier and Pomona-Pitzer to finish second to Claremont-Mudd-Scripps and earn one of two automatic bids to the NCAA Division III national championships in Louisville, Ky. It was the first time since 2011 that the entire men's team qualified as a group, and it lifted the Tigers to a No. 16 ranking in the USTFCCCA national poll.
"I'm so proud of this team," Bartlett says. "The men ran their best race when it really mattered, and against a conference that is arguably the most competitive it's been in the modern era." Oxy, CMS, Pomona-Pitzer, and Whittier all had men's teams running in the nationals, making SCIAC one of only two conferences to have that many competitors trekking to Louisville.
As he was through most of the season, senior Keenan Leary, a cognitive science major from Seattle, was Occidental's top runner at the nationals, placing 112th overall (25:28:2) on the 8K course in a field of 280 runners. Roxanne Valle '19, a physics major from Azusa, qualified as an individual for the Oxy women and finished 142nd overall on the 6K course. She is the first Oxy woman to go to nationals since Megan Lang '13 did so in 2012.
One of the biggest surprises of the season for the Tigers was Brody Barkan, a undeclared sophomore from San Anselmo who was named SCIAC men's cross country Newcomer of the Year after capping a breakthrough fall with a sixth-place finish at the conference champion­ships. Barkan, a standout on Oxy's track team as a first-year in middle distance events, had never run cross country before or run competitively at any distance longer than 1,500m.
"Brody's improvement at such a rapid pace is really extraordinary given how new he is to the sport," Bartlett says. "We're excited at the progress he's made and look forward to seeing him continue to climb the ladder as a terrific distance runner."
The Oxy women finished third in conference, led by Valle and Aria Blumm, a sophomore chemistry major from Sisters, Ore., who won All-West Region honors with a 23rd-place, 23:28.6 finish at the regionals.