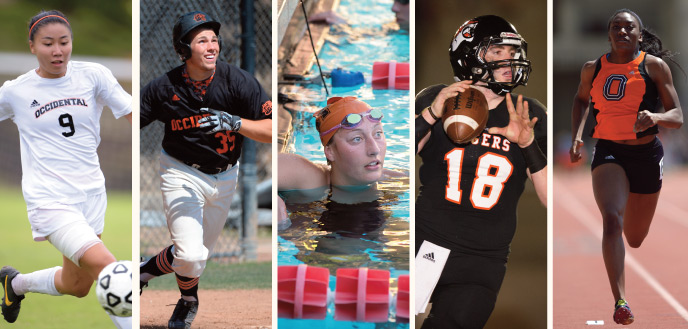 Five current standout student-athletes share their childhood sports memories—long before they went "All in for Oxy"
Approximately 25 percent of Oxy undergrads play one or more varsity sports—one of the many attractions of a small liberal arts college competing at the Division III level. But for most student-athletes, their first experience in a uniform goes back many years earlier. Five current standout Tigers share their childhood sports memories—long before they went "All in for Oxy."
"I've been playing soccer since I was 5, and it was definitely not competitive. I would accidentally score in the wrong goal or pass to the wrong team. It was kind of chaotic."
Julie Khil '17, a psychology major from Honolulu, was the SCIAC women's soccer Athlete of the Year as a sophomore.
"I'm sure I started T-ball when I was 4, something like that, and I had a bat in my hand long before that."
Devon DeRaad '17, a biology major from Scottsdale, Ariz., was second in the nation among Division III schools in home runs (16) last season, SCIAC Player of the Year, and Oxy's first All-American in baseball since 1997.
"I started club swimming when I was a junior in high school, but up until that point I'd been a three-season athlete. When I decided I wanted to compete in college, I decided to go year-round swimming."
Rose Seabrook '17, an art history and the visual arts major from Walnut Creek, broke two Oxy records—in the mile and the 1,000-meter—in the Tigers' last meet as a junior.
"I've played football since I was 5. My dad coached a flag football team with me and all my friends. I played throughout high school with the same guys that I played with in Pop Warner."
Bryan Scott '17, a sociology major from Rolling Hills, is the SCIAC's all-time leader in passing yards (9,073), completions (763), and total offense (9,475) and was 2016 ­conference Player of the Year.
"When I was in kindergarten, I'd be running around the field for recess, and challenging everyone to race for some reason."
Onye Nwabueze '17, a cognitive science major from San Francisco, ranks eighth on Oxy's all-time lists for both the 100M and the 200M.