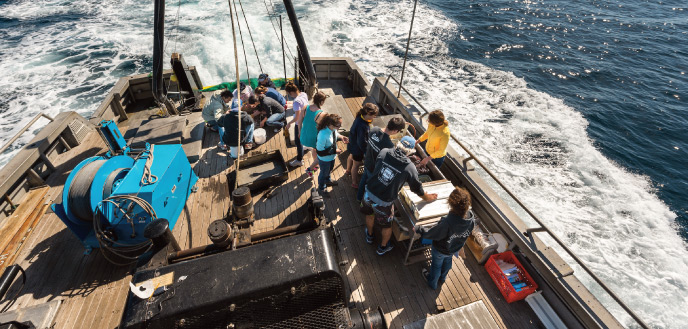 A new boat for Oxy's marine biology program, and a prestigious honor for Rafa Esparza, Oxy's Wanlass Artist in Residence
Oxy's marine biology program is about to take delivery of a brand-new classic New England-style lobster-fishing boat. The as-yet unnamed vessel is being paid for in large part by a $400,000 grant from the Keck Foundation received by the Moore Laboratory of Zoology in 2015. A full $220,000 of those funds were specifically earmarked for a new research vessel, which is scheduled for delivery this spring. "It's being specifically built for the program with research and scuba diving in mind," says associate professor of biology Dan Pondella '87 M'92, director of the Vantuna Research Group. The new boat will make it possible to take larger numbers of students offshore to conduct field research and collect samples and will be the College's largest vessel since the 60-year-old Vantuna was retired in 2004.
Rafa Esparza, the Wanlass Artist in Residence at Occidental, has been selected to participate in the upcoming Whitney Biennial, generally regarded as one of the world's most prestigious exhibitions of contemporary art. Esparza is one of 63 participants selected by curators Christopher Lew and Mia Locks for the 2017 Biennial at New York's Whitney Museum of American Art, which The New York Times calls a  "sprawling survey of what's happening now in contemporary art—the new, the influential, and the potentially provocative." While at Oxy, he is teaching students how to craft adobe bricks—a skill he learned from his father—to be used in a temporary campus installation scheduled to open on Founders Day, April 20.