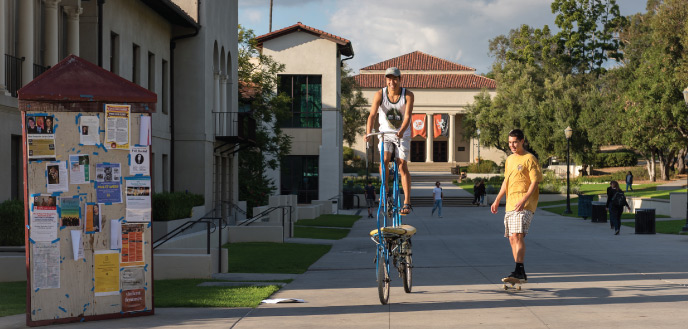 From academics and access to outcomes and omelets, Oxy rides high in a variety of rankings
The numbers and methodology vary from year to year, but the result remains the same: Occidental is one of the country's top-ranked small liberal arts colleges, according to the latest editions of major college guides.
Occidental ranks No. 44 in U.S. News & World Report's annual rankings, receives four-star ratings for academics and quality of life from the Fiske Guide to Colleges, and ratings of 90 for academics and 95 for financial aid in Princeton Review's The Best 382 Colleges. The Wall Street Journal/Times Higher Education rankings listed Occidental at No. 32 among U.S. liberal arts colleges.
Unlike many college rankings, the WSJ/THE list focuses not on test scores and acceptance rates but such factors as resources devoted to academic programs, effective student engagement, graduation rates, and alumni salaries.
"It's refreshing to see the emergence of rankings that attempt to measure outputs—students' level of engagement and what they are able to accomplish with their degrees after they graduate," says Vince Cuseo, vice president of enrollment and dean of admission. "We believe that is more helpful to prospective students and parents and more reflective of our mission and what Oxy students—and alumni—actually experience."
Highly ranked academics at Oxy are paired with access. For the third consecutive year, The New York Times ranked Occidental as one of the country's most economically diverse colleges, based on enrollments of lower- and middle-income students and the net price it charges those students.
The Times ranked Occidental as No. 29 among all 170 public and private colleges and universities with five-year graduation rates of at least 75 percent, and No. 11 among liberal arts colleges. The newspaper's annual College Access Index "is a measure of which top institutions are doing the most to promote the American dream," according to the Times.
Oxy's commitment to economic diversity was underlined by a report from Georgetown University's Center on Education and the Workforce, which found that Occidental is one of a handful of national liberal arts colleges where at least 20 percent of student enrollment is made up of Pell Grant recipients.
An Occidental education delivers real value, multiple surveys conclude. Occidental appears on Money magazine's "Best Colleges For Your Money" list, Princeton Review's "Colleges That Pay You Back" list, Kiplinger's "Best College Values" list, and Washington Monthly's "Best Bang for the Buck" list.
Occidental ranks 34th among liberal arts colleges on the PayScale College Salary Report, which assesses the earning potential associated with degrees from various colleges. Recent graduates earn an average salary of $51,800, with mid-career professionals with Occidental degrees bringing in $107,700.
Finally, according to The Daily Meal, Oxy cuisine ranks among the top 10 among all U.S. colleges and universities. Good college food? That's no longer an oxymoron.