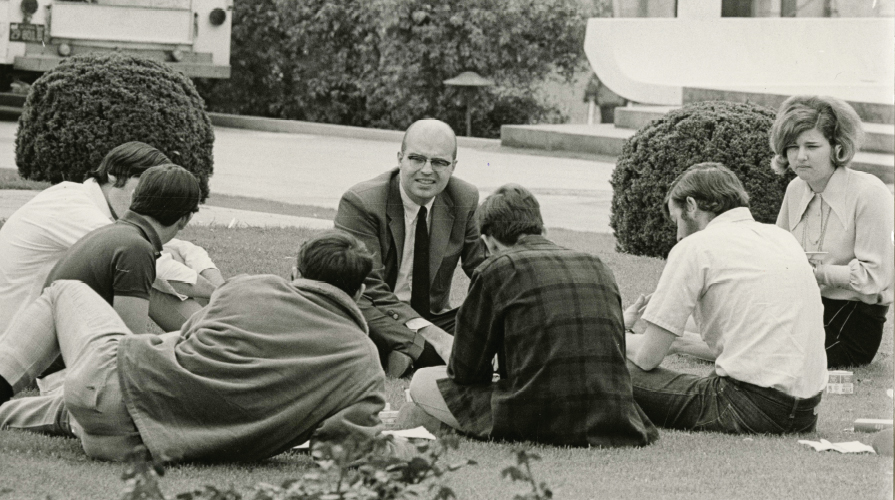 From urban studies to government internships, professor of politics emeritus James Lare '55 opened new doors for generations of students
Long before Oxy defined its mission by the cornerstones of excellence, equity, community, and service, associate professor of political science James H. Lare '55 was putting those ideas into practice. In 1968, he and a group of Oxy students conducted a survey of Northeast Los Angeles residents to study the causes of crime and delinquency in the community. Concurrently, Lare served as faculty adviser to the Task Force on Relations With the Immediate Community, overseeing the activities of more than 150 Oxy students volunteering as reading and math tutors in elementary and junior high schools.
During his 40-year career at Oxy, Lare—who retired in 2002 as professor of politics emeritus and died Dec. 1, 2018, at age 84—was a three-time chair of the political science department and instrumental in creating an urban studies curriculum at the College in 1967. He coordinated the Occidental-in-Washington, D.C., program and set up internships for students in local and state government and political campaigns.
Upon his retirement, Lare was hailed on the U.S. Senate floor as "a mentor and inspiration to his students, many of whom have flourished on Capitol Hill and in local government," according to the Congressional Record. "Dr. Lare has been an outstanding teacher and is an exceptional citizen who has enhanced the lives of those privileged to cross his path."
A native of Harvey, Ill., Lare grew up in Holtville and majored in political science and philosophy at Oxy, graduating Phi Beta Kappa. He earned his master's and doctoral degrees at Cornell University and taught at Cornell and at San Fernando Valley State College (today's Cal State Northridge) before joining the Oxy faculty in 1962.
"The possibility of teaching courses in American politics and public policy formation to a limited number of well-qualified students and the opportunity to relate these fields to the other disciplines of the liberal arts are very attractive to me, particularly when they are at a college to which I am deeply committed as a result of my student life there," he wrote in his application.
Lare wrote frequently on Congress, legislative politics, urban administration and politics, and the pressures on domestic policymakers. With Cornell professor Clinton Rossiter, he edited The Essential Lippmann: A Political Philosophy for Liberal Democracy, published by Random House in 1963. With Kenneth A. Wagner and Stanley Williams Moore, he wrote The Child's Political World (Praeger, 1985), a longitudinal study of how children learn about government and politics.
A former president of the Southern California Political Science Association and chair of the California Conference on Education for Public Administration, he served on the Citizen Advisory Council on the Northeast Los Angeles Community Plan and the Northeast Los Angeles Fair Housing Council. At Oxy he was faculty adviser to Young Demo­crats and Sigma Alpha Epsilon fraternity.
Lare was married to Joan Hinchman, a professor of home economics at Long Beach State, for more than 32 years until her death in 1990. He subsequently wed Oxy librarian Jacquelyn Ann McCoy in 1991. In addition to McCoy, Lare is survived by daughters Jennifer, Michelle, and Patricia; son John; nine grandchildren; and one great-grandchild.