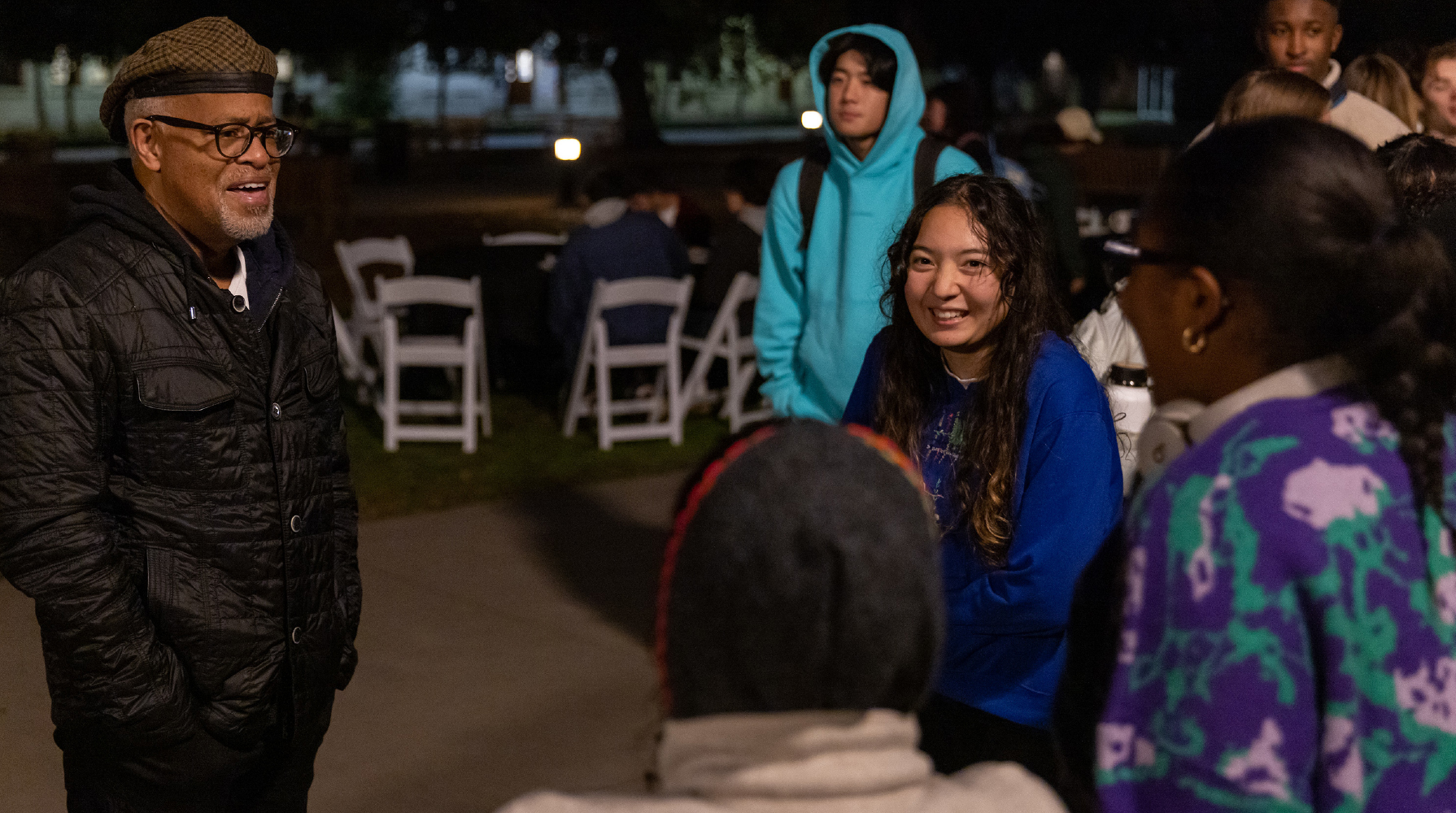 After a fall full of activity—including postseason tournaments, pancakes on the Quad, and in-person alumni gatherings—Oxy springs forward into 2023
It was intended to be my first opportunity to meet the Oxy community in person, four weeks after the announcement of my appointment as the College's 16th president: an informal ice cream social and reception in the Quad. But the threat posed by the rapid spread of the COVID-19 virus led to its cancellation the day before it was scheduled to be held. One week later, after the World Health Organization officially declared the pandemic a reality, the College announced that all classes would be held online.
I was thinking about that day when I stood in Mosher Auditorium in December and addressed the first in-person faculty meeting we've held since the start of the pandemic—remarkably, the first in my 2½ years as president. The same thoughts were running through my mind in November at the California Academy of the Sciences in San Francisco, where more than 200 alumni, parents, and friends gathered for our first big off-campus community gathering in almost three years.
Of course, we joyously welcomed students back to campus in August 2021, after vaccines and a greater understanding of the virus made it safe to do so. But with the lingering effects of the virus, it wasn't until this fall semester that the Oxy campus has felt fully alive. It has been wonderful to see students connecting with each other and with faculty and to be part of the big home crowds cheering on the men's soccer and water polo teams in their postseason SCIAC tournament matches (the Tigers beat Pomona to advance to the soccer final, and the water polo coaches were named SCIAC coaching staff of the year!). Some 400 students turned out for our end-of-semester tradition, the Moonlight Breakfast, where senior staff and I serve pancakes to students under the stars in the Quad as a study break and gesture of support during finals.
This has become a time to rebuild our precious and essential sense of community, on campus and among the broader Oxy community. We are faced with both challenges and opportunities in this regard. There is a great deal of work that needs to be done to bring us together and fully restore not only the student experience but the feeling of community among alumni, parents and friends. I could feel that pent-up demand at our San Francisco event; there was a palpable sense that everyone was delighted to be able to gather in person once again.
By any measure, this is a critical juncture for Oxy and higher education generally. While we can't truly call it a post-pandemic era—the mutating COVID virus is still with us—I believe we have reached the point where we can begin to leave our crisis mode behind and look ahead to where we hope to be as a college over the next decade. I was delighted to make a brief presentation in San Francisco on our effort to develop an Integrated Strategic Plan to chart the future of Occidental. And I was encouraged by the response of those in the audience, who recognized the importance of the effort and the significance of the promise it represents—of an exceptional educational experience for students, an environment conducive to faculty's best work in both research and teaching, and a real sense of pride among alumni.
Having a shared vision and a common goal is essential to fostering a true sense of community. To that end, we hope to have the Board of Trustees' endorsement of the strategic plan this spring. San Francisco was just the first in a series of community gatherings that we will be holding in the months ahead. Rest assured that we will step into the future with energy, anticipation, and promise. We plan to make you proud.
Above photo: President Elam talks to students at Moonlight Breakfast on the Quad on December 7, 2022. Photo by Sarahi Apaez.