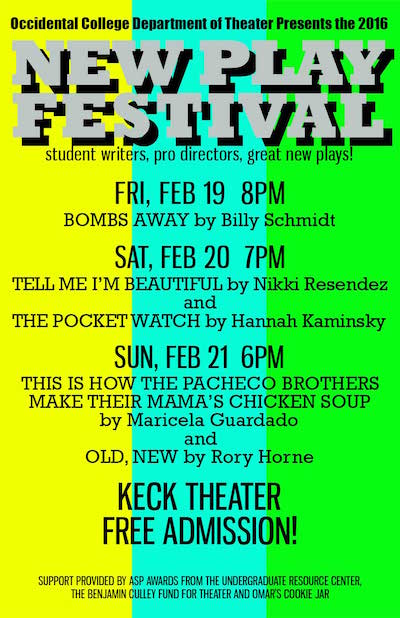 The Occidental College Theater Department will present five staged readings of student-written plays during its 18th annual New Play Festival in Keck Theater February 19-21. 
Combining the talents of Oxy students, faculty, and local guest artists, the free festival begins on Friday, February 19 at 8 p.m. with Bombs Away, written by theater major Billy Schmidt '16 and directed by guest artist Robert Cucuzza. The festival continues on Saturday, February 20 at 7 p.m. with two plays: This is How the Pacheco Brothers Make Their Mama's Chicken Soup, written by Los Angeles-based actress Maricela Guardado and directed by guest artist Herbert Siguenza and The Pocket Watch written by politics major Hannah Kaminsky '16 and directed by guest artist Daisuke Tsuji.
The festival concludes on Sunday, February 21 at 6 p.m. with two final plays: Tell Me I'm Beautiful written by English major Nikki Resendez '16 and directed by guest artist Rosie Glen-Lambert and Old, New written by exchange student Rory Horne of University of East Anglia, Norwich and directed by guest artist Peter Howard.
The New Play Festival is produced by Associate Professor of Theater Laural Meade '88. For this year's production, Meade is supported by two student producers: biology and theater double major Dylan Bruce '16 and theater major Amanda Wagner '16.
The festival begins with the selection of five plays from student submissions. The student actors are then chosen from a campus-wide audition, bringing together theater and non-theater majors alike. From there, a guest director and up to three professional actors are brought in to work alongside student actors. Over the course of next several months, the student actors, writers, producers, designers, and technicians have the opportunity to meet and collaborate with local theater professionals to bring the plays to life.  
"Students [while participating in the New Play Festival] slowly but surely become more skilled, insightful, expressive and collaborative," says Meade. "We manage, if I may say so, to create a fertile atmosphere for our student writers and their student and professional fellow artists to really shine."
Many festival alumni have gone on to excel not only in the theater community, but also in the fields of television, online media, creative writing, and film. Writer and producer Angela Kang '99 has worked on popular television shows, such as The Walking Dead, Grey's Anatomy, and Terriers. Will Watkins '02, co-founder of the online media company Maker Productions, recently finished starring in a two-year international tour of DreamWorks' arena spectacular How to Train Your Dragon. Previous festival writer Claudia Restrepo '10, in collaboration with several other theater alumni, rebooted her festival play Reconstruction for the 2012 Hollywood Fringe Festival. Actress and writer Nina Carlin '15 has written, produced, and performed in her own plays for the Hollywood Fringe Festival on multiple occasions.  
Financial support for the festival is provided in part by Academic Student Project Awards from Occidental College, the Benjamin Culley Fund for Theater, and Omar's Cookie Jar.
"We do good work!" says Meade. "It's joyful, expressive, communal, hard, easy, fun, cathartic, weird, deep, real. And it's Oxy students giving their best."