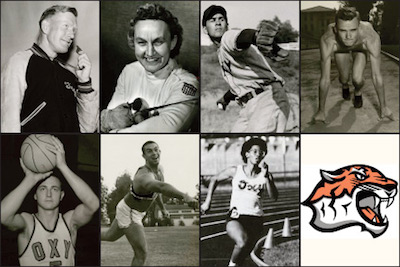 Occidental College will induct its third class into the Athletics Hall of Fame at an Oct. 24 dinner and ceremony in Jack Kemp Stadium.
The Athletics Hall of Fame honors members of the Oxy community for outstanding achievement in competition and service, dedication and commitment to Occidental athletics. Operating under the authority of the College, the Athletics Hall of Fame Committee selects and inducts individuals and teams worthy of recognition while upholding the integrity of the institution and its athletics program.
The third class of inductees includes:
Roy Dennis '33 joined the athletics department in 1934 and retired as athletics director in 1970. As head football coach, he led the Tigers to a 53-40-4 mark, including Oxy's 1948 Raisin Bowl win. He also coached varsity swimming and water polo for 30 years, winning 17 SCIAC titles. He died in 1988.
Maxine McMasters Mitchell '45 picked up her first sword at Oxy after her older brother enrolled her in a fencing class. She won her first national title in 1952 and represented the United States in the 1952, 1956, 1960 and 1968 Olympic Games. She coached the one-woman Panamanian fencing team in 1984. She died in 1991.
Bob Ashford '52 pitched the Tigers to the first of four straight SCIAC championships as a junior and carried Bill Anderson's squad to a 10-0 SCIAC season in 1952, hitting .600 to lead the league and winning all nine of his starts. Ashford was named Occidental's co-athlete of the year in 1951-52. He lives in Pasadena.
John Barnes '52 was an NCAA champion and record-holder in the men's 800m run in 1951 and 1952. Barnes represented the United States in that event at the 1952 Summer Olympics in Helsinki. He also was a member of Oxy's 1950 relay team that ran a 3:10.1 mile—then one of the top times in the world. He died in 2004.
Ted Tiffany '57 transferred to Oxy as a sophomore from Glendale College. He was an NCAA All-American in 1957 and the Tigers' all-time leading scorer from 1957 to 1993, with 1,336 points. Tiffany became the first player selected to the Oxy Men's Basketball Hall of Fame in 1986. He lives in Genoa, Nev.
John McGrath '63 is a three-time Amateur Athletic Union champ in shot put. His toss of 64' 3¼" at the 1966 AAU Indoor Champion­ships is his career best, and his toss of 61' 2¼" at the 1963 SCIAC Championships is still the conference record. His combined shot put/discus results in 1963 set an NCAA high mark. He lives in San Diego.
Shawn Lawson-Cummings '86 is a two-time NCAA heptathlon champion and one of only three women ever to earn NCAA All-American status in each of her four years. All totaled, she was awarded the honor nine times across four events after setting school records in six different events. She lives in Wilton, Conn.
For more information, visit oxyathletics.com/hall_of_fame/hofhomepage.