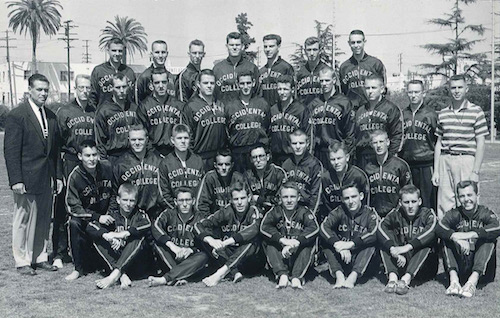 An Olympic synchronized swimmer, a dominant pitcher and a national championship track and field team will be inducted into the Occidental Athletics Hall of Fame on Friday, October 21, during Family & Homecoming Weekend.
Established in 2012 in conjunction with the College's 125th anniversary, the Hall of Fame honors outstanding achievement in competition, service, dedication and commitment to Occidental athletics.
"It's our fifth year so we wanted it to be a special one with the induction of not only two terrific and deserving athletes, but also our first team," said Oxy athletic director Jaime Hoffman. "We didn't have to look hard to find the most decorated team in Oxy's storied athletics history. They were national champions, they set world and NCAA records and now they will be immortalized."
JoAnn (Brobst) Hirsch '58 was Oxy's "water queen of the 1950s" and a member of the 1956 U.S. Olympic team in synchronized swimming. As a synchronized swimmer and member of the Athens Athletic Club while at Oxy, Hirsch was a Canadian national team champion (1955), a U.S. national team champion (1956-59), a Pacific Coast solo champion (1957) and a Far West solo champion (1957). Hirsch and her club represented the United States as a demonstration sport at the 1956 Olympics and at the 1959 Pan American Games.
Don Hagen '64 posted a career record of 23-1 over two seasons as the Tigers' ace, pitching a pair of no-hitters in the same week in 1962, including the only perfect game in Oxy history against Redlands. He went 12-0 in 1963, earning SCIAC Player of the Year honors as well as being named to the 1963 College Baseball All-America Team. Hagen was a member of Coach Grant Dunlap '46's 1962 and 1963 SCIAC championship teams and finished his career an ERA of 1.05 and the best strikeouts-to-walks ratio (13:2) in school history. He was drafted by the St. Louis Cardinals in December 1963.
The 1957 Occidental Track and Field Team did just about everything a team could, winning the SCIAC championship, beating defending NCAA champion UCLA in a dual meet, setting four NCAA records and winning the NAIA National title by outscoring the next five teams combined. Led by Coach Chuck Coker (who died in 2015), the team also featured world record-holders Bob Gutowski '58 in the pole vault and the 4-x-880-yard relay combo of Ty Hadley '58, Tod White '59, David Reisbord '58 and Larry Wray '57.
The full roster includes: Rudy Alston '58*, Amand Ardaiz '59*, Dennis Bambauer '58, Russ Bennett '59*, Ed Bixler '59, Loren Brodhead '59, team manager Lanny Carter '57, Dan Couchman '58,
 Karl Dreher '59, Don Embury '58*, Dave Goodenough '58*, Bob Gutowski '58*,
 Dick Haddon '57*,
 Ty Hadley '58 P'00,  Jon Jamison '58*,
 Gary Jeffries '58*,
 Jack Kemp '57 H'90*, 
John Kerr '59, 
Dennis Lanterman '57, Jack Lawrence '59*, Pat Logan '58*,
 Bob Lord '58 M'61, Bob Nini '59, Mike Quint '58 P'87, 
Bill Reay '57, Alex Reisbord '59 P'89 '90, Dave Reisbord '58 P'87, Rick Schmidt '58*,
 Edward Schoerner '60, Ken Shannon '59, Dick Shoemaker '59*,
 Stu Thomason '57, George White '59*,
 Tod White '59, Jim Williams '59*,
 Walt Williamson '58,
 Larry Wray '57 
and John Zetzman '58. (An * indicates a deceased teammate.)
This year's class brings the total of Hall of Famers to 31 individuals and one team. Details about the dinner ceremony (to be held at Bill Henry Track in Kemp Stadium) will be mailed out soon. For more information, visit oxyathletics.com.