Submitted by kwall_admin on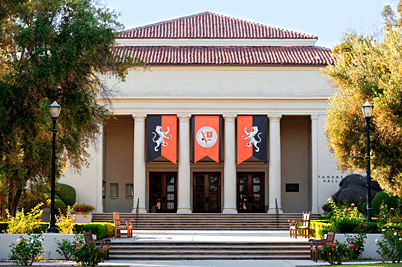 A Broadway costumer, a grassroots organizer and a school principal are among this year's recipients of the Alumni Seal Award, which will be presented by the Occidental College Alumni Board of Governors during Reunion Weekend, June 23–25.
This year's awardees are:
Sally Ann Parsons '62
Alumna of the Year
In 1980 Sally Ann, along with her husband James Meares, founded a costume shop that went from squatting in an abandoned school building to becoming one of the premier shops in New York City. Parsons-Meares has produced costumes for more than 100 Broadway shows, including Cats, The Phantom of the Opera, The Lion King, Sunset Boulevard, Guys and Dolls, Wicked, Aladdin and, most recently, the blockbuster hit Hamilton. Sally received a 2016 Tony Honor for Excellence in the Theater.
Esau Berumen '97
Professional Achievement
Since becoming principal of Hawthorne Math and Science Academy (HMSA) in 2010, Esau Berumen has led his school to become the 12th most "college ready" school in California, and one of the top 30 overall schools in the state. In 2015, HMSA was named a California Gold Ribbon School, one of the highest accolades given to schools in the state. Additionally, Esau was named one of the top 30 principals in California. He was previously honored with Oxy's Young Alumni Seal Award.
Mark Garcia '87
Service to the College
A baseball and football player at Oxy, Mark has answered the call for nearly every volunteer opportunity that exists at Oxy. He has served on a reunion committee; mentored students in partnership with the Hameetman Career Center; advised the Alumni Office as a member of the Board of Governors; and represented his fellow Tigers to College leadership as the alumni trustee. Mark has also continued his involvement with Oxy Athletics by serving on the Tiger Club Board of Directors, worked with affinity group and been a dedicated donor, with membership in both the William Stewart Young and McMenamin societies. Professionally, Mark is a deputy mission manager for the Phoenix Mars Lander at the Jet Propulsion Laboratory.
Judy Lam '87
Service to the College
As a student at Oxy, Judy participated in Dance Production and was a member of the Asian Pacific Islander Alliance. Since her graduation, Judy has been a leader of the Asian Pacific Islander Affinity Group and the scholarship that they fund. Judy has also served on the Alumni Board of Governors and continues to shape the leadership of the Association as a member of the Alumni Council. She has been both a reunion planning and giving volunteer, and has shown herself to be a dedicated supporter of the College as a member of the McMenamin and William Stewart Young societies. Judy, who describes herself as a dancer and a lawyer, is currently a litigation partner with Kumagai Law Group.
Kylie Schuyler '82
Service to the Community
As a volunteer with NGOs overseas, Kylie participated in efforts to incentivize parents to enroll girls in newly built schools, as opposed to just boys. When she returned to the States, Kylie used this revelatory experience when founding GLOW House in Santa Ana. GLOW House serves girls in grades 5-12 through daily afterschool programming that includes research-based mentoring, literacy and art activities. From there, Global GLOW has grown to operate throughout the U.S. and in over 20 countries in Africa, Asia, the Caribbean and Central and South America.
Sara El-Amine '07
Erica J. Murray '01 Young Alumni Award
Although she has only been out of Oxy for a decade, Sara is already a nine-year veteran of politics, serving various roles in two Barack Obama '83 administrations. As the Obama reelection campaign's national director of training, Sara was responsible for establishing the curriculum and programs that trained over 50,000 staff, volunteers, fellows and interns who powered the president's 2012 election win. Later, as executive director of the president's grassroots Organizing for America, Sara led winning progressive-issue battles at the state and national level including healthcare reform, marriage equality, gun-violence prevention and comprehensive immigration reform. Now a senior adviser and strategist and founder of Sara El-Amine Consulting, Sara works with such progressive organizations as Moveon.org, Safe Hands for Girls and Take on Hate.
Roger Boesche
Faculty Emeritus
A member of the Oxy faculty since 1977, Roger Boesche was the Arthur G. Coons Distinguished Professor of the History of Ideas and taught the history of European and American political thought. A recipient of Oxy's most prestigious teaching awards, including the Sterling Award, the Linda and Tod White Teaching Prize and the Loftsgordon Award, Boesche was selected for his first faculty job at Oxy out of a field of 250 applicants. In the words of Emeritus Professor Larry Caldwell, "It was clear that he was going to be one of our top teachers, and he has never let us down since." Sadly, Boesche died May 23, just two days after retiring from full-time teaching. The Board of Governors is honored to posthumously present him with the 2017 Faculty Emeritus Seal Award.