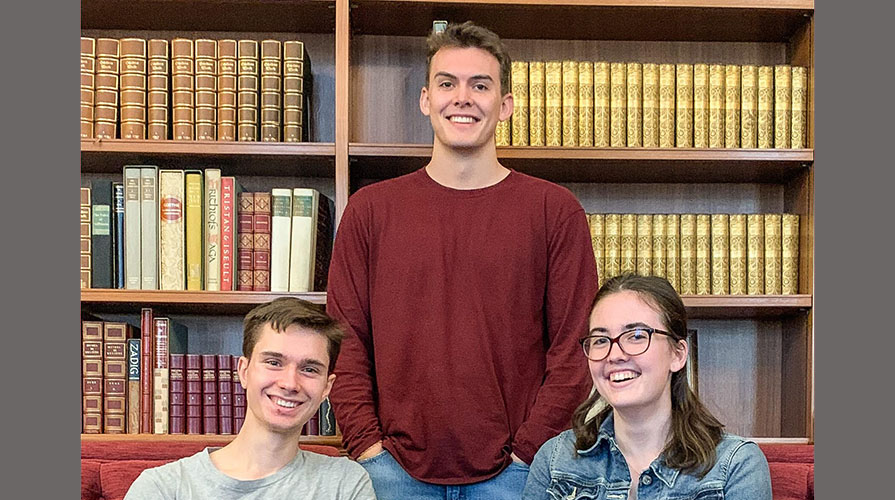 Three Occidental College students collaborating with faculty in the fields of geology and physics have been named 2020-21 Science Scholars and presented with research grants funded by the Kenneth T. and Eileen L. Norris and Fletcher Jones foundations.
The scholars selected by Oxy faculty to receive the prestigious award are Norris Scholars Matt Aleksey '21, a geology major from Maspeth, New York, and Gabe Gregory '21, a physics major from Los Angeles, as well as Fletcher Jones Scholar Jackie Dall '21, a geology major from La Crescenta. Each Science Scholar receives $15,000 in support to carry out research from the spring of their junior year through graduation.
Working with Gibby Professor of Science Margi Rusmore, Aleksey will pursue a project entitled the "Evolution of Cordilleran Batholic Stikine-Iskut Region." His study of how subduction zones induce magmatism and deform crustal rock is supported by the Norris Foundation. The Dean's List student and National Science Foundation COSMOS scholar hopes to go on to graduate school to work towards a Ph.D. in geology.
Gregory is collaborating with Physics Professor Dan Snowden-Ifft on a project called "Ionization Created Minority Carriers: What are They?" While his previous research has been mostly theoretical and computational, as a Norris Scholar he will be able to move into experimental research and design and build his experiment, which Snowden-Ifft feels could help solve a long-standing mystery in the field. Gregory is also a Dean's List student.
Dall is working with Geology Professor Chris Oze on a project entitled "Characterizing global chromium cycling using variations in isotopic signature." Working with samples from the collections of Caltech and the Los Angeles County Museum of Natural History, her research into chromium (Cr) cycling seeks to gain a clearer understanding of Cr isotope systems and fractionation under a range of thermodynamic conditions. Like Aleksey and Gregory, Dall is on the Dean's List and serves as the sports editor for The Occidental.