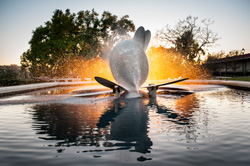 Five recent graduates from Occidental's Class of 2015 have committed to joining Teach For America's teaching corps.
Teach For America is a selective national non-profit that places college students and recent graduates in high-need classrooms across the country. In the classroom, teachers work in partnership with communities to expand educational opportunity for children facing the challenges of poverty.
Teach For America
instructors commit to teach for two years in low-income communities and are hired by the organization's partner public schools across the country.
Selected from more than 44,000 applicants, the five Occidental graduates are:
Taylor Durhan, a kinesiology major from Seattle who is heading to Chicago;

Megan Olayinka, a sociology major from Crovallis, Ore. who also will be teaching in Chicago; 

Shaila Ramachandran, a biology major from Portland, Ore. who has been placed at a school in Los Angeles; 

Emma Roberts, a sociology major from Dallas who will be teaching in Washington, D.C.; and

Austin Wang, a kinesiology major from La Jolla who will teach in Hawaii.
Each will undergo summer training sessions in their placement regions before beginning their new teaching jobs in the fall. 
Over the last 25 years, more than 47,000 people from a wide variety of backgrounds have joined Teach For America. Most (about two-thirds) stay involved in education—as teachers, school leaders, district administrators, policy makers, advocates and in other roles.