Submitted by kwall_admin on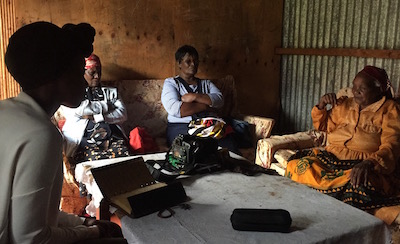 Samantha Herdman '19, a biology major from Mill Valley, is studying mockingbirds in the Galapagos Islands. Atnasia Mekonnen '21, an undeclared major from Addis Ababa, Ethiopia, is in Uganda studying the impact of maternal and child health programs. Robertia Reid '20, a critical theory and social justice major from Los Angeles, is researching the perception of Afro-Japanese identity in Japan. Luis Torres '19, a Spanish studies and biology major from Pomona, traveled to Argentina to evaluate child-malnutrition research. Finally, Waruguru Waithira '20, a biology and art and art history major from Fort Lee, New Jersey, is in Kenya making a documentary film about her 105-year-old great-grandmother, a member of the Mau Mau tribe who resisted British rule and paid a heavy price.
Richter study-abroad proposals are developed by students in close collaboration with an Oxy faculty supervisor. The competitive scholarship is open to all juniors and exceptional sophomores of any major who have a GPA of at least 2.7 and who have completed a research-methods course. Successful candidates are fully funded to do research for eight to 10 weeks over the summer. Funding amounts are flexible—students draft their own budgets and costs depending on the nature of their research project, its location, etc. While abroad, recipients work full time on their project.
Upon return to the College, students present their projects to the Occidental community at the Undergraduate Research Conference held at the end of the summer. Students are also expected to share their Richter experiences with the Oxy community through the Digital Crossroads Media Wall in the McKinnon Global Center and by participating in student panels.
Research-abroad scholars have successfully presented their projects at conferences and have utilized their work for senior comprehensive projects. Many Richter scholars successfully pursue graduate fellowships and graduate degrees overseas.
The Paul K. and Evalyn E. Cook Richter Trust generously funds summer research virtually anywhere in the world, across all disciplines. This includes transportation, housing, meals, visas and program expenses.