Adam Kinzinger, a former congressman and member of the Select Committee that investigated the Jan. 6, 2021 attack on the U.S. Capitol, is Occidental College's 2023 Jack Kemp '57 Distinguished Lecturer.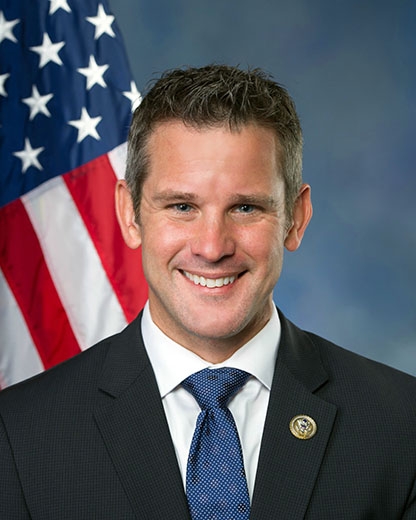 His talk will take place in Thorne Hall on the Occidental campus at 4:30 p.m. on Thursday, Sept. 7. The event is free and open to the public. Advance registration is required.
Kinzinger, a Republican, served six terms in the U.S. House of Representatives from 2011 to 2022, representing Illinois' 16th Congressional District. He was a member of the House Committee on Energy and Commerce and the House Foreign Affairs Committee, where he served as Ranking Member of the Subcommittee on Europe, Eurasia, Energy and the Environment in the 116th Congress. He also served on the Select Committee to Investigate the Jan. 6, 2021, attack on the United States Capitol, one of only two Republicans to do so.
Prior to being elected to Congress, Kinzinger served in the Air Force in both Operation Iraqi Freedom and Operation Enduring Freedom. He continues to serve as a pilot in the Air National Guard, with the current rank of lieutenant colonel, and is also a senior political commentator on CNN.
During his talk, Kinzinger will recount his time in public service and outline his hopeful vision for the future of the United States. Pulling from his six terms in the House of Representatives, he will share his thought processes as he witnessed firsthand the changes in government, and how he made the decision to stand against his own party to investigate the Jan. 6 insurrection for what he believed was the sanctity of the country.
The Jack Kemp '57 Distinguished Lecture Series, made possible by the Jack Kemp '57 Scholars Endowment, strives to engage the Occidental community in dialogue on important issues of public policy such as the political economy, economic growth in the context of a market system, communitarian values, and bipartisan relations.
Previous Kemp Distinguished Lecturers include Tal Becker, senior fellow at the Shalom Hartman Institute in Jerusalem; former U.S. Secretary of State Condoleezza Rice; and former U.S. Senator Jeff Flake.