Submitted by kwall_admin on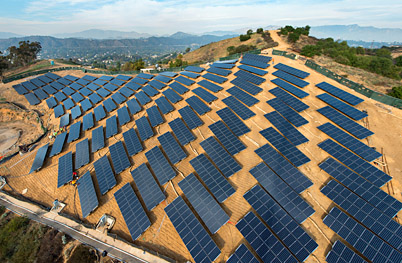 Occidental College's $6.8-million, 1-megawatt ground-mounted solar array, a project whose innovative design blends engineering and art, went online this week after almost four years of planning, outreach, and construction.
As one of the largest ground-mounted arrays in the city of Los Angeles, the array will generate approximately 11 percent of the College's annual electrical usage and an estimated savings of $200,000 a year. It also is believed to be one of the largest arrays in the country on a small college campus.
"While our chief goal has always been to reduce the College's dependence on fossil fuels, the time we spent in developing the array reflects our desire to address solar power in a new, creative way," said Occidental President Jonathan Veitch. "It represents a new paradigm for arrays as architectural objects that, like buildings, are expected to contribute aesthetically to their environment."
About 30 percent of the array's 4,886 panels sit on top of shade structures installed in an existing campus parking lot. The others are on a nearby southwest-facing hillside above Oxy's soccer fields. With panels mounted just two to three feet above the ground, the hillside array hugs the topography of the slope in a curving design based on a mathematical expression known as a hysteresis loop.
Occidental's dramatic design for the array – created by the Lettuce Office of Los Angeles in collaboration with College art faculty – uses highly efficient SunPower panels to limit its footprint. Martifer Solar of Los Angeles is the contractor.
The array will remove 1,250 metric tons of carbon dioxide from the atmosphere every year – the equivalent of removing about 250 automobiles from the road. Electricity accounts for more than two-thirds of the College's utility costs, and 75 percent of its direct carbon consumption. A $3.4-million rebate from the Los Angeles Department of Water and Power will help finance the project.
The array will be formally dedicated on Founders Day, April 20, the traditional celebration of Occidental's founding in 1887.
Installation of the array is in keeping with the LADWP's goal of adding 130 megawatts of customer-owned solar power to the city's energy grid by 2020; Mayor Antonio Villaraigosa's goal of making Los Angeles one of the greenest cities in the country by that same date; and President Barack Obama '83's goal of increasing the use of renewable energy sources.