Submitted by kwall_admin on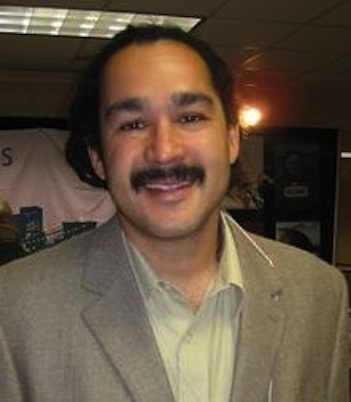 Historian Daniel Widener, whose latest book documents the social and political significance of Black arts in post-World War II Los Angeles, spent three days on the Occidental campus as the Stafford-Ellison-Wright Scholar-in-Residence Sept. 18-20.
Widener, an associate professor of history at UC San Diego and author of Black Arts West: Culture and Struggle in Postwar Los Angeles, will deliver a public lecture, "The Art of Creative Survival: Black Agendas Past and Future" at 7:30 p.m. on Tuesday, September 18 in Mosher 1. His book will be available for sale.
Widener's lecture will be preceded by a 5:45 p.m. invitation-only reception in the Samuelson Alumni Center sponsored by the Black Alumni Association and the Occidental College Alumni Association.
Widener's three-day residency is made possible by the Stafford-Ellison-Wright Endowment, established by generous alumni to honor Janet Stafford, George Ellison, and Barbara Bowman Wright, Occidental's first African-American graduates. This year marks the 60th anniversary of the trio's historic graduation.
A graduate of UC Berkeley who earned his Ph.D. at New York University, Widener has written widely about modern African-American history and inter-ethnic relations in Southern California. A professor at UC San Diego since 2003, he teaches African-American history, cultural studies, and 20th-century political radicalism.
Widener also will be facilitating a roundtable discussion featuring local African-American artists Kenturah Davis '05, Dale Brockman Davis, and Dominique Moody from 4:30 to 6 p.m. on Wednesday, September 19 in Dumke Commons.