Submitted by kwall_admin on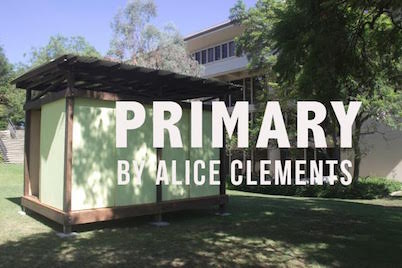 Alice Könitz's award-winning work, Los Angeles Museum of Art (LAMOA), has been installed on the Occidental College campus and will feature programming scheduled through the 2015-2016 academic year.
The inaugural exhibition will feature Primary, a sculpture by Los Angeles-based artist Alice Clements. A joint public reception for Clements and fellow artist Heather Rasmussen will be held Sept. 16 from 5 to 8 p.m. on Occidental's Weingart Patio.
LAMOA is a small exhibition space curated by Könitz, and a sculpture in its own right. Established in Könitz's Eagle Rock backyard in 2012, the museum is a venue for exhibitions and performances from members of her artistic community. Artists are invited to create work specifically for the venue and its unique structural form, creating a new audience experience with each exhibition.
The work manifests the artist's interest in the relationship between public and private space. Formerly an open space in the setting of her home, with the move to Occidental it will shift boundaries to become part of the academic setting and students' everyday lives.
"Hosting the recent recipient of the Mohn Award honoring artistic excellence at the Hammer Museum's Made in L.A. 2014 exhibition is an honor and we are excited about the opportunity for the students to engage with the work," says OxyArts Director Aandrea Stang. "With the campus installation, LAMOA will create dialogue within the campus community and for a broader Los Angeles audience."
Originally from Germany, Könitz attended the Kunstakademie in Düsseldorf before moving to California and receiving her MFA from CalArts. Her work has been included in exhibitions such as the UCLA Hammer Museum's Made in L.A. 2014 and the 2008 Whitney Biennial. She has been featured in Artforum, Frieze magazine, and the New York Times.
Clements also lives and works in Los Angeles. She graduated from Wesleyan University prior to completing her MFA from the Art Center College of
Design. Her work has been shown at Elephant, Jancar Gallery, and PØST in Los Angeles.
OxyArts acts as a hub for the arts at Occidental, promoting exhibition and programming practices that are key to the College's long-term vision for the arts. Through its Weingart Gallery, campus-wide projects, and work developed by artists in residence, OxyArts seeks active participation in Los Angeles' art community and a deeper understanding and appreciation of the arts throughout the College community.