Submitted by kwall_admin on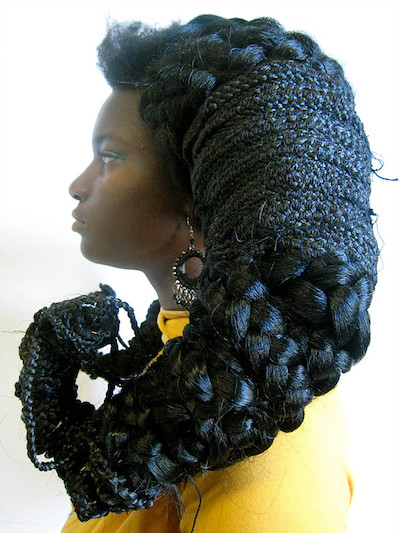 Wanlass Artist in Residence Kenyatta A. C. Hinkle will present a workshop, Navigating Ain'tness: Exploring the Kentifrica Archive on Wednesday, October 25 from 6 p.m. to 7:30 p.m. in the Johnson Student Center Bengal Room. A reception will follow. 
The "Kentifrican" proverb "Looking Where It Ain't" serves as the basis for this performative lecture. Passed down to the artist by her great-great-uncle, the saying suggests that "things we are looking for can be found in the last place that we would expect them to be."
The Wanlass Artist in Residence is Occidental's semester-long residency program that allows an artist to investigate aspects of their practice and share it with the College campuswide. The program encourages cross-campus collaboration and thoughtful sustained interaction between artist and students.
Hinkle, the 2017-18 Wanlass Artist in Residence, is an interdisciplinary visual artist, writer and performer. Her practice fluctuates between collaborations and participatory projects with alternative gallery spaces within various communities to projects that are intimate and based upon her private experiences in relationship to historical events. A term that has become a mantra for her practice is the "Historical Present," as she examines the residue of history and how it affects our contemporary world perspective. Hinkle received her MFA in art and critical studies creative writing from CalArts and BFA in painting from the Maryland Institute College of Art.
Her work and experimental writing have been exhibited and performed at Fore at the Studio Museum in Harlem, NY; Project Row Houses in Houston, Texas; the Hammer Museum in Los Angeles; and the Museum of Art at the University of New Hampshire. Hinkle was the youngest artist to participate in the multi-generational biennial Made in L.A. 2012. Hinkle's critically acclaimed solo show, The Evanesced, about the erasure of black women historically and in the present, debuted at the California African American Museum in Los Angeles in spring 2017.
"Kenyatta is a seminal artist working at the intersection of visual art, performance art and experimental archival practices," said Deena Selenow, director of Oxy Arts.
In addition to her workshop, during her residency Hinkle will be teaching a course at Occidental, Art Outside the Bounds, about how the residue of history affects our contemporary world perspective. Work will include collaborating with the artist on her long-running and multi-layered educational and research project, Kentifrica. Kentifrica is a combination of the geographies of her ancestral lands of Kentucky and parts of West Africa. She will also curate an exhibit on campus this spring. 
For more information about Hinkle, visit her website. The Octobr 25 event is free and open to the public. Click here to RSVP (encouraged but not required). For more information, click here or email oxyarts@oxy.edu.
Past Wanlass Artists in Residence recipients include Rafa Esparza, Liz Collins, Lucky Dragons and CamLab. The Wanlass Artist in Residence program is made possible by the generous support of the Kathryn Caine Wanlass Charitable Foundation.