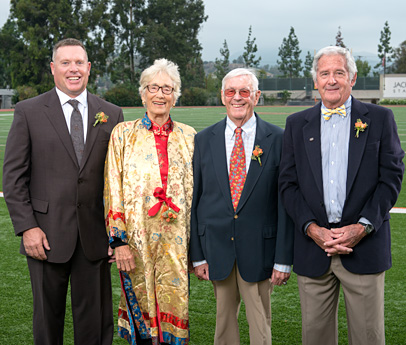 A Wimbledon champion, an NFL veteran, a pair of Olympians, a beloved baseball coach and a track and field legend received Occidental College athletics' highest honor during Family Weekend & Homecoming.
Six new members were added to Oxy's Athletics Hall of Fame during its fourth annual induction ceremony October 16 on historic Patterson Field. The Hall of Fame honors outstanding achievement in competition, service, dedication, and commitment to Oxy athletics.
Occidental President Jonathan Veitch used the occasion to reaffirm the college's determination to return Oxy athletics to real competitiveness – as evidenced by a fundraising campaign that has put the College "within spitting distance" of building a long-awaited aquatic center project and additional tennis courts.
The evening's inductees were:
Don Gambril '56, who enrolled at Oxy as a sophomore after developing an interest in swimming at East Los Angeles Junior College. After serving in the U.S. Navy and completing his degree at Cal State LA, he found his calling as a college swimming coach, most notably at the University of Alabama from 1973-1990. He worked with the U.S. Olympic swim team as an assistant coach in 1968, 1972, 1976, and 1980, and served as head coach of the 1984 squad in Los Angeles. His teams won five national titles and 16 league championships, while his Olympic swimmers (a group that includes Mark Spitz, Sharon Stouder, and Gunnar Larsson of Sweden) won 14 gold medals and broke 20 world records. ""It's a real honor to be associated with a school like Oxy," Gambril said.
Dixon Farmer '63, who as a high school senior was the California high school state champion in the 440 and 180 low hurdles, and two years later became the NCAA 440 hurdles champion as a sophomore at Oxy. "That was a pretty memorable period," Farmer said of his college track career. "We beat just about everyone—Cal, Stanford, UCLA, Arizona and Arizona State." After graduation, Farmer took his first coaching job at Occidental, helping lead the Tigers to seven consecutive conference championships in track and cross country. Farmer left Oxy for the University of Michigan as head track and cross country coach in 1972. Subsequently, he was successful at every level of competition, winning conference coach of the year honors three times while at San Diego State and at Gustavus Adolphus College, and the USA Track & Field President's Award for service to the sport in 1994. Recruited back to Oxy as athletic director in 2000, he retired in 2007.
Sally (Moore) Huss '62, who picked up the racket at an early age and won the first of nine U.S. Tennis Association championships in 1956. From 1957 to 1959, she ranked among the top 10 women's players in the United States, and was ranked ninth in the world in 1959. Huss won the Wimbledon junior title in 1958 and reached the women's semifinals the following year. She put the brakes on competitive play at age 21, finished her degree at USC, and joined the Virginia Slims tour in 1974. For more than 25 years, Huss has channeled her energies into writing and illustrating her own books. While most of her books are for children, others draw upon her expertise as a tennis champion, and still others reveal her positive philosophy of life. "It is such a privilege to be here," Huss said. "I do have such fond memories of Oxy."
Vance Mueller '86, who was a two-sport star at Oxy. In football, he was SCIAC offensive player of the year in 1984 and 1985, a first-team All-SCIAC selection all four years, and three-time team MVP. A fourth-round draft choice of the Los Angeles Raiders, Mueller played in 73 games over a five-year career in the NFL. "It wasn't more than 15 minutes after I was drafted in the fourth round that President Gilman showed up with champagne and champagne glasses," Mueller said. "I'm so proud to say I'm an Oxy Tiger." In track and field, he was an NCAA champion in the long jump with a best of 24'9½" and also ran a leg on an NCAA-champion 400-meter relay team. His son, Shay, is a senior kinesiology major and a standout defensive back for the Oxy football team.
Gymnast Bill Tom '51, who won the elite vault title at the 1949 AAU Championships and became, at age 33, the oldest member of the 1956 U.S. Olympic team that competed in Melbourne. Nicknamed "Dragon," Tom became friends with the Taiwanese Olympians. That led to his moving to Taiwan for a while—using a Fulbright award—and establishing the country's first gymnastic team. He served as an instructor at Normal University in Taiwan before accepting a position at Los Angeles Trade-Tech, where he was a physical education instructor and gymnastics coach for more than 30 years. Tom was inducted into the U.S. Gymnastics Hall of Fame as an athlete and coach in 1992. He died in 2012.
Bill Anderson, who arrived on the Occidental campus as an athletic trainer in the fall of 1924, seven years removed from his playing days as an all-star halfback at the University of Illinois. He coached baseball at Oxy for 30 years, becoming the Tigers' head coach in 1930. At the freshman and varsity level, he won more championships—baseball, basketball, and football—than any coach in Oxy history. His baseball squads notched 10 titles, with the 1932, '34, '52, and '54 teams going undefeated in league play. He coached the only two pitchers (Dick Sovde '56 and Frank Bennett '54) to throw no-hitters in the same season (1954), and his last four teams (1951-54) won consecutive SCIAC titles. Anderson Field, the Tigers' baseball home since 1950, is named in his honor. He died in 1969