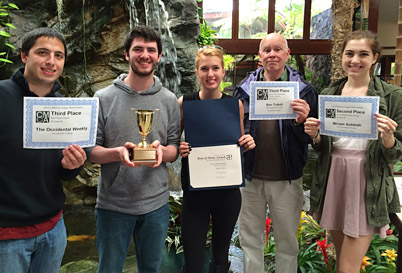 The Occidental Weekly added to its growing list of awards by winning three first-place awards and producing three finalists in the Society of Professional Journalists' Region 11 Mark of Excellence Awards competition this weekend.
By winning first place awards in general news reporting, general column writing, and feature photography in the small schools category (colleges and universities with fewer than 9,999 students), the Weekly punched its ticket to compete in the SPJ's national competition.
SPJ's Region 11 includes Arizona, California, Hawaii and Nevada.
Earlier in March the Weekly took home five collegiate journalism awards – including a first place for best website – from the 2013 California College Media Association and Associated Collegiate Press competitions.
"I am very proud to have been the editor and collaborated with amazing people who worked around the clock to put out an incredible product," said Juliet Suess '14, who served as fall semester editor-in-chief.  "This is only the beginning of what is to be a bright future for The Occidental Weekly."
In the California College Media Association competition, the Weekly won a second place award for Miriam Subbiah '14's page design for an article on sustainable growth; a third place for Ben Tuthill '13's A&E menswear column on "denimheads"; and a third place in best news series for staff reporting on sexual assault at Occidental during the spring and fall semesters.
In the Associated Collegiate Press competition, the Weekly won the top prize for best website, beating out stiff competition from Whitman and Emerson colleges, and placed eighth for best overall newspaper.
"It's a very good feeling to know that the Weekly has been recognized at state and national level for its service to the Occidental community," said current editor-in-chief Henry Dickmeyer '15. "For a school with no journalism department and very few journalism classes, it's extraordinary to see the Weekly—a fully student-run newspaper—standing out among peer institutions. It's truly a testament to the curiosity, creativity and diligence of Oxy students."