Submitted by kwall_admin on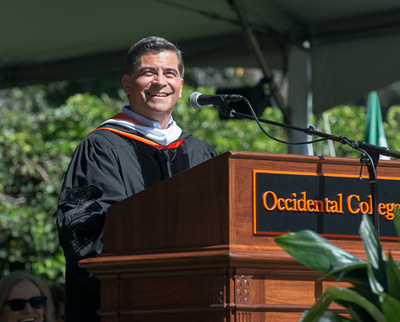 Drawing on his experience as a member of Congress and a father, California Attorney General Xavier Becerra urged the Class of 2017 to work to change the world for the better at Occidental College's 135th Commencement ceremony May 21.
Becerra wove together advice he received from veteran civil rights leader and Georgia Congressman John Lewis with the example set by one of his Eagle Rock friends and neighbors to urge the graduates to not only earn a living but work for change.
"John Lewis would always say to us, as we were getting ready to go into battle on an important issue, 'If you want to make a difference, you got to get in the way. You got to get into trouble – good trouble,'" Becerra said as the keynote speaker before a audience of 4,000 in the Remsen Bird Hillside Theater.
Becerra contrasted Lewis' advice with that of a family friend, Danny House, whose daughter played softball with Becerra's daughter. "He did something just like John Lewis, but on a different scale," the attorney general said. "Every time his daughter would get up to bat, Danny always used to say, 'Vanessa, when you get up there, you be a hitter. If that ball is anywhere close to you, you get up there and smack it.'"
Both men were delivering the same message, he said. "John Lewis was right: you have to know how to get in the way. Danny House was right: we have to understand we have to be hitters. … And every time you have a chance to get up to the plate, you've got to take advantage. … Folks, we're going to change the world. We're not just going to walk to first base. We're going to smack that ball and get in the way."
A transcript of Becerra's remarks can be found here.
In presenting Becerra with an honorary degree, Occidental President Jonathan Veitch praised his three decades of public service as a deputy state attorney general, state Assemblyman, member of Congress for 24 years, and today as California's 33rd attorney general.
"Today we are proud to honor you for a distinguished career of public service, for the grit and ganas you have demonstrated as an advocate for those less able to advocate for themselves, and for never forgetting those with whom you have walked," Veitch said of Becerra, the child of immigrants who was the first in his family to graduate from a four-year college.
Honorary degrees also were presented to New York Times reporter Andrea Elliott '96, winner of the 2007 Pulitzer Prize for feature writing for a three-part series of articles about the life of an Egyptian imam who leads a mosque in Brooklyn, and Brenda Shockley '68, Los Angeles deputy mayor for economic development and former president of Community Build, a nonprofit she helped found in the wake of the city's civil unrest in 1992.