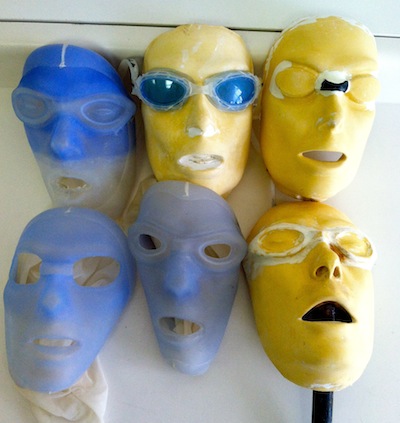 The secret to Diana Nyad's historic Cuba-to-Florida swim may have been the custom silicone mask to protect her face from jellyfish stings created just for her by Stefan Knauss '88 of Pasadena's Aesthetic Prosthetics. 
After toxic jellyfish stings to her mouth thwarted Nyad's 2011 attempt at the 110-mile swim across the Atlantic, Knauss, the 48-year-old Altadena resident who specializes in making realistic limbs and facial features for combat veterans, cancer survivors, burn victims and others, stepped in to help.
Looking for a custom-built mouth guard, Nyad had first turned to Orange County dentist Chris Nagel. When he felt his capabilities had reached their limit, he contacted Knauss, and together the three met and discussed Nyad's needs.
"She shared everything she knew about box jellyfish, and we began designing a prototype," said Knauss, a religious studies major who also studied physics and studio art. (He went on to get a master's from the University of Chicago's Craniofacial Center in the Department of Maxillofacial Prosthetics.)
The mouth guard "went through many iterations" Knauss said, starting with just a lip covering and eventually developing into a silicone face mask held on with a Spandex hood. Nagel crafted acrylic retainers that seamlessly fit into the mask and over Nyad's teeth. The mask snaked its way inside Nyad's mouth and along the inside of her cheeks.
"We made a lot of adjustments in the course of working with her," Knauss said, using his parents' pool as a testing ground. "A big issue was making sure she had plenty of airway room. We kept making that bigger and bigger until she felt comfortable with it. Honestly, I don't know if I can say she ever felt comfortable with it. But it was enough to get her where she needed to be to take on the challenge again."
Nyad only wore the mask at night on her historic swim –- sunlight keeps box jellyfish at bay. She had some problems with it, according to news reports, including some bruising on the inside of her mouth. "The inside of the mouth is so delicate," Krauss explained. "We tried to make the silicone as smooth as glass. But any friction will irritate the mucosal membranes, especially when you add saltwater."
Knauss, who absorbed much of the cost of the two face masks he provided to Nyad, hasn't spoken to the endurance swimmer since she completed her epic feat.
"I don't even know where to send flowers," he says.