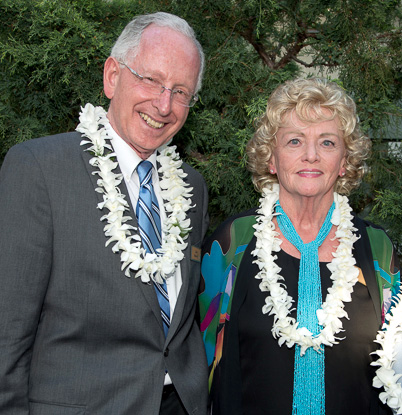 A $5 million gift from David and Kathleen Berkus and their family will create a new endowment that will enhance Occidental College's ability to stay current with the latest advances in technology.
In recognition of the Berkus family's generosity, Occidental's newest, largest and most popular dormitory, currently known as Rangeview Hall, will be named Berkus Residence Hall. A formal dedication ceremony will be held on Sept. 29.
Berkus, a 1962 Occidental graduate and Arcadia resident, is a long-time college trustee who as a member of the board's Buildings and Grounds Committee played a major role in the development of the five-year-old, 274-bed residence hall that will bear his name.
"Dave's practical knowledge of the nuts and bolts of running a college, his and his family's generosity, and their willingness to address needs that affect the entire campus in fundamental ways is rare," said Occidental President Jonathan Veitch. "We are deeply grateful to the Berkus family."
Currently chair of the board's Technology Task Force, Berkus has been a major advocate for the creative use of technology at Occidental. He was an early advocate of using the Web as a tool to better engage alumni and played an important role in bringing wireless technology to campus.
After graduating with a degree in business administration, Berkus enjoyed a distinguished career as a high-tech entrepreneur, founding Computerized Lodging Systems – listed for two consecutive years on Inc.'s list of America's fastest-growing companies. He is one of a handful of people inducted into the Hospitality Financial and Technology Professional International Hall of Fame. For the past 20 years he has been an influential venture capitalist, author, and speaker.
Appropriately enough, Berkus launched his first business venture  -- a music recording company – while still a student at Occidental. He, wife Kathleen, and children Eric, Matthew, and Amy '95 are among the college's most generous living donors.
Just months before Rangeview Hall opened its doors, Berkus made a $1.25 million gift to create another endowment – this one for building maintenance.